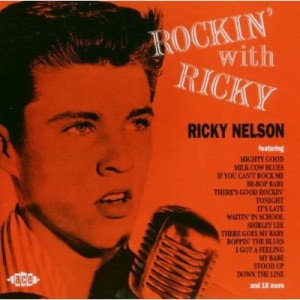 The first real band I joined ("real" meaning paid gigs) was The Warsaw Falcons, a neo-rockabilly outfit based in Cincinnati. I was fresh out of college and just landed a job downtown, editing a magazine for the screen printing industry. So I needed the gigs more for mental health reasons than income.
Our main weapon was our fearless leader, David Rhodes Brown, a great singer and songwriter who also happened to be a one-man wrecking crew on guitar. It always amazed me how he could play the right notes and even actual chords while his limbs were flailing in every direction. And the spectacle of a man well over six feet tall prowling the stage like a mad hyena only added to the buzz surrounding our band.
Thankfully, Dave had a mild-mannered sidekick, Tom Schneider, who played sax and sang lead on a number of songs, including a few he wrote. Since we didn't exclusively play originals, Tom and Dave would go through a painstaking process to find fairly unconventional songs to cover – mainly to create the illusion that everything we did was fresh and new.
I touched on one of those tunes here, a slow-burning number by Conway Twitty called Lonely Blue Boy. We also covered Trying to Get to You, a song originally recorded in '54 by an R&B group called The Eagles and reinterpreted by Elvis the following year during his groundbreaking sessions at Sun Studios. Other gems included Rip It Up by Little Richard, Shame Shame Shame by Jimmy Reed and Break Up by Charlie Rich.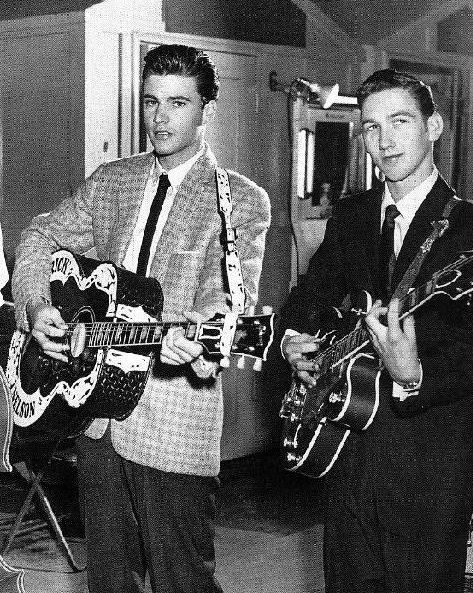 Which brings us to Ricky Nelson and the shit-hot rockabilly sides he recorded with legendary stringbender James Burton.
Back in the late '70s, I prided myself on being somewhat of a purist when it came to blues and rockabilly. Why listen to Clapton cover Robert Johnson or Skip James when you can go directly to the source? And Ricky Nelson… wasn't he some slick, preening star of a crappy TV show that my older siblings used to ridicule?
Well, I've since learned that a puristic approach to music is essentially useless (hell, it's fun to hear Mick Jagger ape Muddy Waters). And one of my first lessons along those lines was finding out about songs like Believe What You Say and It's Late that featured Nelson's seemingly effortless vocals framed by Burton's blazing leads: Believe What You Say
Tom and Dave jumped all over Believe, which quickly became one of the Falcons' show-stoppers. And that sent me searching for other rockabilly tunes by baby-faced Nelson and the dangerous guitslinger Burton, who somehow made his Fender Telecaster sound pretty and menacing at the same time.
On paper, the combination seemed highly improbable. Born in Dubberly, Louisiana, Burton started playing professionally at the age of 14 and eventually joined the staff band of the famous Louisiana Hayride radio show in Shreveport, where he backed up country stars like George Jones and Johnny Horton. Meanwhile, Nelson – a native of Teaneck, New Jersey – was growing up under the hot glare of Hollywood studio lights as a child actor on "The Adventures of Ozzie and Harriet" featuring his real-life parents and siblings. But Burton and Nelson obviously shared a deep appreciation of Elvis Presley and the hillbilly music that inspired his first recordings at Sun Studios.
Burton arrived in L.A. in '57 to do some shows and sessions for rockabilly singer Bob Luman (My Gal is Red Hot). At the same time, a 17-year-old Nelson was making his first forays into the music biz, having covered Fats Domino's I'm Walkin' and a few other tunes for the jazz-based Verve label. Nelson caught Luman's band rehearsing for a rock 'n roll movie and apparently liked what he heard. Shortly after that, Burton received a telegram asking him and bass player James Kirkland to perform on "Ozzie and Harriet" as part of Nelson's backing band. Before long, they had severed ties with Luman and went all-in with Nelson, who then signed a lucrative five-year deal with Imperial Records (thanks mainly to Ozzie Nelson's considerable clout). Burton even moved in with the non-fictional Nelsons for a couple of years before he found his own place to stay.
The best of Nelson's Imperial recordings – mostly featuring Burton, but also including a few with monster picker Joe Maphis – are available on Ace Records' "Rockin' with Ricky" (you also can find many of these cuts on "Lonesome Town: The Complete Record Releases, 1957-1959"). "Rockin'" includes a few syrupy duds, but most of it is top-shelf rock 'n roll. And Burton, who already had cemented his status as a guitar legend with a vicious solo on Dale Hawkins' Susie Q, was clearly at the top of his game: Shirley Lee
Actually, some of the best moments are in the more polished, tightly arranged numbers, where Burton's twisted guitar seem almost subversive. You get the sense he was openly mocking the background singers and other sappy flourishes. Just for the hell of it, I spliced together a couple of solos on this next sample: Burton solos: Oh Yeah, I'm in Love/Stop Sneakin' Around
But there's plenty of raw meat to go along with the pop-flavored desserts. Among other blues and rockabilly standards, Nelson and band even cover Little Walter's number one R&B single from 1955: My Babe
And call it heresy, but Nelson's version of Milk Cow Blues may be my favorite of the many takes on this age-old standard: Milk Cow Blues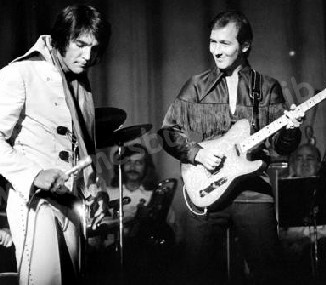 Burton stuck with Nelson all the way through 1967, when he gave in to a steady gig on the TV show "Shindig!" and a lot of well-paying session work in L.A. (he was a member of the hallowed Wrecking Crew, a group of hard-bitten studio musicians who contributed to thousands of hit songs in the Sixties by artists ranging from The Monkees and Nancy Sinatra to The Beach Boys and Simon & Garfunkel).
In 1969, Burton signed on with Elvis Presley and was a fixture in his band until the King's untimely demise in 1977. He also was a founding member of Emmylou Harris' Hot Band and spent 16 years touring and recording with John Denver. In 1990, Burton moved back to Shreveport, where he continues to perform – mainly to raise money for his charitable foundation, which provides musical scholarships and instruments to children and young adults.
On the other hand, Nelson was cut down at the young age of 45 – victim of a rickety aircraft that also killed six other members of his entourage, including his fiancee and bandmates (the pilots somehow survived). Nelson had experienced some success since Burton's departure – including a Top 40 hit with Garden Party in 1972. And although his career had been in limbo before the crash occurred on New Year's Eve in 1985, he rarely failed to deliver live and consistently surrounded himself with first-rate musicians.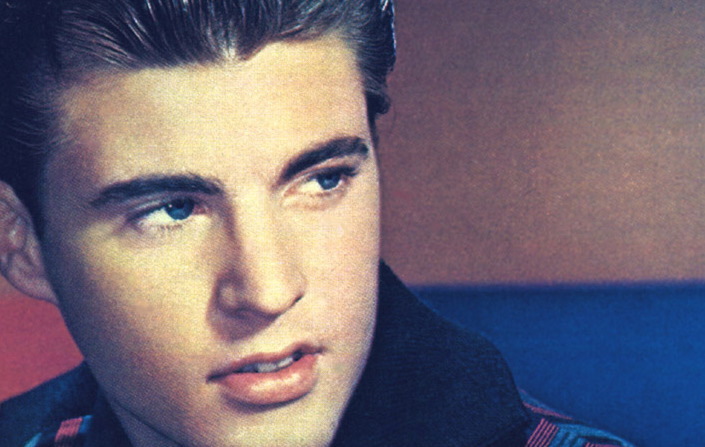 Since my buddies in the Falcons turned me on to Nelson and Burton, I came across a few other musicians who couldn't get enough of the Imperial singles. But the greatest validation of their place in rock history came during one of my chats with cousin Robert Quine, who is responsible for some of the most distinctive and uncompromising solos you can find on any instrument, in any genre.
Rob's playing sounded like no one else, but I knew it was informed by early rock 'n roll. So I asked him something along the lines of, who were some of your first influences? And what sent you down the path of pursuing a life-long career as a guitar player?
His response surprised me at first, but then made total sense. He said he started to get serious about the guitar when he first heard James Burton playing with Ricky Nelson.
Nelson and Burton on video… Nasty solo by Burton on this one – a cover of Ray Charles' number one R&B hit from 1955:
Thank god Nelson was a star on a hit TV show – lots of great footage on youtube. Here's a clip of Nelson and Burton screwing around on acoustic guitars: