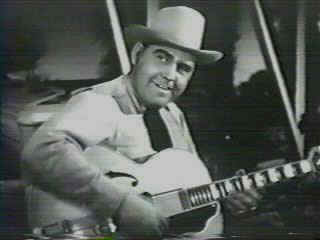 Do you have little patience for country music of any stripe? Do you think of Western Swing tunes as bouncy, brainless singalongs for Texans who drink too much? If you just answered yes and yes, you're probably missing out on the many joys of Lester Robert "Junior" Barnard.
To describe Barnard as a really good country guitarist is like calling Prince a nifty little dancer. It just doesn't begin to capture all of the influences that came together in the blazing leads that Junior contributed to recordings by various members of the Wills family back in the Forties. Of course, the most notable of those songs were recorded by the undisputed kings of Western Swing, Bob Wills & His Texas Playboys.
One of the great "go for broke" soloists of all time, Barnard joined Wills at a perfect moment in the band's career. Prior to World War II, Wills led one of the most popular swing bands in the country and had no trouble keeping up to 18 musicians on the road and gainfully employed for months on end. But, like many bandleaders during the war, he downsized considerably – ending up with a smaller group of 10 or 12 musicians, including a few who were experimenting with different forms of amplification to fatten up their sound.
In the meantime, Barnard was perfecting a fiery style of playing based in swing but borrowing heavily from the blues and more visceral jazz guitarists like fellow Oklahoman Charlie Christian (here with Benny Goodman): Breakfast Feud  And he'd landed on a thick, greasy and often distorted sound that involved using two small amps (a Fender Pro and an Epiphone) wired to separate pickups on his Epiphone guitar. He also used a volume pedal so he could boost his sound at a moment's notice… Apparently, most of the bands that hired Barnard had little use for formal arrangements, and he never knew when he'd get the call to cut loose.
A native of Coweta, Oklahoma, Barnard was no stranger to the Wills family. At the age of 15, he'd already made a name for himself as a staff musician on a Tulsa radio show. He eventually was hand-picked by Bob Wills' father, John, to play in his Lonestar Rangers. And from there, the supremely talented and somewhat mercurial Barnard drifted from one band to another – including swing outfits led by Bob Wills's cousin, Son Lansford, and brother, Johnnie Lee. Sort of like being owned by the Texas dancehall mafia.
Barnard landed in the studio just long enough to record my favorite version of Milk Cow Blues, featuring the incredibly soulful voice of fiddler Cotton Thompson – and, of course, some bluesy fills courtesy of Junior: Milk Cow Blues/Johnnie Lee Wills & His Boys
Although Barnard played with Bob Wills as early as 1942, his most fruitful years with the Texas Playboys were right after the war. That's when Wills, looking to generate new business for his band, entered into a unique partnership with Oakland-area songwriter/businessman Cliff Sundlin and San Francisco radio personality Clifton "Cactus Jack" Johnson. The three decided to form the Tiffany Music Company, with the idea that Bob Wills and band would host a syndicated radio program.
As an HBO programmer might say, those shows needed plenty of content. So Wills and the Playboys recorded more than 370 tunes on the fly (usually on Mondays, when the band wasn't booked) in a studio located at the top of San Francisco's Nob Hill, in the Mark Hopkins Hotel. But only a portion of those transcriptions (basically songs recorded live in the studio) were released to radio stations before the Tiffany partnership went under. Thankfully, many of the Tiffany Transcriptions survived and were released in several volumes by Kaleidoscope Records in the '80s (vinyl) and Rhino in the '90s (CD). The Tiffanys capture the Bob Wills band and their hot-shot guitarist at their best – fast, loose, and just lettin' it rip.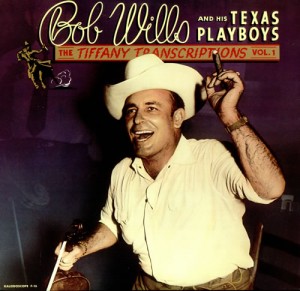 The great Tiny Moore, a Texas Playboy who often played his mandolin through an amp, had this to say about the Tiffanys (from the liner notes to Rhino Vol. 1):
"The Tiffany Transcriptions are a special joy to me. This is the way the Wills Band sounded on the many dances we played. In not trying for the 'perfect take,' we had a relaxed yet driving quality that is hard to get on a record. I don't remember any pressure at all during these recordings… In my opinion, the true Bob Wills music feeling comes through on these recordings."
They definitely capture Barnard under the best possible circumstances. The informal, easygoing nature of the sessions played to his improvisational strengths, giving him the freedom to head in any direction that struck his fancy. You can hear Barnard's country roots, but you also can hear him exploring hard blues, jazz, R&B… and laying the foundation for countless rock 'n roll guitarists who were inspired by his fearless and aggressive attack. Here's a blues that Wills probably threw together on the spot to showcase Junior's prodigious chops (with some fine solos added by Moore and pedal steel player Herb Remington): Barnard Blues
The Wills tune most closely associated with Barnard is sort of a jump blues/swing hybrid, an instrumental named after Bob's favorite moniker for his 230-pound guitarist: Fat Boy. Bob's brother Luke, who played bass on some of the Tiffany sessions, describes how the largely improvised Fat Boy Rag came together (Rhino Vol. 7):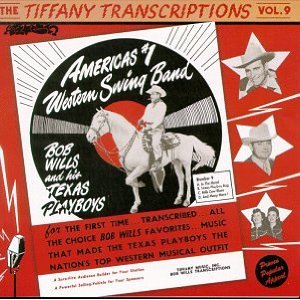 "In other recording sessions for records, tunes were set out in advance, and rehearsed and timed and everything. But not in the Tiffany sessions. And mostly the guys worked out the arrangements – Bob would give them suggestions. They'd take it from there and if they worked out something they would try it out on Bob. And if it worked… That's how we got Fat Boy Rag, you know. Bob just turned to Junior and said, 'hit us something here, Junior.' Junior's mouth flew open, like 'What am I going to do?' That's where it started." Fat Boy Rag
Obviously, Barnard wasn't the only soloist on these sessions, and on many of these tunes you only get a few precious measures of his sheer brilliance. Other Wills band standouts included Remington and Noel Boggs on pedal steel, Moore on mandolin, Millard Kelso on piano, Louis Tierney on fiddle, Eldon Shamblin on guitar, the smooth Tommy Duncan on vocals… and, of course, Bob Wills hootin' and hollerin' throughout. Wills introduces musicians in the middle of their solos, registers his approval of a choice lick or two, and even gently sticks it to his hired hands ("Junior's pony throwed him… You're meeting yourself coming back," Wills says after Barnard seemed to lose his place and then regain it during a solo).
But in my mind, the real star of the Tiffany sessions is Junior. So let's set aside all the hoopla going on around his solos (including a little too much Kelso and happy trumpet for my taste… but you won't hear me complain about Wills' many asides). I thought it would be fun to isolate some of my favorite examples of Junior's genius.
Here's a sampling of Barnard's solos on The Girl I Left Behind Me, Blackout Blues, What's The Matter With The Mill, Ida Red and San Antonio Rose (nice extended run on the last one): Junior's Greatest Licks, Part 1
These next solos are lifted from Sweet Jennie Lee (another lengthy workout), Keep Knockin' (But You Can't Come In), Roly Poly, Steel Guitar Rag and Worried Mind: Junior's Greatest Licks, Part 2
And if you're wondering where the Allman Brothers Band and its many southern rock progeny came up with the twin guitar attack, listen to this opening run by Junior and steel guitarist Noel Boggs: I Hear You Talkin'
Junior's driftin' ways continued even before the Tiffany work dried up. In late 1946, he joined Luke Wills and his Rhythm Busters, lending some of his wildest stringbending to the band's recordings: Bring It On Down To My House During this time, he also kept recording and performing with the elder Wills.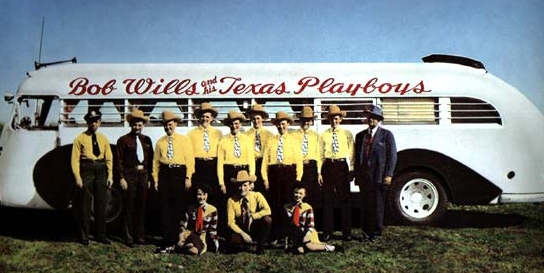 Barnard also played with Tommy Duncan's band after the singer left the Texas Playboys, and even formed his own band in Fresno called the Radio Gang. On April 15, 1951, while searching for a place to play in nearby Riverdale, Barnard was killed in a two-car accident that involved other family members (including his wife, Sue) and six members of the Cal Poly track team. His brother-in-law also died in the crash.
Eight years prior, Barnard was at the wheel and seriously impaired when he killed a Tulsa woman in a hit-and-skip accident. Through the grace of god and (maybe more important) the considerable clout of the Wills family, he somehow made it out of that mess relatively unscathed. Looks like old-fashioned karma finally caught up with him in Riverdale. Lucky for us, he left some amazing fretwork to remember him by.
So how much Junior can you find on youtube? About 15 seconds, that's how much. Better than nothing I guess. Here's a movie short from 1946 with Wills and band (along with special guests the McKinney Sisters) performing Goodbye Liza Jane:
Junior's spirit lives on with bands like Asleep at the Wheel, Big Sandy & His Fly-Rite Boys and the Hot Club of Cowtown. Here's Austin's Hot Club wondering what's the matter with the mill. Is Elana James' t-shirt a nod to Junior??