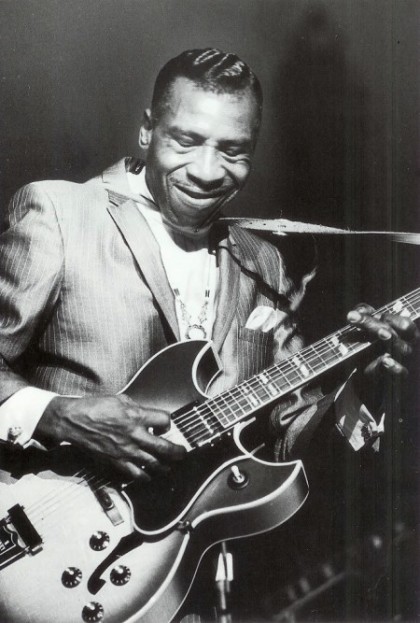 While killing time at Barnes & Noble, I picked up the Sept. issue of Guitar World with Nephew Dan on the cover and read several comments about yours truly – mainly as an early source of blues recordings that Dan would've had a hard time finding elsewhere in mid-'90s Akron (Napster was a few years away from destroying most of the recording industry). I was flattered, of course… and amused that you can barely find a trace of one of the artists mentioned, T-Bone Walker, in Dan's sound.
He said that when he was 15, I gave him tapes with T-Bone and Johnny "Guitar" Watson, and that I had a real thing for swamp blues recorded in the Fifties on the Excello label. Guilty and guilty. The latter two influences clearly stuck… but T-Bone's essential stuff is a lot more uptown than T-Model Ford and the Hill Country blues that inspired the first few Black Keys albums.
But let's take another look (and I'm really going out on a limb here)… One thing that always struck me about T-Bone's playing is the way he screwed with time – starting out straight on the beat, then shifting into a different rhythm that played off the song's main beat, then weaving in and out of the groove but never losing track of it. Here's a great example, one of T-Bone's first recordings for L.A.'s Black & White label: Mean Old World
Although he was describing singers such as Frank Sinatra, Ray Charles and Willie Nelson, legendary producer Jerry Wexler also might have had T-Bone in mind when he used the term rubato… "The art of gliding over the meter and extending it until you think they're going to miss the next actual musical demarcation – but they always arrive there, at bar one. It's some kind of musical miracle." T-Bone would slow it down, and speed it up too – like a rapper with outside-the-pocket rhymes that seem to float above the beat. Yeah, it's a real stretch drawing a straight line from T-Bone to the Keys… but if the band was influenced by Wu Tang Clan, I'd argue that a little bit of T-Bone's DNA is in there somewhere.
T-Bone conjured up his time-shifting magic naturally. Although he started out playing guitar on the streets of Dallas – often with family friend Blind Lemon Jefferson – he also performed as a dancer, initially with traveling medicine shows but later in L.A. with saxophonist Big Jim Wynn's band in the mid-Thirties. And he always brought a dancer's sense of rhythm to his guitar playing, which remains one of my favorite sounds in the blues canon. Here's another Black & White favorite: Don't Leave Me Baby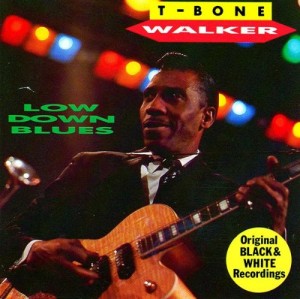 Walker also honed his vocal chops in L.A., stepping up as lead singer for Les Hite's big band (Sebastian's Cotton Club Orchestra) in 1939. But he's mainly known for expanding the vocabulary of the guitar… In fact, he's widely regarded as a pioneer in amplifying his instrument, probably inspired by his old sparring partner from the Texas years, Charlie Christian. By the time he unleashed Mean Old World on the record-buying public in 1942, T-Bone had perfected his electric sound and his unique style of playing – sideways, like a lap steel without a lap.
The guitar would never be the same, and legends from B.B. King to Buddy Guy credit T-Bone for mastering the art of the blues guitar solo. He also was a consummate showman – duckwalking, playing behind his back, doing splits and picking with his teeth long before Chuck Berry, Jimi Hendrix and Stevie Ray Vaughan pulled out the same bag of tricks. As music writer Pete Welding pointed out in the liner notes to The Complete Imperial Recordings, "In a very real sense the modern electric blues is largely his creation." Look no further than one of T-Bone's signature songs, from 1947: T-Bone Shuffle
And let's not forget Stormy Monday – a tune that I had a little fun with in this post, but I can't deny its rightful place in the Great American Songbook (all genres included): Stormy Monday
After he threw down the gauntlet to every blues guitarist who followed, T-Bone would occasionally step back into his familiar role as lead vocalist – even caressing a ballad that wouldn't sound out of place on a Frank Sinatra 78 for the Columbia label. I wouldn't call it essential T-Bone, but this one reminds us that, despite the uptown trappings, he could sing with a whole lot of soul and authority: I'm Still in Love with You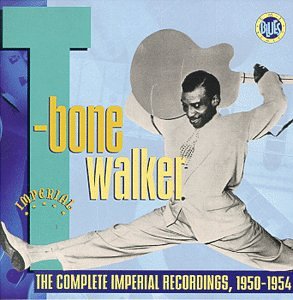 From 1942 to 1947, T-Bone recorded some 50 songs (plus alternate takes) for Black & White. Next up: the revered Imperial label, where T-Bone cut some of his strongest material from 1950 to 1954. Clearly, the Imperial songs benefited from better recording technology. But they also took advantage of a tougher, more R&B-based sound – heard to great effect in a handful of tunes recorded in New Orleans with storied producer-arranger Dave Bartholomew and some ace session players (later responsible for a long list of hits by Fats Domino and Little Richard, among others). Here's a taste: Pony Tail
T-Bone's best stuff had a great sense of drama and atmosphere. Think of a lonely dive, late at night… Your lover left you high and far from dry… Maybe you're staring at your last shot of whiskey, maybe not… In other words, nothing good can come of this. Here in the Dark
Big Jim Wynn and band came back to record a steady-rolling blues with T-Bone in 1950. Written by the mysterious H.E. Owens (help me out, Alan Balfour), the song has the same timeless, blue-collar appeal as T-Bone's Stormy Monday – "Times is hard, baby, the hustle is really on… Prices are high now darlin' and all the good jobs are gone." The Hustle is On
After recording another 50 sides for Imperial, T-Bone decided it was time for a break. "Years of those one-night stands got me down," he said (Welding liner notes). "My health gave out and I was down to 93 pounds. I had ulcers, and had to have a stomach operation, so I broke up the band in 1955. I'd been traveling a long time." And drinking a lot too, which only added to his growing list of health problems.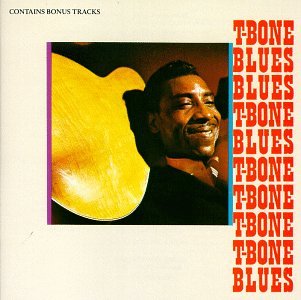 T-Bone's career also suffered over the next 20 years with the onset of rock 'n roll, soul, funk and every other new sound in American music. He gamely tried his hand at some of those forms and even released an unqualified masterpiece in 1960 on the Atlantic label, T-Bone Blues (actually, a fairly straightforward collection of blues and swing-based tunes recorded in the mid- to late-'50s). One of my favorites has T-Bone returning to that brooding, late-night, "my baby's gone" vibe… Pour me another. Evenin'
We'll close with an outstanding instrumental from 1957. The first solo is by T-Bone's nephew, R.S. Rankin, who often billed himself as T-Bone Walker Jr. Rankin hands off to jazz great Barney Kessel (following some sweet tenor sax by Plas Johnson) and Walker brings it home. Blues guitar nirvana. Two Bones and a Pick
The post-Atlantic years offer their own little pleasures, including a meaty shuffle recorded for Modern Records in 1964 (the first video below features a live version) and a jump-blues throwback from 1968 featuring the great Hal Singer on tenor sax (the Delmark album I Want a Little Girl). But the prime cuts can be found in T-Bone's Black & White, Imperial and Atlantic catalogs… and if you have any love for the songs featured here, I'd highly recommend picking up some of the titles listed below.
As promised… Blues at the BBC with T-Bone playing a jazzy version of his Modern single Hey Hey Baby:
And, from the 1962 American Folk Blues Festival tour (filmed in Baden-Baden, Germany), T-Bone playing Albert King's Don't Throw Your Love On Me So Strong: