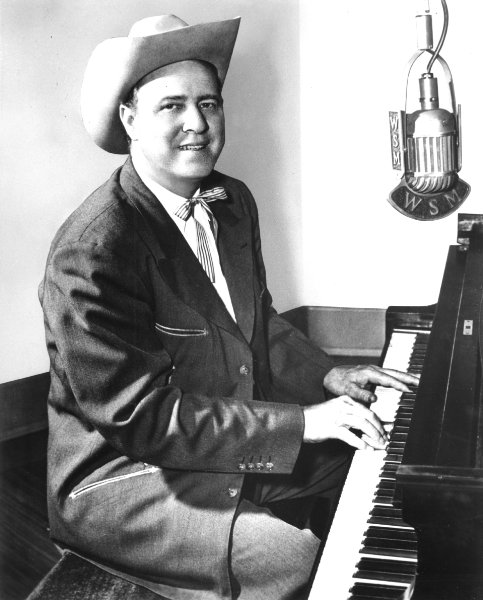 They called him the King of the Hillbilly Piano Players. I like to think of Moon Mullican as one of the lost heroes of rock 'n roll – a vital link between R&B piano pounders like Amos Milburn and early rockers like Bill Haley and Jerry Lee Lewis who owed a huge debt to the Moon songbook.
Some of Mullican's recordings from the '40s and '50s sound like Bob Wills with a bad attitude. Others rank among the best rockers of the era, especially this tune from '56 that was covered nearly 30 years later by Moon admirer Nick Lowe on his album "The Rose of England" (here Mullican is backed by the red-hot Boyd Bennett & His Rockets): Seven Nights to Rock
He also had a flair for country ballads and Cajun-flavored stomps like Jole Blon and Jambalaya, a tune Mullican co-wrote with another famous protégé, Hank Williams, to get around a contractual arrangement with Cincinnati-based King Records. Virtually all his recordings qualify as essential American music – a potent brew of country, blues, western swing, Cajun, rock, pop… and maybe a few other strains related to his Scottish-Irish heritage.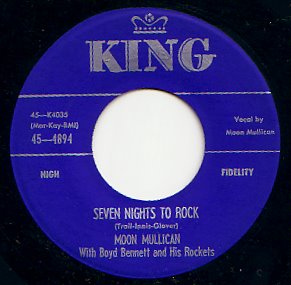 He's on that long list of notable blues-based musicians from the great state of Texas (although he seemed to have a greater affinity for neighboring Louisiana, where he toured and recorded with eventual governor Jimmie "You Are My Sunshine" Davis). Born Aubrey Mullican in 1909, he grew up on the family farm in Corrigan, some 90 miles north of Houston. That's where he first was exposed to the blues and, more specifically, a black sharecropper named Joe Jones, who showed him a few tricks on guitar and probably laid a few songs on him too. Aubrey's father – a devout, church-going man – didn't share his son's appreciation for the devil's music. But dad had the good sense to bring an old pump organ into the house, which his son used to play ill-gotten tunes that you can't find in the Sunday hymnal. (When later asked why he played the piano, Moon replied: "Because the beer kept sliding off my fiddle.")
With a big, booming voice and promising musical chops, Aubrey left for Houston at the age of 16 and began sitting in with western swing bands that borrowed heavily from the Texas roadhouse blues and jazz tradition. By the end of the '30s, he had built a fearsome reputation as a one-man wrecking crew on piano – not to mention his taste for booze, which probably earned him the moniker (short for "moonshine"?) that stuck with him throughout his adult life.
One of Moon's many employers during the decade, western swinger Cliff Bruner, soon recognized his piano player's distinctive voice and tagged Moon to sing lead on Truck Driver's Blues – a '39 hit that paved the way for one of my favorite sub-genres of country and honky tonk: Truck Driver's Blues Within a few years Moon was fronting his own band, the Showboys, and honing a more hard-driving sound that would inspire a small army of rockers in the Fifties and beyond.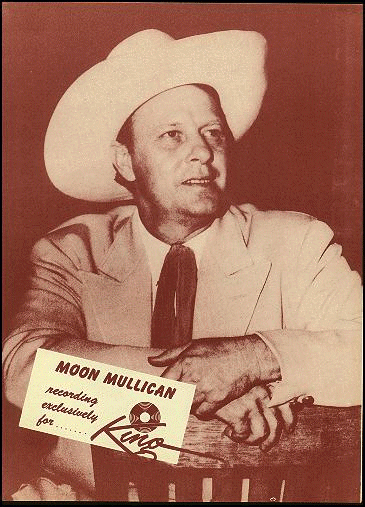 This brings us to the golden age of Moon – the dozen years (starting in '46) that he recorded for Cincinnati-based King Records. Much like Eddie "Cleanhead" Vinson, Roy Brown, Wynonie Harris and other post-war R&B stars, Moon could rock every bit as hard as Elvis did at Sun Studios in the mid-50s. The only difference being that an older, pudgier and far-less-sexy Mullican never received the recognition he deserved. Here's aural evidence that Moon belongs in the pantheon of early rockers: I Done It
As we discussed back in this post, King proprietor Syd Nathan had a great ear for the kind of music hard-working folks from the south wanted to hear when they landed up north in big-city factories. Many of them were partial to blues (particularly jump-blues) and hard-core honky tonk. So Mullican definitely fit the bill on both fronts.
Nathan also had a knack for cross-pollinization. Even though he largely segregated his artists by creating "race" labels like Queen, Federal and De Luxe for his black R&B stars, he would get the most out of his publishing catalog by having someone like Harris, for example, cover a song by King honky-tonker Hank Penny (Bloodshot Eyes). And it worked both ways… One of my favorite cuts by Mullican is this hard-charging remake of a song originally recorded by R&B legend Tiny Bradshaw. For my money, Moon's version packs more of a punch (with the help of blazing solos by Speedy West & Jimmy Bryant): Well Oh Well
Moon scored a few hits for King, including Jole Blon, Sweeter than the Flowers, and the culturally insensitive Cherokee Boogie (later covered by Asleep at the Wheel and BR5-49). He also developed a larger audience as a member of Nashville's Grand Old Opry, playing on the program's nationally syndicated radio broadcasts.
But the glory years didn't last long. For reasons I alluded to earlier, Moon's modest star was eclipsed in the '50s by the first wave of young, brooding rockers like Elvis, Gene Vincent and Eddie Cochran. Few of them credited Moon, but Jerry Lee remained a loyal supporter, even covering one of Mullican's signature songs, I'll Sail My Ship Alone (a number one country hit for Moon back in '50): I'll Sail My Ship Alone/Jerry Lee Lewis
After he left King, Mullican recorded some sessions in '58 and '59 for Coral Records (released on the long-lost "Moon Over Mullican" album). Although he gamely tackled some of his old rockers like Pipeliner Blues, the sessions were marred by the unfortunate presence of the Anita Kerr Singers. As Phil Davies notes in his Rockabilly Hall of Fame profile of Mullican, "it's a pity Moon didn't take them back to a sweaty beer joint in Beaumont… they'd have run a mile."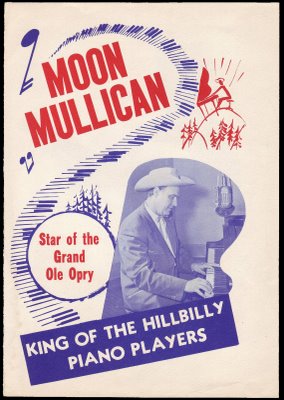 Mullican showed up on the charts one last time with a lively remake of his original Ragged But Right, but an onstage heart attack in '62 slowed him down considerably. Overweight (and often overserved at the bar), Mullican suffered a major coronary on December 31, 1966, and died the next day. Two years later, Kapp Records released an album of sessions produced in the early '60s by Cowboy Jack Clement. "The Moon Mullican Showcase" quickly disappeared into obscurity, as did most of Moon's recordings.
In his book "Country Music, U.S.A.," music writer Bill C. Malone describes Mullican's legacy as the guy who brought "a new style of playing to country music, the barrelhouse style pioneered by itinerant black juke joint musicians… Mullican featured a melodic-based, boogie style of playing which was designed, in his own words, 'to make the bottles bounce on the tables.' Mullican's piano playing, combined with his zestful singing, made him one of the most colorful personalities of southwestern country music."
You can find Mullican's grave at Magnolia Cemetery in Beaumont, Texas. His epitaph? I'll Sail My Ship Alone
Moon on video… Here he barrels his way through a quick medley – Pipeliner Blues and St. Louis Blues:
And here's a spirited rendition of Rock and Roll Mr. Bullfrog (with a little schtick he probably stole from Al Jolson):