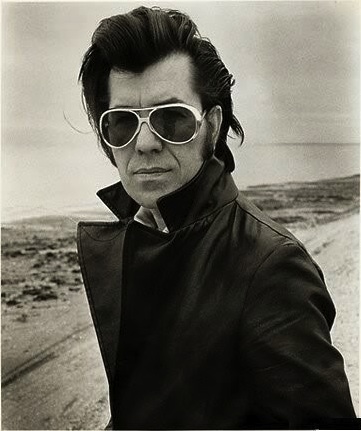 I haven't had much contact with my famous nephew since The Black Keys conquered the world. Just the occasional text about someone I should check out, like Michael Kiwanuka or Bombino. So, like anyone who takes a few minutes out of the day to live vicariously through someone else, I'll do the occasional google search to see what the boys are up to.
That led me to a brief interview in the Boston Phoenix in which Dan reveals his undying love of Link Wray:
"He was a huge influence… I still have all of my guitar amps turned sideways because when I saw him play he turned his guitar amps sideways, because it was so loud, and you would hear the ambient sound of the amp and not just the direct speaker sound. I thought that made a lot of sense. Plus, the amps aren't blasting the audience in the face, which I think is really good, too. When I saw him, it was one of the greatest shows I ever saw in my life. There was a vocal mic and he didn't say one word; he got onstage and started ripping through songs, and 40 minutes later he was done. Everybody was screaming for an encore, and he never came back — it was amazing."
And that reminded me of a promise I'd made a couple of years ago to one of RCR's earliest supporters, Joscha from Germany: At some point, I'll get off my ass and do a post on Link Wray.
Then I started digging around on the interwebs for some Link-related items and came across a sprawling, six-part tribute by Jimmy McDonough, who first published the piece in the online music magazine Perfect Sound Forever (which also did a great post on Robert Quine, another Link Wray freak). As an interesting aside, the McDonough piece was highly touted at Link Wray's official website, wrayshack3tracks.com – a site that expired on March 1. Yes, my friends, hundreds of websites dedicated to the Kardashians, and Link Wray's official site is no longer available (note: looks like it's back up and running – see comment below). Welcome to America, 2012.
Before I get to the music, I should point out two things about McDonough's article I found very interesting – mainly because they seem to strengthen the link (sorry, couldn't resist) between Link and Dan.
Thing 1: "He lived in a dimension of his own and would pretty much remain there – decades later, musicians would tell tales of rehearsing with Link only to have it abruptly end, Wray's eyes glued to the TV, the guitarist lost in an episode of Batman." Granted, Dan is far more focused during his own musical projects, but he definitely has a unique way of checking out of the world (and people) around him to follow his own muse.
Thing 2: "Fan and friend Bobby Morris, AKA Widmarc Clark, was amazed at how influence-free Link seemed, despite his awareness of players like Chet Atkins and Merle Travis. 'Link was an experimenter. I never recall him playin a riff from those guys and sayin', This is what I learned, because he just had a headful of it himself. He didn't have a bit of trouble thinkin' of a chord progression that sounded different and good. That's just how he was born. Link was gifted.'" So it goes with Dan – born with a gift, restless experimenter, human hook machine. Even on the Junior Kimbrough tribute "Chulahoma," he's incapable of slavish imitation. Every song draws from the Hill Country blues tradition but seems fully formed in the here and now.
And now, the music…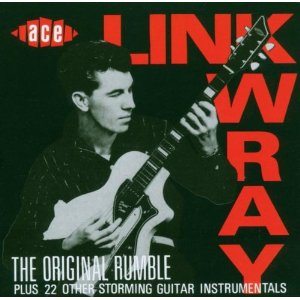 Rumble… the song that started it all. That bad, bold and beautiful sound that inspired virtually every rock guitarist who followed (or at least the ones who mattered). And to think that the restless experimenter Link came across that sound by using a pen to poke holes in his amp's tweeters. One of the great moments in modern music, like when Paul Burlison dropped his amp and broke a tube… or when his bandmate Johnny Burnette first let loose with one of his blood-curdling screams after backing into his guitarist's lit cigarette. Rumble
Link lost a lung from a bout with tuberculosis, but you wouldn't know it from the way he manhandles this Jimmy Reed original. I love how he gasps for air right before the chorus – a truly dark and demented touch… which of course is why we keep coming back for more. Ain't That Lovin' You Baby
Jack the Ripper – a masterful slice of menace from 1961. This cut worked its way into one of the few Richard Gere films worth watching, Breathless (video below). The song features Wray and his longstanding trio – brother Doug on drums, Brantley "Shorty" Horton on bass – at the peak of their powers. As Horton's successor, bassist Richie Mitchell, pointed out, "There was somethin' about the sound of those three guys that nobody could ever get again… You could play the same notes as Shorty played, but it was just somethin' about the chemistry between those three people. They had an early original rock sound that was all theirs." (McDonough, Perfect Sound Forever.) Jack The Ripper
Link did have a lighter, more playful side, and you can hear it on this cut from "'They're Outta Here,' Says Archie" – a collection of tracks that were shelved in the late '50s by Archie Bleyer, president of Cadence Records. Bleyer scored a hit with Wray's Rumble, but decided that the rest of the songs intended for a Cadence LP would have a corrupting influence on teenage youth. Maybe the song Patricia was an attempt to meet Bleyer halfway… but apparently it still had just enough sleaze in it to scare off the label's dipshit boss. Patricia
Here's a grinding, blues-based tune that Dan covered during his 2009 solo tour, when he was backed by the great Texas band Hacienda. In the show I saw in Cleveland, Hidden Charms was the closest Dan came to playing an honest-to-god, four-on-the-floor blues number. And he was clearly inspired by the filth and fury of Link's original. Hidden Charms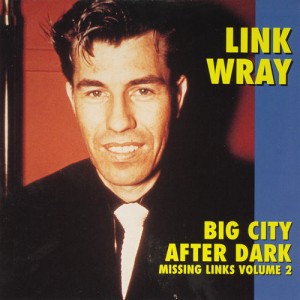 If you're looking for a truly depraved example of Link at work, go no further than this stunning number from '62. It was released under the name Ray Vernon & the Raymen (a nod to his brother Vernon, an aspiring pop singer who chucked it all to play a more essential role as Link's producer and engineer). There's absolutely nothing respectable about this song – from the drunken jackhammer rhythm to Link's completely unhinged guitar. Maybe Bleyer was right… At the very least, wait until Junior's voice changes before you expose him to this one. Big City After Dark
When it came to his music career, Link almost consistently made bad decisions – from signing with unsupportive labels to turning all his finances over to his brother Ray (Vernon), whose daughter Sherry inherited Link's publishing company after Ray took his own life. At least Link could count on auteurs like Quentin Tarantino, John Waters, Robert Rodriguez and Breathless director Jim McBride to keep his music in front of the masses. But I still can't figure out why the blazing instrumental Ace of Spades didn't show up on the soundtrack to Tarantino's Pulp Fiction. Even when Link seemingly caught a break, he couldn't make it work to his advantage. Ace of Spades
More than a few of Link's songs incorporate some exotic touches, including various tributes to his American Indian heritage (his mother, Lillian, was a full-blooded Shawnee) and lounge-flavored numbers like Patricia. This next cut combines a cha cha cha rhythm with a Malaguena-influenced chord progression. Of course it all comes out sounding like Link Wray music, which is a very good thing. Pancho Villa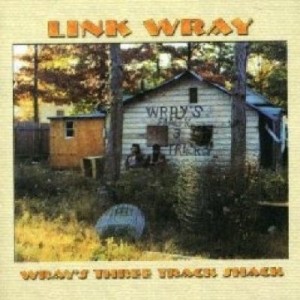 One of Dan's favorite albums is "Wray's Three Track Shack" – Link's "Big Pink" moment. In other words, much like The Band did back in '68, Wray holed himself up in the country to come up with his own vision of Americana. But don't cloud this vision with thoughts of guitar-strumming troubadours playing gauzy, sensitive tributes to rural life. Wray's homespun recordings at the family farm in Accokeek, Maryland, were as rough and ready as his favorite switchblade – including this number covered by The Neville Brothers on their 1990 release "Yellow Moon": Fire and Brimstone
When I first latched on to Link Wray's music back in the Seventies, I assumed he was this strange, shady figure from England (he spent his last years in Denmark, so I wasn't that far off). I actually was shocked to find out he grew up in Dunn, North Carolina, without a pot to piss in… that he was a lifelong teetotaler… and that he was very religious, in a God-fearing, fundamentalist sort of way. Wray kept rockin' til the end – he toured America in 2005 before passing away that year from heart failure at the age of 76. Here's a cut he recorded in England when he was 60, sounding like the youngest guy in the room. The Wild One
Link Wray live in England, probably '96 or '97, which puts Link in his late-60s… I'm sure there are better-quality live videos out there, but I love the way he prowls the stage like a mad hyena and literally snuggles with the crowd (knocking his guitar out of tune – a minor distraction):
From the movie Breathless… Richard Gere channels Link Wray as he steals a car to pick up his girlfriend.