Check it – RCR is now optimized for iPad and iPhone use. We're also the only site I'm aware of that's optimized for rotary phones. Just dial Garfield 1-2323 and I'll have Dottie from the steno pool read it to you.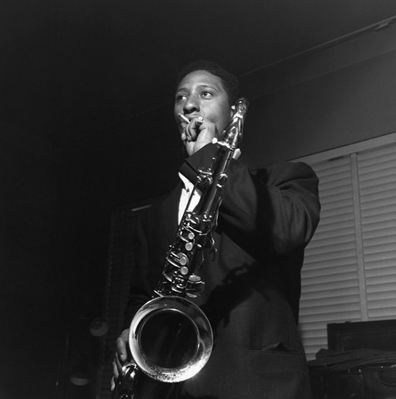 The world's greatest living jazz artist is still going strong. Visit sonnyrollins.com and see for yourself. A solid lineup of gigs this summer and fall… National Medal of Arts from the Kennedy Center… Interview for the Smithsonian Jazz Oral History Project… Strong praise from former President (and fellow saxman) Bill Clinton… New releases that compile some of his more recent live performances… Personal testimonial for "Stories from the Yogic Heart" (Sonny is a longtime yoga practitioner)… All positive signs that this 81-year-old legend has no intention of slowing down.
Much as I did in my post on Miles Davis, I'll confess that I'm not a big fan of Sonny's latter-day recordings, which often feature electric bass and keyboards and some fairly listless arrangements. Don't get me wrong: The sound of his horn is a wondrous thing in virtually any setting. But it's especially satisfying to hear him backed by (or backing) jazz giants like Miles, Thelonious Monk, Charlie Parker, Clifford Brown, Max Roach, Art Blakey and others playing mostly acoustic instruments.
I'm not suggesting that I only like to hear Sonny playing show tunes or jazz standards. Few artists could climb out on a limb and play with sheer abandon like Sonny. And he did that quite well in a classic jazz setting. In fact, some of his most adventurous work featured traditional instrumentation. He really tests the limits of that lineup during a 20-minute odyssey recorded in 1966 with John Coltrane's rhythm section and trumpeter Freddie Hubbard. At one point, he ends up playing through his mouthpiece, sans horn: East Broadway Run Down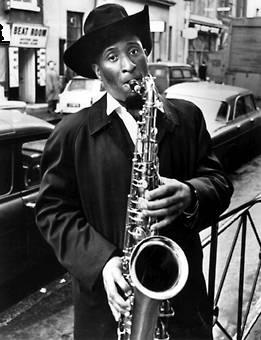 And if you're still thinking he's just another irrelevant (albeit resourceful) old jazz dude… think again. Sonny's praises have been sung by everyone from The Rolling Stones – who brought him in to play on three cuts (including Waiting on a Friend) from '81's "Tattoo You" – to Flea from the Red Hot Chili Peppers, who counts Rollins' Complete Prestige Recordings among his most prized possessions.
I've always considered Rollins' tone (described by renowned critic Nat Hentoff as "hard, though not harsh") as sort of the jazz equivalent of Muddy Waters' voice – like he's tapped into something far deeper than most people are willing or even able to process. I also find it appropriate that one of his best records is titled "Saxophone Colossus." There's something truly mythical (dare I say, epic?) about that sound. In my mind, the only other sax player who came close to wielding the same power was Coltrane – and thankfully, we can still feast on the only Rollins-Coltrane summit ever recorded (here they trade fours, with Coltrane up first): Tenor Madness
A native New Yorker (his parents were from St. Thomas, U.S. Virgin Islands), Sonny grew up in Harlem's Sugar Hill neighborhood, where he lived near prominent jazz artists like swinging saxman Coleman Hawkins and pianist Bud Powell. Some of those prodigious chops must have rubbed off, because he started jamming with the city's most talented players even before he got out of high school. His first band featured another brilliant improviser on sax, Jackie McLean, along with pianist Kenny Drew and one of the form's most highly regarded drummers, Art Taylor. Before long, he was recording with two blazing-hot beboppers: Powell and trombonist J.J. Johnson. Here's Rollins backing Powell on a groundbreaking session from '49: Wail
Sonny recorded for the Prestige label from 1949 through 1956. And several of those sessions featured Miles and some first-rate sidemen, including McLean on alto and the always-reliable Blakey on drums. Although this cut was recorded in '53, it wasn't released until three years later, when Prestige combined tracks from two separate sessions on the album "Collectors' Items." It's notable for two reasons: Charlie Parker appears under the pseudonym "Charlie Chan" (he was under an exclusive contract with another label), and he plays tenor sax, a rare departure from his usual alto. Either Miles was after a deeper sound, or Bird wanted to show the young upstart a thing or two by playing Rollins' instrument of choice (Rollins comes after Miles' solo, then Bird): The Serpent's Tooth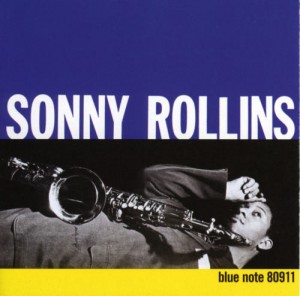 Rollins also recorded a few legendary sessions with Monk – for Prestige as well as the Riverside and Blue Note labels. My favorite Monk-Rollins collaboration was captured by the great engineer Rudy Van Gelder at his studio in Hackensack, NJ during a '57 session for Blue Note. It's a stunning piece of work, with the kind of interplay only a couple of masters could pull off. Reflections
Here's another gem that Rollins cut for Blue Note. Sonny wasn't much of a soul-jazz guy. Since he cut his teeth playing bebop, he had a real weakness for show tunes – mainly, turning them inside out with his unique brand of high-wire improvisation. And when he veered away from this formula, it usually was toward the other extreme (as in East Broadway Run Down). But he came up with a soul-jazz classic in '56, with Donald Byrd on trumpet. I just love this composition by Sonny – the funky starts and stops… a lot trickier than Blue Note "hits" like Blakey's Moanin', but the groove is just as deep and Sonny's solo dazzles at every turn. Decision
Given Sonny's family roots in the Caribbean, he also had a weakness for Calypso tunes. And one of the great pleasures of a Rollins live performance is hearing him manhandle a tune like St. Thomas and this next one, building his solos with a seemingly endless flow of ideas. This is why I have so little patience for most jam bands – they should leave the "noodling" to the true geniuses, like Sonny! Hold 'Em Joe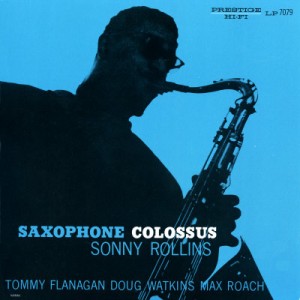 In his book "Sonny Rollins: The Journey of a Jazzman," musicologist Charles Blancq refers to "Saxophone Colossus" as "the most critically discussed and analyzed recording of his career." And if you really want a headful of critical thought regarding Rollins' playing on this album (me, not so much), there's always Gunther Schuller's famous essay "Sonny Rollins and the Challenge of Thematic Improvisation." Let me just say this… If the ultimate goal of a musician is to put as much of oneself as possible into every single note – in other words, to play it like you mean it – I'm not sure it gets any better than this. Sonny's sound has so much presence on this ballad… It's almost overpowering. You Don't Know What Love Is
Although Gerry Mulligan beat him to the punch in the early '50s, Sonny is often credited with conceiving the stripped-down, piano-less jazz trio – something that most of his peers (Mulligan not included) wouldn't have been able to pull off. It started in '57 with a much-celebrated album on the Contemporary label, "Way Out West," that he recorded in L.A. with the California-cool sound of Ray Brown on bass and Shelly Manne on drums. Then he upped the ante later in the year with a far edgier trio outing at NYC's Village Vanguard. In that hallowed space, Sonny played like a man possessed – but I'm partial to the oddball charm of tunes like this one from the L.A. session: I'm an Old Cowhand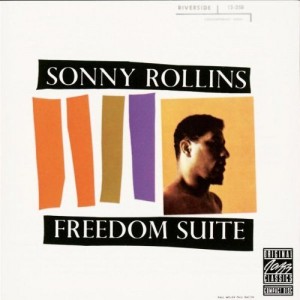 Rollins' crowning achievement in the trio format came a year later with "Freedom Suite," featuring Oscar Pettiford on bass and Sonny's longtime foil Max Roach on drums. The album's centerpiece is the side-long suite that was assembled from multiple performances recorded over several days. According to Riverside producer Orrin Keepnews, Sonny landed on the idea of a suite during the time between the sessions. "I don't think he thought of it that way to begin with. When we went into the studio the second time, we cut the rest of it. It happened pretty spontaneously, that afternoon" (from "Sonny Rollins: The Definitive Musical Guide" by Peter Niklas Wilson). The Freedom Suite
I don't mean to sound too dismissive of Sonny's later stuff. There's a lot to like on his recordings for the Milestone label, his home for more than three decades (he now records for his own label, Doxy). Since 2001 alone, he won two Grammys, was nominated for another and received the academy's award for lifetime achievement. And then there's the mind-altering experience of hearing Rollins play a calypso live… definitely the highlight of an outdoor show I saw in New York City some 15 years ago.
To me, it was like witnessing Muddy or Hooker live. Were they all past their prime by the time I saw them? No question. But it only made the rest of us mere mortals seem slightly less pathetic in their presence.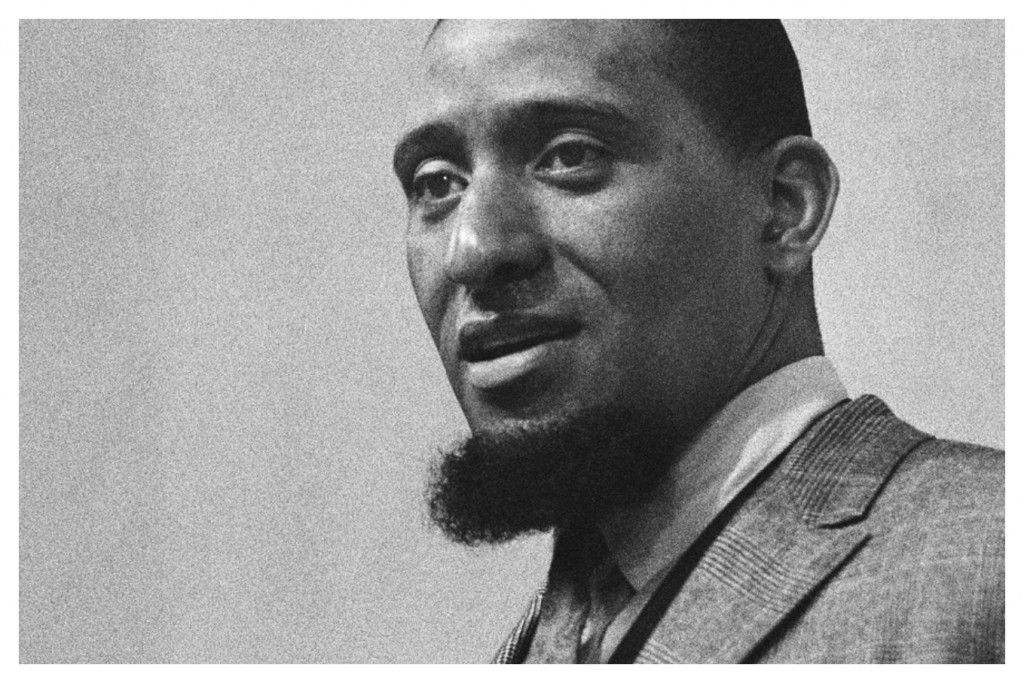 Sonny blows through St. Thomas… with Kenny Drew on piano, Niels-Henning Orsted Pederson on bass and Albert "Tootie" Heath on drums.