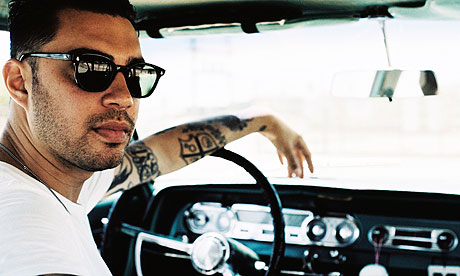 Just got back from Nashville, where I got to see nephew Dan work his magic in the studio with a couple of artists – country rocker Nikki Lane and Hanni El Khatib, who's a little harder to pin down.
Unfortunately, I can't share any samples from either project, since both are still in progress. But I can tell you that Lane's benefits from the contributions of ace Nashville picker Kenny Vaughan (fearsome player and great guy, with lots of funny stories about country royalty like Johnny Cash and Porter Wagoner), and Hanni's should surprise a lot of people familiar with his first album – a DIY effort that was largely recorded in the bedroom of his former apartment in San Francisco.
I enjoyed hangin' with Hanni, who aside from being an unfailingly nice person also seems open to a wide range of musical influences. Granted, you have to be to end up in Dan's orbit, but I appreciated the fact that a guy who was mostly raised on West Coast punk could also find something to like about Western Swing.
I tried to describe Hanni's unique style to my wife, but the best I could do was simply show her a video from his 2011 release "Will the Guns Come Out." The song, You Rascal You, was written back in the '30s by New Orleans blues singer and songwriter "Lovin'" Sam Theard and has been covered by countless musicians over the years – including Clarence Williams (jazz pianist and grandfather of Clarence Williams III, who played "Linc" on The Mod Squad back in the day), Sidney Bechet, Louis Prima, Django Reinhardt, Fats Waller, Fletcher Henderson, The Mills Brothers, Willie Mabon, John Fogerty, Taj Mahal… and on and on.
During a break in the studio action, I did a quick search on MOG and shared a few of these versions with Hanni, who seemed familiar with most of them. One of the very first was recorded in 1931 by swing bandleader Fletcher Henderson, who held court at one of Harlem's most popular nightclubs, Connie's Inn:
As Hanni pointed out, the brutal lyrics of You Rascal You sound a little at odds with the jaunty, swinging arrangements used by most of the song's many interpreters (even country bluesman Mance Lipscomb gave the tune a happy feel: You Rascal You). But read some of the lyrics without the wry title – they're downright scary:
I'll be glad when you dead…
I'll be glad when you dead…
When you dead in your grave,
No more women will you crave.
I'll be glad when you dead…
Dan jumped in on the discussion and shared his favorite version – a youtube clip featuring a very young Sammy Davis Jr. I guess it's kinda cute hearing a small child sing the praises of violent revenge:
I can't get enough of Gypsy guitarist Django Reinhardt, so of course I'm partial to his remake of Rascal. Then again, Django and his longtime accomplice, violinist Stephane Grappelli, could take some of the hoariest songs ever written (Sweet Georgia Brown?) and turn them into minor masterpieces. This 1937 recording features Django accompanied only by bassist Louis Vola:
And you can't resist the lure of the two Louies: Armstrong and Jordan. The former recorded it first back in 1931, but this 1950 duet captures both masters in fine form. Clearly, Armstrong hadn't lost a step on trumpet, and he makes a joyful noise with Jordan's band during the song's instrumental climax… Murder never sounded merrier than this: You Rascal You/Louis Jordan & Louis Armstrong
Despite the obvious pleasures of that tune, Hanni felt compelled to do a version that would restore some of the menace in the song's lyrics. Mission accomplished. Although nothing really bad happens in this clip, you get the sense he's just one left turn away from trouble:
Not sure when Hanni's new one will come out… Check back here for more details – or if you're just looking for a good time-suck (includes six other videos from his first release).