Former street singer turned major-label recording artist Ted Hawkins would be 76 today (10/28). Here's a re-post in his honor.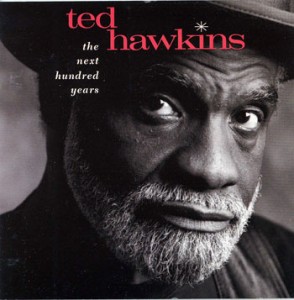 Ever find yourself on a long drive in the middle of the night, searching for those perfect songs to keep you awake but not wired?
There I was, drinking a mocha-infused Starbucks cocktail, almost enjoying the sound of my tires hitting the grooves on the right side of the road. I'd driven myself nuts listening to an endless be-bop solo by some journeyman jazzbo… I actually thought about staying on the shoulder and changing speeds to approximate a basic melody.
Then I decided to reset my iPod (without taking my eyes off the road, of course), and up pops a song by Ted Hawkins, from his final album, "The Next Hundred Years." Slowly, I start moving into an actual lane on the highway. And I finally get the sense that this late-night drive might turn into something more profound, maybe even life-affirming.
Hawkins' incredible life has been well-documented elsewhere, but I'll give you the basics: Born in Biloxi, Mississippi, in 1936 – and raised under conditions that are best described as abject poverty… A troubled youth who was sent to reform school when he was 13, where he was encouraged to sing and perform by the superintendent's wife and inspired when New Orleans piano legend Professor Longhair played for the kids… A drifter and heroin addict who spent a fair amount of time in prison… A street performer most of his life – and mostly in Venice Beach, California, where he probably spent many nights sleeping on the beach… A black man who seemed most comfortable singing his own brand of folk and country music… A rare talent who was criminally overlooked in his own country – even when his first album garnered a 5-star review in Rolling Stone – but gained fame and recognition in Europe… And finally, a major-label artist who passed away only a few months after he finished his debut album on Geffen Records.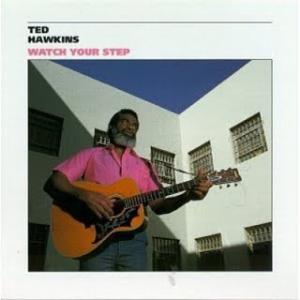 "The Next Hundred Years" isn't even widely viewed as his best album. Allmusic.com singles out "a plodding band unwisely inserted behind Hawkins that tends to distract rather than enhance his impassioned vocals and rich acoustic guitar strumming." Apparently, Hawkins wasn't too crazy about the album himself and felt his voice and guitar didn't need any help at all, thank you. I find it to be a great listen – in a crisply produced, Chris Isaak sort of way. It captures Hawkins' deeply soulful voice in a number of different settings, from a cappella gospel to honky tonk. And, like I said, it's the perfect soundtrack for a long journey – searching yet dead certain… like the feeling of not knowing what's around the corner, but welcoming every turn.
I'd also be hard-pressed to describe the band, including ace drummer Jim Keltner, as "plodding." The guitar playing on the opening cut alone, by Chris Bruce, includes some of the tastiest fills I've heard outside of a Bakersfield studio. And Hawkins' gritty voice – well-worn from years of exposure to windswept beaches – is a thing of beauty: Strange Conversation
As another critic pointed out, Hawkins' lyrics are virtually metaphor-free. Case in point – the opening lines to The Good And The Bad: "Livin' is good when you have someone to live with; laughter is bad when there's no one there to share it with; talkin' is bad if you've got no one to talk to; dyin' is good when the one you love grow tired of you." Although some may find these sentiments a little awkward and confessional, I admire the purity of expression in Hawkins' songs. There's something very powerful about simple words from an honest and innocent man, especially when he's reaching out to a good woman… Green Eyed Girl
The song Biloxi seems to drift into jam-band territory – which isn't necessarily a bad thing, because the form could use a swift kick in the ass. Remember Blind Melon's left-field hit No Rain, that goofy little tune (with an even goofier video) that you couldn't pry out of your head back in the '90s? In a more perfect world, that number would never see the light of day, and we'd still be talking about the summer we spent listening to Biloxi. Of course, most radio hits don't end with hair-raising exhortations like this one… Biloxi
Radio also isn't kind to pure, unbridled honky tonk, and there are two first-rate examples on "The Next Hundred Years." A few posts back, we featured Hawkins' brilliant version of a Webb Pierce hit from 1953, There Stands The Glass. A Hawkins original called Afraid also gets the full-band honky tonk treatment, with tasty pedal steel by Greg Leisz. I like how Hawkins kicks the band up a notch by yelling "play that thing!" Seems like he was born to sing this music. He certainly nails this material better than your standard Nashville country star. Afraid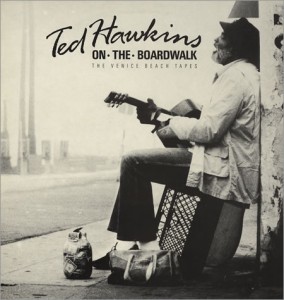 Hawkins was the kind of artist who evoked strong feelings among his fans. Some were drawn in by the backstory of an artist who beat the odds – most notably, homelessness and heroin addiction. Others were under the spell of his highly personal songwriting and stunning voice. Many of them preferred Hawkins alone with his guitar, and I'm sure these fans felt a little cheated by "The Next Hundred Years"… until they got to the last number. It's a cover of John Fogerty's Long As I Can See The Light, and Hawkins delivers the opening by himself – without his guitar. Hard to imagine a better ending to a remarkable major-label debut. Long As I Can See The Light
With a positive review from Rolling Stone under his belt ("…a passionate collection of gospel, soul, country and blues songs about mortality, perseverance and transcendence…") and gigs lined up in nice theaters, Hawkins finally tasted the success that had eluded him for so long. But it only lasted a brief moment in time. He died of a stroke on the first day of January, 1995 – only nine months after the release of "The Next Hundred Years." The title now seems a little cruel, but I'm guessing his legacy will survive into the next millennium.
Here's a stunning live performance of There Stands the Glass – from the '95 Hawkins documentary "Amazing Grace," only available on VHS.