Here's a re-post of an old favorite. Now go out and hug a trucker.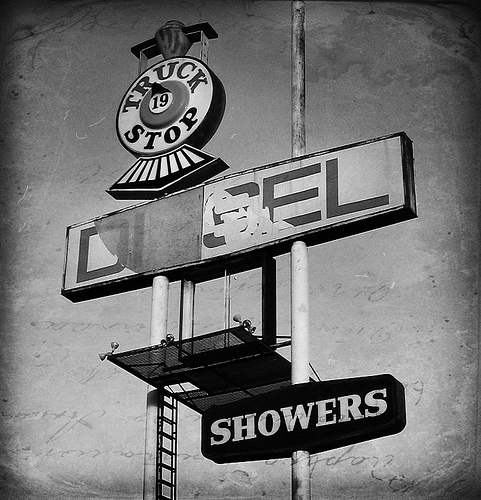 Ah, the life of a trucker. Got me a hot rod rig with 10 forward gears and a Georgia overdrive, and I'm double-clutchin' my way through this here mountain pass. There's a tombstone every mile… I'm poppin' those bennies like they was M&Ms… But I'm feelin' pretty good, 'cause I got this diesel all wound up and I'm passin' everything in sight. And I can't wait to spend a little money on my honey at the next roadside stop.
Wait, that's someone else's life…
I may not have the slightest idea what it's like being a trucker, but I can certainly appreciate a well-crafted ode to the hero of the highway – the truck-drivin' man (or woman).
Fact is, for those of us who prefer a more sedentary lifestyle, these songs may be the closest we get to climbing in the cab of an 18-wheeler, grinding a few gears and moving a truckload of freight across a few hundred miles (or, in my case, maybe a few inches) of blacktop.
Several posts back (There Stands the Glass), I unlocked the secrets to writing the perfect drinking song. Now, as a special added bonus for RCR's many subscribers – or, as I like to call them, friends and family members – I'll provide the same essential service to those of you hoping to come up with the next big hit on Billboard's Trucker 100 (from the same parallel universe that made Ferlin Husky an international pop star and 8-track tapes the preferred format for today's discerning music buyer).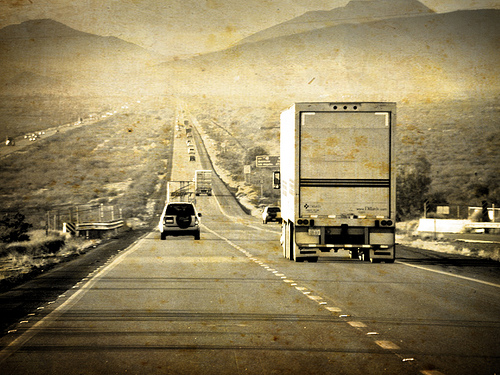 First, the ideal trucker song should include at least one truck-related sound effect – horn blaring, gears grinding, motor running, brakes squealing… any of these will do just fine. Second, we need several references to the rig itself and/or the trucker lifestyle, using terminology that should be foreign to the non-trucking public (double-clutching and Georgia overdrive are good examples). Third, much like the successful drinking song, it helps to create a sense of impending doom. Think diesel smoke and dangerous curves… fog is thick, brakes are failing, bennies are all gone and tombstones are whizzing by. Nothing good can come of this. And for the final, knockout punch, the song should convey a deep sense of longing for someone at the end of the road – whether it's a faithful wife waiting back home in the peaceful valley or a painted floozy slingin' hash at the roadside tavern.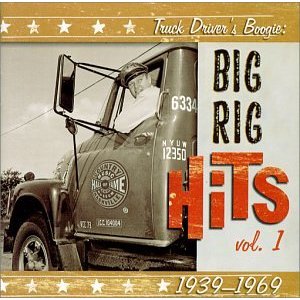 Based on these important measures, it's safe to say that the big-mack-daddy of all trucker song collections is Truck Driver's Boogie: Big Rig Hits, 1939-1969. And, of course, it's already out of print – even though it was released in 2001. Just keep this in mind as we continue to march ahead into a brave new world of massive digital music libraries offered by web-based conglomerates. It seems to me a greater variety of music was available 15-20 years ago, when a number of smaller boutique labels were releasing first-rate compilations of anything from funk to field hollers. Good luck finding the same range of choices today, unless you know your way around a small community of online file-sharing sites. I can tell you that a lot of the stuff we feature on RCR remains unavailable on iTunes – and I don't want to live in a world without Speedy West and Jimmy Bryant.
Anyway, enough bitching… If you can appreciate a uniquely American form of roots music with healthy doses of humor and hot pickin', you'll want to check out Truck Driver's Boogie. As the title says, it covers three decades of truck-driving history, stopping just short of all that annoying CB radio/Convoy/Smokey the Bear crap that you couldn't avoid in the Seventies.
Speaking of West and Bryant, they're all over this next cut by Doye O'Dell. It gets high marks from the RCR research team on all four of our key indicators, plus bonus points for tasty pedal steel and guitar solos. Speedy goes first; Bryant takes the second break: Diesel Smoke (Dangerous Curves)
Those of you who prefer something more along the lines of Roger Miller will enjoy this next tune by Del Reeves. I'm not sure what would be the best occasion to unleash this song on your friends and loved ones… Maybe you should just listen to it by yourself in a very remote, private area: Girl on the Billboard
Even a few women got in on the act. Since I'm not familiar with Kay Adams, I'll defer to the good folks at allmusic.com, who describe her as "the first woman to take the wheel of a big rig and drive it into country music's Top 40." We can thank the Sundazed label for reissuing her 1966 long-player Wheels & Tears, which includes a number also featured on Truck Driver's Boogie: Little Pink Mack
Now, before you start thinking all this stuff is strictly for laughs, along comes Red Simpson. He's obviously aching to get back home to see his baby – and even a jaded tool like me can get a little choked up when Red talks about the son who barely knows him, but keeps drawing pictures of trucks in school (Red's still at it today – you can catch him every Monday night at Trout's in Oildale, CA – and his lighter side is apparent on Nitro Express, a tune he recorded with the great Junior Brown in '96): Roll, Truck, Roll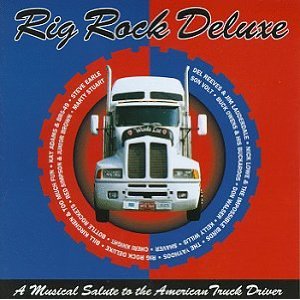 Once you get past the golden age of trucker songs, there's even less to choose from. If you look hard you can find a few gems hidden here and there – Taj Mahal's rockin' cover of Six Days on the Road (from Giant Step), The Byrds' Drug Store Truck Drivin' Man, Townes Van Zandt's White Freight Liner Blues, Little Feat's Willin', Bill Kirchen's remake of Tombstone Every Mile (also covered by Nick Lowe)…
But most of us don't have the time or patience to go searching for semi-gold. Instead, let me recommend a more recent collection ('96 – close enough) of trucker tunes called Rig Rock Deluxe: A Musical Salute to the American Truck Driver that serves as a nice companion piece to Truck Driver's Boogie. Like any tribute, it has a few clunkers – but the good (including the previously mentioned Nitro Express) outweighs the not-so-good. And I especially like this number that teams up alt-country heavyweight Jim Lauderdale and Del Reeves… Diesel, Diesel, Diesel
Another standout cut is by a crack little band from St. Louis called the Bottle Rockets – formed in '92 and still going strong. If I were bold enough to form a trucker tribute band today, I'd be thrilled if it sounded something like this: Truck Drivin' Man (Give It All I Can)
So god bless the American trucker – lionized by the first generation of honky tonk heroes and lampooned in a handful of bad movies from the Seventies. Maybe it's finally time to launch the great truck song revival?
Dave Dudley on the Grand Old Opry performing Six Days on the Road:
Junior Brown with an ode to the trucker's main nemesis: