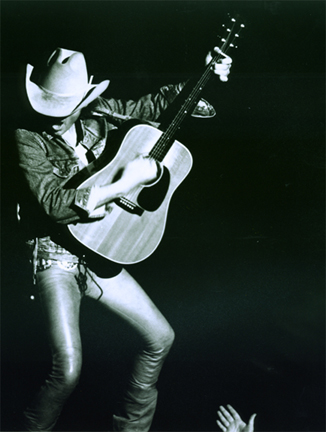 Has mainstream country music ever been any worse than it is right now? Probably, but I just can't take another Eagles tribute band playing some lame-ass ode to the Bubba lifestyle. Sorry, I don't drink Jack or drive a pickup… can't skin a buck or gut a fish… dog won't hunt, road ain't dirt, tractor won't pull… and I got no use for Junior (Hank or Dale).
Fact is, I've already flogged this dead horse here. No need to get all worked up again. Instead, I decided to look back to 1986, when country music sounded fresh and full of promise. I'll let others figure out what went wrong since then.
Specifically, let's revisit a couple of outstanding debuts that year by Dwight Yoakam and Steve Earle – a potent one-two punch that left the country establishment staggering, but still standing.
Although Yoakam's roots were in eastern Kentucky, he spent his formative years in Columbus, Ohio – including a brief stint as a student at Ohio State University. A lifelong teetotaler, he approached country's honky tonk tradition with an uncommon sense of discipline and scholarly zeal. Earle, on the other hand, raised hell in the spirit of his fellow Texan songwriter and idol, the great Townes Van Zandt. His early career was filled with drug-related drama, resulting in three failed marriages by the time he was 30 and a contentious relationship with his label, MCA.
But the two men had a few things in common, including a determination to break through Nashville's tired old conventions (on full display during the "Urban Cowboy" era) and reconnect country music with its most vital influences.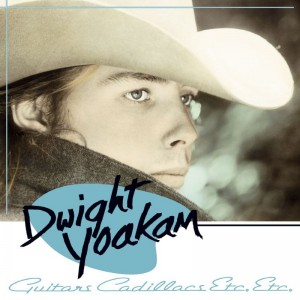 For Yoakam, it was mostly a sound – an Elvis-like ability to bring a rock and roll attitude and energy to long-lost nuggets by Johnny Horton, Ray Price, Johnny Cash and other masters of honky tonk. Maybe the best way to drive this point home is by sampling Price's original version of Heartaches by the Number next to a blistering take by Yoakam and his band, the Babylonian Cowboys (recorded live in '86 at the Roxy in L.A. – from the deluxe edition of Guitars, Cadillacs, Etc. Etc.): Heartaches… (Price/Yoakam)
Earle's rockin' new sound carried a jolt too (best appreciated live), but his main weapon was the pen. Like a hillbilly Springsteen, he seemed to perfectly capture the sense of loss and longing in small-town America during the Reagan years:
I got a job but it ain't nearly enough
A twenty thousand dollar pickup truck
Belongs to me and the bank and some funny talkin' man from Iran
I left the service got a G.I. loan
I got married bought myself a home
Now I hang around this one-horse town and do the best that I can
That's from Good Ol' Boy (Gettin' Tough), a standout cut on Earle's Guitar Town. And here's another fine piece of writing, from the song Someday – it's clear he knows this character and what it's like to feel left behind:
Now my brother went to college 'cause he played football
I'm still hangin' 'round 'cause I'm a little bit small
I got me a '67 Chevy, she's low and sleek and black
Someday I'll put her on that interstate and never look back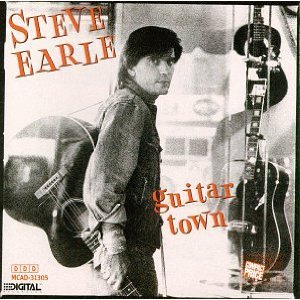 Guitar Town was "pretty much a darn near flawless record," said a guy who should know, singer-songwriter John Hiatt. Music publisher and Earle champion Noel Fox, who formerly sang tenor with the Oak Ridge Boys, offered an even more pointed appraisal of the artist (from Lauren St. John's Harcore Troubadour: The Life and Near Death of Steve Earle): "Steve's music was roots, unabashed, balls to the wall, get the fuck out of my way American music."
By combining a richness of detail with finely drawn characters, Earle could share a world of experience in just a few short lines. He also was smart and skilled enough to frame those lines with the right sound, crafted by some truly sympathetic musicians. Some of Guitar Town's best moments featured the Duane Eddy-inspired twang of guitarist Richard Bennett, and Bucky Baxter added some wonderfully expressive pedal steel. Earle christened his band The Dukes, and they gave his songs the royal treatment they deserved. Hillbilly Highway
Some 2,000 miles away in L.A., Yoakam had recorded a few demos in '81 using idle time at a Hollywood studio. Although he was backed by California country royalty – including Glen D. Hardin (piano) and Jay Dee Maness (pedal steel) from Emmylou Harris' Hot Band – the songs lacked focus and generated little interest. Yoakam knew what was missing… It was the more aggressive sound and aesthetic shared by L.A.-based bands such as The Blasters, X and Los Lobos. He was looking for something less cluttered, more visceral. And that vision was quickly realized when Pete Anderson entered the picture in 1984 as Yoakam's guitarist and arranger.
Anderson was the yin to Richard Bennett's yang. Bennett's formal guitar lines brought the right amount of structure to Earle's powerful songs. In comparison, the bluesy Anderson had a biting attack and a wildly improvisational streak – he often seemed only inches away from riding completely off the rails (Anderson solo). Working closely with Yoakam, he assembled one of the most fearsome bands ever labeled as country – with Brantley Kearns on fiddle and the pile-driving rhythm section of bassist J.D. Foster and drummer Jeff Donavan – and completely retooled a few of the songs recorded in '81 (as well as a few more keepers). Yoakam and band cut a wide swath through the city's punk-rock clubs and honky tonks before releasing their major-label debut in '86. Here's one of those keepers: Guitars, Cadillacs
In Don McLeese's biography Dwight Yoakam, A Thousand Miles to Nowhere, Dave Alvin of The Blasters noted that "when Dwight came along, the Urban Cowboy thing was dying, and it was being replaced by some pretty limp-wristed, lackluster stuff. The powers that be in Nashville just did not know what the next thing was: What's the next hat style?" Sound familiar?
Anderson echoed this sentiment (also from McLeese's book): "We hadn't been concerned with contemporary country at all, because it was in a pretty ugly state. Which seems funny to say now, because I'm not even sure that country exists anymore." The book was published last year.
Back in '86, Yoakam and Earle had a big impact on virtually every musician I knew. At the time, I was playing blues and rockabilly in a Columbus bar band. We were certainly aware of honky tonk (Moon Mullican was a favorite), but we'd never heard it played with the snarl and swagger of the Babylonian Cowboys. And if I had any aspirations as a songwriter, I gave those up right away after hearing Guitar Town and its underrated follow-up, Exit 0. Definitely made me forget all about Springsteen… Someday
Both Guitar Town and Guitars, Cadillacs reached number one on Billboard's Country Album charts in '86. Yoakam's next two albums also reach the top of the country charts, and Earle received two Grammy nominations the following year. They seemed to be at the forefront of a new wave in Nashville that included Randy Travis, Lyle Lovett, Rosanne Cash, Keith Whitley, Marty Stuart, Nanci Griffith and other like-minded artists… and all the old-guard Nashville schlockmeisters – from Barbara Mandrell to Kenny Rogers – were finally fading from sight.
Of course the revolution didn't last long. Yoakam stayed within the country mainstream but was slowly pushed aside by "aw shucks" blowhards like Garth Brooks and their infatuation with bad Eighties rock. Today he seems more focused on his acting career, with notable parts in Sling Blade, Panic Room, Wedding Crashers and a few other films under his belt.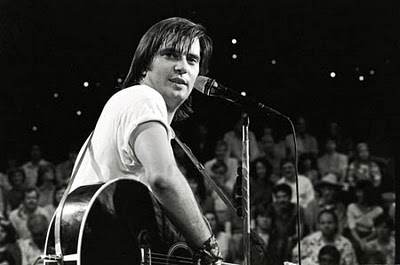 Earle probably had more in common with Brooks than Yoakam when he released the heavy-handed Copperhead Road in '89 (and demanded that record stores file it under "Rock"). Then, after a brief stint in jail for heroin possession, he straightened up his act, put out one of his strongest albums in years (the aptly named I Feel Alright in '96) and helped lead the Americana/alt-country movement into the next century.
Earle will never sell as many albums as he did back in the Eighties, but that doesn't seem to weigh too heavily on his mind. "There were a lot of twists and turns along the way and many more adventures lay ahead," Earle said with great understatement in the liner notes to the 2001 reissue of Guitar Town. "But it was, as they say, a start. A good start…"
Here's the "official video" for Guitar Town. According to Hardcore Troubadour author Lauren St. John, the performance footage was filmed on a soundstage in Akron (probably at WQMX studios). Why wasn't I invited?
Dwight and the Babylonian Cowboys – live on Austin City Limits. Some serious tele-shredding by Anderson on this one.