At RCR, we recognize that our loyal readers aren't here simply to honor the deceased. Occasionally you expect us to plow through a stack of new releases and offer a few recommendations for your listening pleasure. And we're glad to oblige – as long as the CD we're reviewing is delivered in a large gift basket lined with C-notes.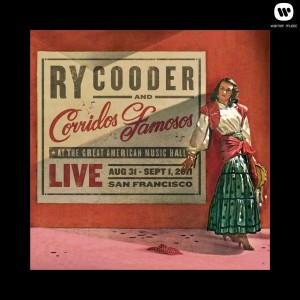 Unfortunately, our first artist has no use for such tactics. He's spent a large part of his last few albums decrying corporate greed and crooked politicians. Although I'm fine with his politics, I was hoping Ry Cooder would hop off his soapbox long enough to deliver another solid set of roots-music gems reimagined as rich, multicultural hybrids (think Woody Guthrie in a Texas border dancehall, as shown in the video below) or juke-joint blues: Crazy 'Bout an Automobile I'm glad to say Cooder followed my advice (maybe the gift basket I sent him helped), and you can hear the results on his latest release, Live at the Great American Music Hall, San Francisco Aug 31-Sept 1, 2011. Much like Cooder's previous live album – Show Time, recorded in '77 at the same venue – the main flavor is Tex-Mex. Flaco Jimenez is back on accordion, and Terry Evans returns with his soulful vocals. But this time around, Cooder brings along his son Joachim on drums and beefs up the band with a 10-piece Mexican brass ensemble, La Banda Juvenil. And the years have only added more grease and grit to his slide guitar. Let's just say if you're looking for a tone that will scare the children and raise the dead, Ry's got it: Vigilante Man (not sure how he gets it, but this link might be helpful for you gearheads out there). I could've done without four remakes of songs he covered quite well on Show Time – and would've welcomed live versions of other favorites from his back catalog – but now I'm just pickin' nits… Besides, he coaxes a great vocal performance out of Juliette Commagere on a sizzling remake of Volver, Volver. Any live offering from Cooder is reason to celebrate, and this one's a keeper.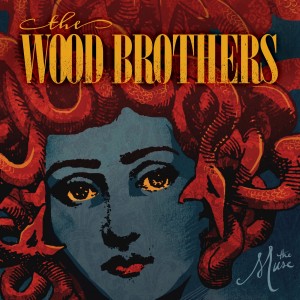 If there's a better band out there working in the Americana space than The Wood Brothers, I want to know who they are and where they're hiding. I got hooked back in 2006, when one of the best bass players on the planet, Chris Wood (of Medeski, Martin & Wood fame), joined forces with his brother Oliver, a stunning guitarist, singer and songwriter who clearly deserved a much-larger stage. Although Ways Not to Lose was an impressive debut, each subsequent release seemed to bring more range and depth to the Woods' sound – not to mention more first-rate originals to their live shows. Here's a sly lyric from their third album: "Sometimes the tip of my tongue is the barrel of a gun, and it's loaded" (I think I know this guy). I was fortunate to catch them at the Kent Stage in 2011 during their first tour with drummer Jano Rix, wielding his small but mighty kit and the patented "shuitar" (their website defines this percussion instrument as "a shitty acoustic guitar rigged up with tuna cans and other noisemakers"). Rix is now a full-time member of the band, which also gives the brothers another layer of harmony – heard to great effect on this tune: I Got Loaded I'll thank WCBE in Columbus and DJ Maggie Brennan for turning me on to The Wood Brothers' new release The Muse (I nearly took a wrong turn to Gahanna when this tune came blasting out of my radio: Honey Jar). Working out of Southern Ground Studios in Nashville, producer Buddy Miller kept everything remarkably focused given the amount of turf the band covers – blues, gospel, backwoods soul, hard country, country funk, a little Tin Pan Alley… too many influences and highlights to cover here. Definitely one of the year's best.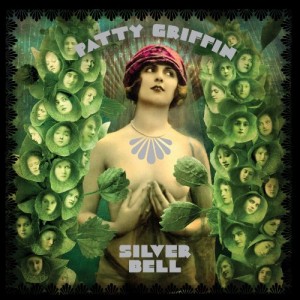 Although Patty Griffin's Silver Bell is "newly released," it doesn't qualify as new. It's only been available as a bootleg since her previous record company, A&M, shelved the album back in 2000. I'm a fairly recent convert to Griffin's impressive body of work – especially 2010's love letter to classic gospel and R&B, Downtown Church. And it's easy to hear why Robert Plant asked her to join his Band of Joy… Forgive me for engaging in a little shorthand, but if Alison Krauss had a little more soul and power (and I love Krauss' voice), she'd probably sound a lot like Griffin. So there's plenty of evidence that A&M missed the mark, but the best place to start is the album itself. Produced by Daniel Lanois at his Kingsway Studio in New Orleans, Silver Bell is a tasty slice of alternative country with a rock 'n roll edge. Is it essential? No, but it certainly didn't deserve the fate it suffered. Hell, the Dixie Chicks raided those recordings for two of their better-known songs (both from the Grammy-winning album Home) – Truth #2 and Top of the World. But I'm partial to the hard-rockin' title tune… Americana needs to be a little messy now and then: Silver Bell
The Wood Brothers cover Michael Jackson – P.Y.T. (Pretty Young Thing) with Jano on the shuitar and what appears to be a deluxe melodica. I've been looking for an opportunity to use Michael Jackson as a tag (I don't think he wrote this song with a shuitar or melodica in mind)…
Patty Griffin – Heavenly Day… Sam Cooke made a love song out of gospel with You Send Me; Patty used the same bag of tricks to honor her dog…
Ry Cooder, Flaco Jimenez and band back in '77, giving Woody Guthrie the full Tex-Mex treatment…