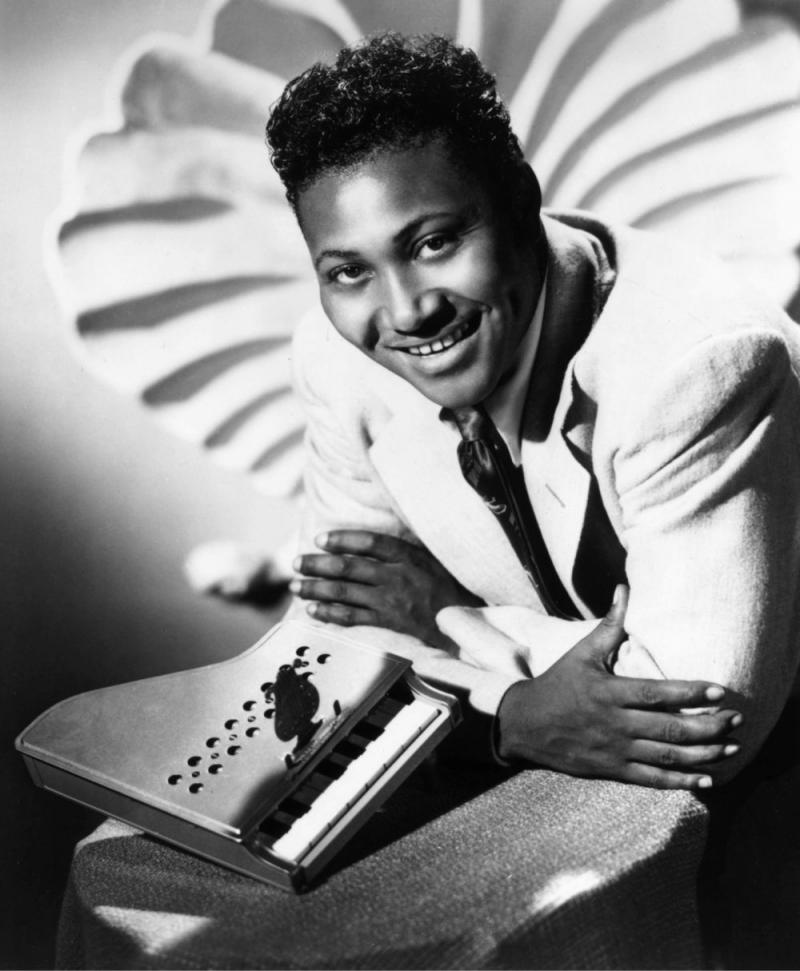 I think I grew up in the wrong era. Toss me in a time machine and set it for 1946, Central Avenue, Los Angeles… and give me some greenbacks too, because I'll need a sharp zoot suit with a reet pleat (maybe I grew up in the wrong ethnic group too).
Just humor me for a few seconds and imagine this time and place. Let's see… Dexter Gordon is playing over at the Down Beat. Need to check that out. Wait… how about T-Bone Walker at Club Alabam? Eddie "Cleanhead" Vinson at Shepp's Playhouse? Gotta hit the after-hours jam at Jack's Basket Room – Bird might stop by. And Louis Jordan is booked over at the Lincoln Theater. (Insert sound of my head exploding.)
It was the era of honkers, shouters, bar walkers, beboppers, string benders, piano pounders… and L.A. was the place to be. In the wake of WWII, the locals had a little spending cash and a whole lot of reasons to live it up (reason #1: didn't get ass shot overseas; reason #2: T-Bone's playing at Club Alabam, etc.). The recording ban was over, and independent labels were fighting over the many musicians – predominately African-American – who were flocking to L.A. looking for a steady, high-paying gig. The sound was upbeat and rockin' (in a cool, refined sort of way) to match the prevailing mood of the city. And the stage was set for the birth of rock 'n roll.
Few artists were better suited to ride that wave than Amos Milburn. A native of Houston, Milburn was born in 1927 into a family of 12. A few of his siblings must've been musically inclined, because he was pounding the piano at the age of five. Ten years later, he lied about his age to join the Navy – a gig that led to the Pacific Theater and 13 battle stars from combat in the Philippines.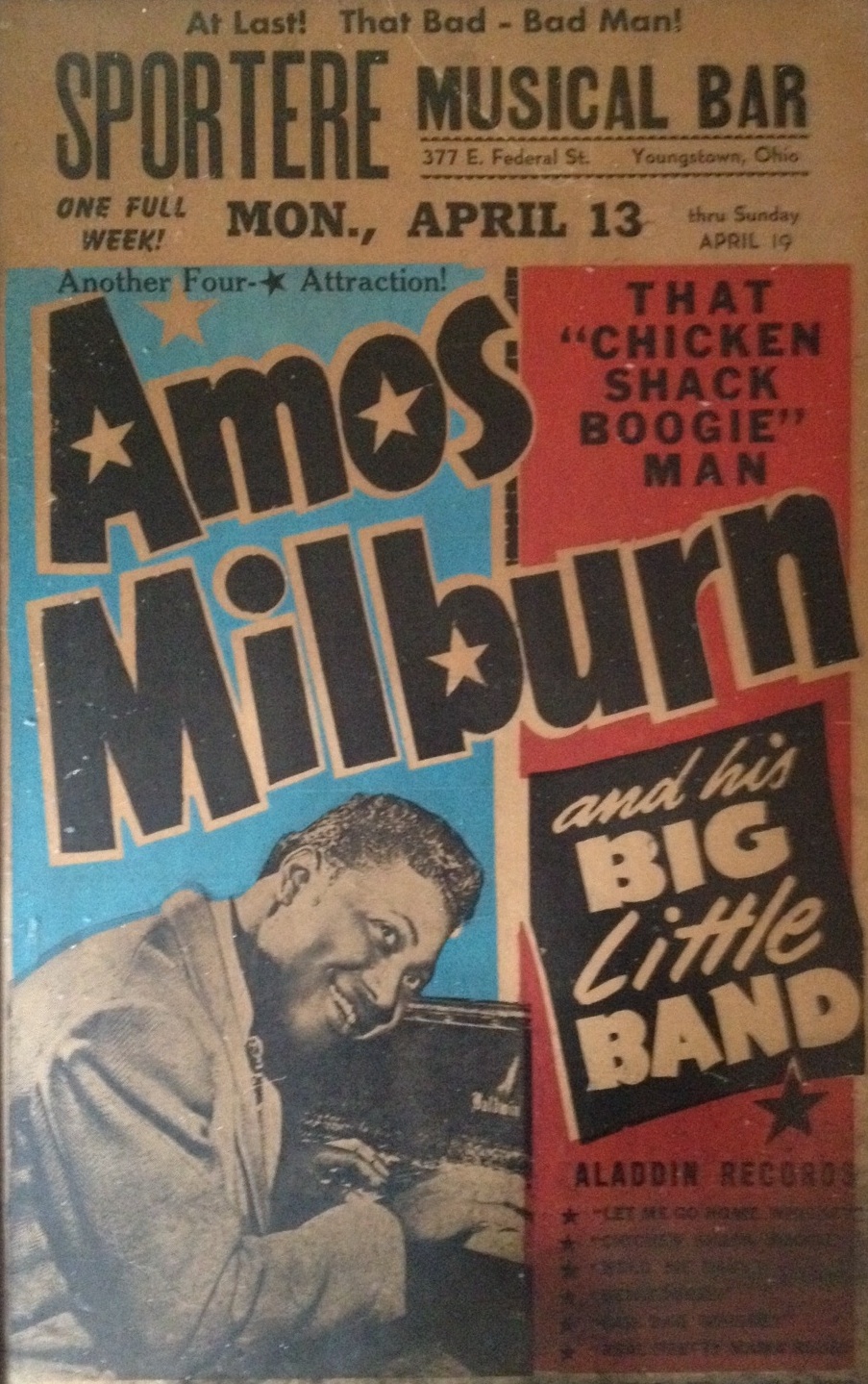 After getting a little taste of post-war R&B in San Franciso, Milburn returned to Houston and started radiatin' the 88s with a small combo in local clubs. But he didn't find much of an audience until he moved to San Antonio, where he fronted a six-piece band at the Keyhole Club.
By then he was a master of barroom boogie woogie; a two-fisted player with uncommon taste and jazz-informed chops. Think Art Tatum at the end of a three-week bender. And his silky smooth voice took his sound even further uptown (but still firmly rooted in a Texas roadhouse).
Milburn eventually was discovered by local blues fan Lola Cullum, who captured his unique style on a couple of demos and then took him to the Promised Land, otherwise known as Los Angeles.
Although rejected by Modern Records, Cullum soon found a home for Milburn at Aladdin. He cut his first sides for the label on September 12, 1946, including a tune reminiscent of the more urbane (and hugely successful) L.A.-based artist Charles Brown: After Midnight
For evidence that Milburn came to play, look no further than another tune recorded at his first session with Aladdin – a remake of a boogie woogie by vaudevillian Don Raye that later was covered by Chuck Berry, Jerry Lee Lewis and the Rolling Stones: Down the Road Apiece
Like virtually anything by Louis Jordan, Milburn's Aladdin recordings are among the best examples of post-war, pre-rock R&B – combining the sophistication of swing with the hard-driving rhythms that put feet on the dancefloor. From 1948 to 1953, 16 of his songs landed at or near the top of the R&B charts. Many of those hits featured the sweet tenor sax of Maxwell Davis, who also served as a producer, arranger and A&R man for Aladdin and Modern.
Milburn also is one of the greatest practitioners of that much-maligned subgenre known as the Great American Drinking Song – or, as one music scholar put it, "songs that concerned the motives, joys, and aftermath of drinking," Although he didn't write any of them, Milburn contributed at least four classics to the form, including Bad Bad Whiskey, Thinkin' and Drinkin' and Let Me Go Home Whiskey. Here's a song later made famous by John Lee Hooker and George Thorogood… Hooker's remake brought to mind cheap rail whiskey; Thorogood served up a two-dollar boilermaker. Both of those versions earned their slots on the essential jukebox for the drinking man. But if you're looking for a fine bottle of 12-year-old single-malt… One Scotch, One Bourbon, One Beer
Although Milburn's soulful yet restrained singing probably didn't inspire the first wave of rock 'n rollers, you can hear echoes of his piano in a wide range of artists, from Fats Domino and Jerry Lee Lewis to Dr. John and Fleetwood Mac's Christine McVie, who named her first band after one of Milburn's biggest hits.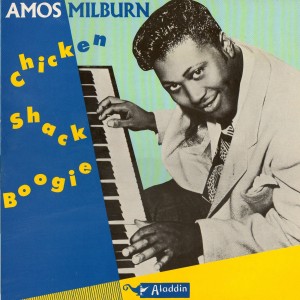 Regardless of his influence, Milburn and his brand of unreconstructed R&B fell out of favor in the mid-Fifties. "Rock music was coming. And, of course, so was the ultimate irony: the music he helped create also sealed his fate," noted Bill Minutaglio in his book In Search of the Blues: A Journey to the Soul of Black Texas. Milburn certainly was game, though, and even traveled to New Orleans in 1956 to record a blistering remake of a song first waxed during a '47 session in L.A. The second version benefits from an all-star session band – Lee Allen on tenor, Alvin "Red" Tyler on baritone, Earl Palmer on drums… basically the same band featured on classic recordings by Fats Domino, Little Richard and Larry Williams, to name a few. The song celebrates the unique pleasures of his favorite juke joints back in Houston (and maybe even a Central Avenue nightspot called Ivy's Chicken Shack): Chicken Shack Boogie
Milburn landed in Motown long enough to record a full-length album with Berry Gordy at the helm. The album couldn't compete with the label's other offerings in 1962, including some of the earliest recordings by Marvin Gaye, The Temptations and The Supremes. But judging from this song alone (the only one I could find from the session), it seems to have its merits…
Milburn eventually moved to Cincinnati, where he worked in a hotel, held down a semi-regular gig at a Walnut Hills joint called Satan's Den, and struggled with a long list of health issues (apparently those drinking songs were based on some hard-earned experience). A stroke made it difficult for him to play piano, but that didn't stop him from joining fellow Central Avenue legend Johnny Otis for a few shows – Otis handled some of the left-hand parts that Milburn previously played so well – and an album in the Seventies.
His leg was amputated after a second stroke in '79. "They took my leg off – the one that used to stomp all that good rock 'n roll, all that fine boogie woogie on the old piano," Milburn said (from the liner notes to Blues & Boogie: His Greatest Hits). "They cut it clean off."
A third stroke finally did him in. He passed away in his hometown of Houston on January 3, 1980.
Let's head down the road apiece with that Chicken Shack Boogie Man…
Bad Bad Whiskey made me lose my happy home…