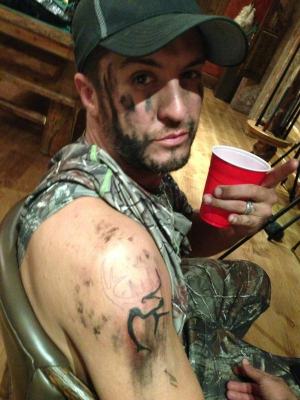 I've spent quite a bit of time on this site complaining about contemporary Nashville country (for example, here and here). And just when I decide to finally leave it alone, a massive brawl breaks out in the Music City.
You can find a great blow-by-blow in this Entertainment Weekly piece by Grady Smith. Now I know why ABC's soapy schlockfest Nashville is so completely over the top – the show's writers just can't compete with the real-life antics of living, mouth-breathing country musicians. Humor me while I share a few highlights from the current country brawl (to quote a famous red-state comedian: I don't care you who are, this is some funny stuff):
In a recent interview on GAC, Blake Shelton noted that "nobody wants to listen to their grandpa's music. And I don't care how many of these old farts around Nashville going, 'My God, that ain't country!' Well that's because you don't buy records anymore, jackass"… Willie Nelson offered the perfect response by branding his tour the "Old Farts and Jackasses Tour"… And honky-tonk legend Ray Price fired back at Shelton on Facebook: "You should be so lucky as us old-timers. Check back in 63 years (the year 2075) and let us know how your name and your music will be remembered."
Current country superstar Luke Bryan released That's My Kind of Night – a stinking heap of dung even by the incredibly low standards of "bro country" (you know, pickup trucks, hot chicks, cold beer, farm livin', flag wavin'… not that there's anything wrong with any one of those – just don't need to hear another song built around the Bubba Checklist)… Zac Brown, who knows ca-ca when he smells it (check out Chicken Fried), called it "the worst song I've ever heard"… then Jason Aldean stood up for his bro Bryan with this tweet to Brown: "trust me when I tell u that nobody gives a shit what u think." Let the fecal matter fly, boys… Can't get enough of it.
Brad Paisley released Accidental Racist – a well-meaning attempt to address the narrow, perhaps racially insensitive mindset of a good portion of his own fan base… Too bad the song is a big ol' bowl of suck.
Other country artists finally started to speak out about the epic lameness of their chosen genre… Kacey Musgraves: "My favorite compliment ever is when someone says, 'I hate country but I love your music'"… Naomi Judd: "I suggest the CMT Awards show change its name. Perhaps to 'the Multi-Genre Awards Show, Featuring Artists under 30'"… Alan Jackson: "What makes me sad today is that I think the real country, real roots-y traditional stuff, may be gone"… Gary Allen (describing Taylor Swift and Carrie Underwood): "I would say they're pop artists making a living in the country genre" (dude, don't pick on the women – they're your only hope).
The rockers didn't hold back at all… Tom Petty called today's country "bad rock with a fiddle," and Sheryl Crow blasted country radio for not supporting women – as artists and program directors.
As you can tell, I find all of this vastly entertaining. But I also can't help but think it's a fairly useless and irrelevant feud. Over the last few years, I've learned that the best way to register my contempt for the current state of country music is to just turn the shit off.
Besides, you can easily find an infinitely superior format on the radio or interwebs, and it just keeps getting better and better. It's called Americana.
I used to bristle at the term. I often wondered if it was a thinly veiled attempt by some artists to bury their country roots. Now I know what they're hiding from, and it ain't the past. In fact, artists such as Emmylou Harris and Rodney Crowell have more country in them than a whole boatload of modern-day bro acts. But since the stations that play those Autotuned ding-dongs aren't keen on coming up with another term, Emmylou, Rodney and hundreds of other like-minded artists have decided to embrace the "Americana" label as a way to further distance themselves from the stank eminating from mainstream Nashville.
If you need a sign that Americana is alive and well, look no further than the antithesis of the CMT Awards – the Americana Music Association's annual honors and awards show.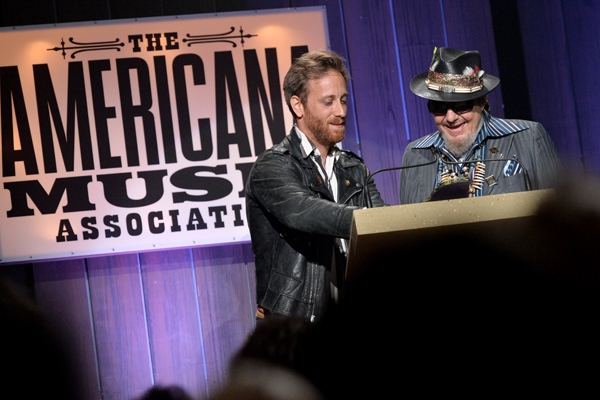 At this year's show – held September 20 at Nashville's historic Ryman Auditorium – lifetime achievement honors were handed out to Dr. John, Duane Eddy, longtime Grateful Dead lyricist Robert Hunter, and Chris Strachwitz, founder of the venerable roots music label Arhoolie. Dan Auerbach presented the award to Dr. John, calling him "a man whose music transcended race and cultural divides… A man who's been in the right place at the wrong time and lived to write the songs." One of my personal heroes, Ry Cooder, honored Strachwitz, who should win some kind of medal just for his longtime support of Lightnin' Hopkins – not to mention for helping preserve entire subgenres of American roots music (cajun, zydeco, norteño, bluegrass, etc). Also, Dwight Yoakam won a well-deserved Artist of the Year, and I was glad to see Emmylou and Rodney walk away with Duo of the Year and Album of the Year for Old Yellow Moon.
Performance highlights included Delbert McClinton with the Buddy Miller-led house band (he sang Hey Good Lookin' as a tribute to Hank Williams, who was honored with a President's Award); the wife-husband duo of Kelly Willis and Bruce Robison (see video below); Eddy playing his low-note masterpiece Rebel Rouser; and Stephen Stills with former Buffalo Springfield bandmate Richie Furay and special guest Kenny Wayne Shepherd, raising a few ghosts of the Sixties with a spirited version of For What It's Worth.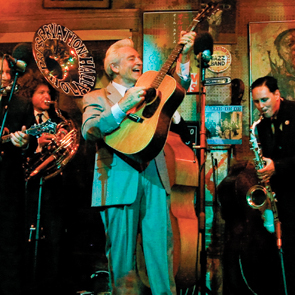 "The Americana Awards were great fun, and unlike contemporary country music, so much of which seems to be to be created only for commercial reasons, Americana embraces the diversity of its roots," said brother-in-law Chuck Auerbach, who attended the show with my sister Mary. "Its very inclusiveness makes it hard to define, but for me, it's the intersection of all the great American genres: blues, country, folk, R&B, gospel, rock and roll, bluegrass and a few more I'm probably leaving out. It includes Hank Williams, Robert Johnson, Bill Monroe, Elvis, Al Green, Mahalia Jackson and does so without blushing. Just listen to The Del McCoury Band play with The Preservation Hall Jazz Band, and you realize that all of this music that seems so different, really has common roots. This is what Americana celebrates."
As Tony Soprano might say, country is dead to me. Maybe some folks in Nashville will figure out how to revive it, and I wish them the best. But I won't waste any more of your time bitching about it. I'm just glad to be riding the Americana train (and hoping it'll take me all the way to next year's awards show).
I'm also diggin' on this young man, John Fullbright…
Kelly Willis and Bruce Robison, performing the title song of their new album live at the KUTX studio in Austin…
Del McCoury and the Preservation Hall Jazz Band, live on Letterman…