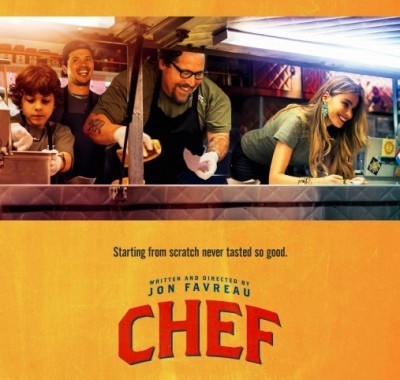 Someone raided my music collection to put together the soundtrack for the movie Chef.
OK, I'm exaggerating… But if you were lucky enough to catch this small miracle of a film since its theatrical release in May, you probably recognized a few sounds that we simply can't resist at RCR – Latin boogaloo and salsa, New Orleans R&B, Texas blues… easily the best movie soundtrack I've heard in years (more on that shortly).
Don't assume from the term "small miracle" that I regard this film as a staggering achievement in modern cinema. It tugged on a few obligatory heartstrings and failed to suspend my disbelief at a couple turns – mainly, when the main character, played by a beefy but lovable Jon Favreau, is biblically desired by both Scarlett Johansson and Sofia Vergara. That's not artistic license… that's a parallel universe.
But the film handles an emotional father-son reconnection with surprising restraint – and if you like movies that tell a winning story with charmingly flawed characters that seemed plucked from your own circle of friends, then you'll enjoy spending a couple hours with Chef (for you Rotten Tomatoes folks, this one's an 88% Critics, 89% Audience).
Favreau plays master chef Carl Casper, who is caught between following his own "farm to table" muse or meeting the rigid, old-school demands of L.A. restaurateur Riva (a very convincing Dustin Hoffman). We quickly meet the likable nutballs in Carl's life – mainly, his line cook Martin (John Leguizamo), sous chef Tony (the great Bobby Cannavale… always a welcome presence), hostess Molly (Johansson) and ex-wife Inez (Vergara). And we learn that Carl's parenting skills leave a lot to be desired, given his benign neglect of his son Percy, wonderfully played by EmJay Anthony.
The film also takes a dip in the social media pool when Carl, straining to appease his numbskull boss, gets lambasted by food critic Ramsey Michel (Oliver Platt, another guy who seems incapable of hitting false notes) for serving up the same old shit. The chef confronts Michel at the restaurant and the rant, captured on someone's smartphone, goes viral. Carl loses his job, gains thousands of followers on Twitter, and ends up back in his hometown of Miami, where Inez's somewhat deranged second husband – played by professional nutball Robert Downey Jr. – kindly offers him a beat-up food truck.
Chef then becomes a road movie of sorts as Carl, son Percy and trusty sidekick Martin take the food truck from Miami back to L.A. This gives Carl plenty of time to bond with his son, who turns out to be a whiz at marketing to his dad's many online fans. The road also offers a cheap excuse to showcase American shrines such as the French Market in New Orleans, Franklin Barbecue in Austin, and the many musical pleasures I praised at the outset.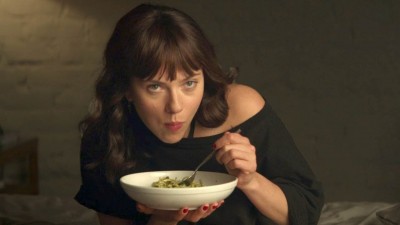 Hard-core foodies will find a lot to like in Chef, including a steamy scene that shows Carl obsessing over a sumptuous pasta dish for an equally delicious Molly/Johansson. That little slice of food porn probably sent hundreds of wannabe chefs home to learn the same trick.
I enjoyed that food-related scene, and might even use a few others to improve my Cuban and grilled cheese sandwich-making skills. But since I'm more of a music guy, several other moments remain stuck in my mind.
You can hear most of the boogaloo and salsa during the scenes shot in Miami. The sense of joy is palpable as Carl, Inez and Percy shimmy along to Perico Hernandez and band at a local club. No big, overblown piece of choreography… just real people, damn glad to be there and unable to stand still. Here's an aural tease: La Quimbumba
Another small miracle: The acting in Chef is every bit as loose-limbed and natural as the dancing. Once again, I felt like I knew these people (even Vergara's Inez seemed sweet and approachable). I wanted to jump right in and dance with them, eat beignets in the French Market, sling Cuban sandwiches in the truck, shoot the shit in the kitchen, or sing along at the top of my lungs to this song (by The Hot 8 Brass Band) – which is exactly what Carl and Martin do while barreling down I-10 to New Orleans… If you don't feel good while watching this scene, you need to readjust your meds: Sexual Healing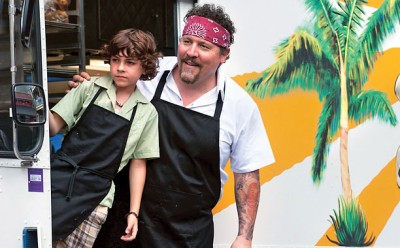 Favorite scene #3 takes place in Austin, where Carl and company set up shop outside of an open-air club while Gary Clark Jr. and band rocked the locals. After the business part of their day was done, Carl and son sat on top of the truck and took it all in… a beautiful moment (here's a solo version of the song that appears on the soundtrack): When My Train Pulls In
Chef is sweet sensory overload… Don't watch the film on an empty stomach, and make sure the theater (or your home, if you choose to wait) has a good sound system. Special credit belongs to KCRW DJ Mathieu "Mr. French" Schreyer, who compiled the amazing soundtrack (5 stars from RCR, and apologies for the accusation up front).
I'll wrap this up by admitting that I was especially motivated to like this film. My favorite TV shows are unfailingly dark – Breaking Bad, Luther, True Detective, Fargo… all hard to resist, but they were starting to make me feel a little homicidal. I needed something uplifting, but not in a forced, Hallmark sort of way. A quick scan of the movie listings showed the usual comic-book garbage, a few lame comedies… and Chef – let's give that a shot. My wife and I watched it at the megaplex with two other people in the theater. The room next to us was jammed with folks watching Transformers (Favreau made millions directing another bloated franchise, Iron Man, but he gets a lifetime pass from me for Chef and his film debut, Swingers). After the movie, we went to see local heroes The Numbers Band at a great open-air club in south Akron – with a food truck parked next to it, no less. I told singer/guitarist Bob Kidney about the film, the music and the small turnout. He gave me this deadpan response: "You know, a lot of people like McDonald's. And they think the food is really, really good." God bless him.
Chef, the Trailer…