Here are a couple new releases with decidedly old-school sounds.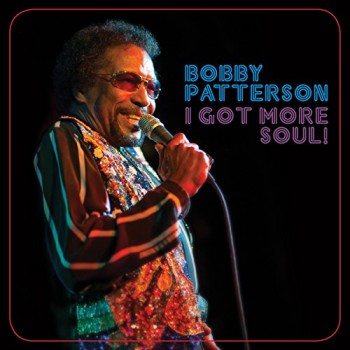 Bobby Patterson hails from Dallas, where he cut his first soul records back in the Sixties for the Jetstar label. He's another one of these outstanding regional talents – Eddie Hinton and Earl King leap to mind – who never got the recognition they deserved. Give this '69 single a quick listen and then explain to me, how did this guy fly under the radar screen for so long? TCB or TYA
I doubt if Bobby's new release on the Omnivore label – I Got More Soul! – will help him break through, but it won't be for lack of a damn strong effort.
The album was produced by guitarist Zach Ernst, formerly with Austin's hard-rockin' soul band Black Joe Lewis & the Honeybears. The much-younger Ernst wisely keeps the record true to Patterson's chitlin' circuit roots (with a few sonic enhancements here and there). As Dallas Morning News critic Robert Wilonsky rightfully pointed out, "Bobby Patterson, whose body is 70 and whose voice still needs an I.D. to buy a drink, sounds today just like he did in the mid-1960s, when he was Dallas' No. 1 soul Brother"… and Ernst, a young cat with old ears, is the perfect fit for a project that revels in the many glories of deep-fried soul. Here's a taste: Can You Feel Me
Patterson's voice has plenty of fire and funk, so Ernst does what any sane producer would do – keep it front and center in the mix. He also has the good sense to frame that voice with a first-rate band made up of some fine young talent from Austin, including several former bandmates from the Honeybears. I Got More Soul
Given Patterson's Texas roots, it's not surprising that he has a very unique and personal way of expressing himself as a songwriter – as evidenced by song titles like Your Love Belongs Under a Rock and, from a previous album, Funky Broadway Ain't Funky No More (video below)… If Muhammad Ali had been asked to pen a few songs for James Brown, they would've had the same universal appeal as this little nugget of wisdom: "I got something for everybody that woke up on the right side of the wrong bed with a bad head and no bread… It's called soul."
I'll also admit that my favorite tune on I Got More Soul! is a sizzling cover of Sly Stone's Poet, first released on the Family Stone's landmark '71 album There's a Riot Going On. I've got this one on steady rotation – on par with the best stuff coming out of my favorite contemporary soul/funk label, Brooklyn's Daptone Records (home of Sharon Jones, Charles Bradley, The Budos Band, etc.). Poet
This appears to be Patterson's first release in 16 years, and he's clearly excited to be back. "This new CD is like Lone Ranger and Tonto, like Cisco and Pancho. I come to you in mono and stereo. If I'm lyin', James ain't Brown, Al ain't Green, and B.B. ain't King." Hey, I'm sold already! Let's hope we don't have to wait a decade or so for Patterson's next album.
I first came across Jason D. Williams back in the Eighties, when I played with Columbus' Ray Fuller and the Bluesrockers. We couldn't get enough of piano pounders in the Jerry Lee mold. And it was especially hard to resist a guy who tears it up like this and might actually be The Killer's biological son (apparently Jerry Lee has acknowledged this publicly… and Williams even served as Dennis Quaid's piano-playing double in the movie Great Balls of Fire!): Fingernails
That cut is from Williams' new release on the Rockabilly Records label, Hillbillies and Holy Rollers. Produced by honky-tonk hellion Dale Watson, the album reunites Williams with his former boss and longtime mentor, rockabilly legend Sleepy LaBeef. Watson recorded it the way God and Elvis intended – "live" in that Memphis shrine to rock 'n roll deities, Sun Studio. As the liner notes point out, "There are no overdubs, punch ins or cosmetic corrections, all the musicians are in one room with a few mics where mistakes aren't mistakes but part of the masterpiece."
Williams' backing musicians at the studio also included members of Hillbilly Casino, a punk-influenced hard-tonk band from Nashville. Williams and band slow down long enough to pay tribute to Hank on this winning cover, featuring Sarah Gayle Meech on second vocals… Losing never sounded so sweet. You Win Again
I wouldn't call any of this stuff cutting edge. Then again, why break new ground when you can have this much fun plowing up the old shit? Hillbillies and Holy Rollers
Patterson and Williams clearly have no use for any recent trend in popular music… and who can blame them? Neither artist would make it very far on The Voice or American Idol, and you probably won't find their records on Spin's list of this year's best. But they've got more chops than most of the main acts at Coachella, and Williams knows it: "If they ever make a Piano Hero for Xbox, kids will never make it past my level. I guarantee it." Amen brother.
As promised… Bobby Patterson and the Mustangs – Funky Broadway Ain't Funky No More (go straight to the 30 sec. mark and thank me later):
How can you resist a tune called You Look Like I Could Use A Drink?