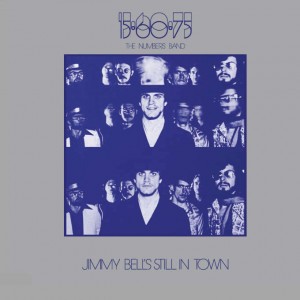 I'd brag about the music scene we grew up with in the Akron area, but the reality of it is a lot more complicated. Let's just say it was fitful, but usually memorable.
Joe Walsh and The James Gang turning up the heat at a west-side pool party… Robert Lockwood Jr. (Robert Johnson's main protege) transforming a south Akron nightclub into a southern juke joint… Glass Harp (with their amazing guitarist Phil Keaggy) holding court at a high school dance… The venues didn't always make sense, but the greatness we experienced was undeniable.
For the most part, Rubber City natives like their rock 'n roll with a decidedly rough edge. Lux Interior of the Cramps, Chrissie Hynde, Devo, Robert Quine, Ralph Carney, Tin Huey, the Bizarros, The Rubber City Rebels, The Black Keys, etc. etc. Some of those artists were strictly exports, but a few cut their teeth playing local clubs like The Crypt, The Bank and The Lime Spider before they left town. Devo played some of its first gigs at J.B.'s in Kent, and not all of them were well-received.
Although I never had the pleasure of seeing Devo live before they hit it big, I witnessed many transcendent performances at the same club by one of the most original blues-based bands on the planet, 15-60-75 – aka The Numbers Band.
It wouldn't be too far-fetched to point out that what Devo did to punk and alternative rock, The Numbers Band did to the blues. Devo confronted audiences with a bold, uncompromising look at urban decay – the de-evolution you can't miss in the band's name, look, sound and skewed marketing. The Numbers Band frightened more than a few Kent State students with their intense, soul-shaking take on the blues, weaving in elements of free jazz (including some Albert Ayler-esque solos by Chrissie's brother Terry Hynde and other horn players over the band's 40-some years in business), heady funk and, yes, a healthy dose of punk… I call it street poetry for rubber rats. And it's all heard to great effect on Jimmy Bell's Still Back in Town, which captures the band's opening set for Bob Marley at the Cleveland Agora in 1975 (remastered tracks were just reissued by Exit Stencil Recordings – 2 LP gatefold with three bonus tracks, digital download and liner notes by Rolling Stone's David Fricke and Akron's own David Giffels; order a copy below).
Out across these night skylights
Down to the doorway
Wide-eyed blues, alive
Loveless
Obsessed
Immersed in the lewd perfume
These first few lines to Animal Speaks – written by the band's leader, main singer and guitarist, Bob Kidney – tell the uninitiated all they need to know: This ain't your mamma's blues. Animal Speaks
Where did it come from? Their father Robert was a union man, a well-respected leader who retired as business manager of the Sheet Metal Workers Local 70. Maybe that's where Bob and his brother Jack (who plays jaw-dropping blues harp along with tenor sax, timbales, congas, piano, guitar, synthesizer… what the hell doesn't this guy play?) got their unflinching, take-no-prisoners approach to the blues.
I was only 17 when I caught the Kidney brothers (plus two, I think) at a local dive called Two Turtles. A buddy tended bar, and my older brother's friends added just enough muscle to get me in the door. As I adjusted to the alien surroundings, I locked right in on two things: the fat-ass tone of Jack's harp, and Bob's unsettling stage presence (when the band really started rockin', he'd shake his head back and forth and start chomping his teeth like a snake-handling preacher at his final performance). That was it… My Blue Oyster Cult albums never made their way out of their sleeves again.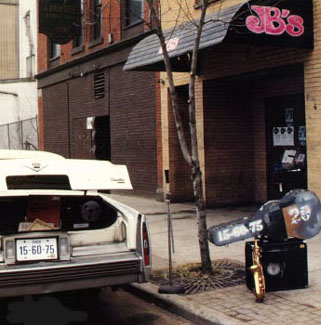 I've probably heard The Numbers Band play about 60 or 70 times over the years – even given a long stint out of town, which only made me more determined to hunt the band down when I'd return to the area. The Kove in Kent was their home until it burned down in '75, then they moved next door to J.B.'s. And that's where I often saw them in the late Seventies and early Eighties – usually under the influence of cheap weed (a dense haze just inside the door would give you an instant contact high) and flat beer.
Too many favorite moments to list here, but I'll offer a few: The Dixieland meets acid rock feel of the band's churning remake of Sea Cruise… the hard blues of Bob's modern-day nod (er, shake) to Blind Lemon Jefferson, The New Matchbox Blues… the sweaty, feel-good groove of Summer Fever… the sinister vibe of Sucker Punch… and virtually everything captured on Jimmy Bell's Still Back in Town, including the brooding title song written by blues and gospel singer William "Cat Iron" Carradine (see live video below).
For my money, this was the band's classic lineup. I loved the hard-driving sound of Michael Stacey's rhythm guitar, which seemed to bring an even greater sense of urgency (if that's possible) to Bob's solos. And the three-sax attack of Jack, Terry Hynde and Tim Maglione (who died in 2003) was a thing of great beauty – if your idea of beauty involves several hundred people getting their ears pinned back. I'm not sure you can find a better example of The Numbers Band on record than the fearsome opening to this song (another Bob Kidney original, arranged by the band): About Leaving Day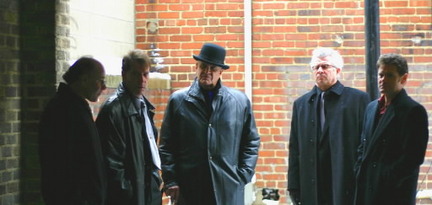 If you're from this area, you probably know the rest of the story. By the end of the decade, Devo (with former Numbers Band bassist Jerry Casale) was a household name. Meanwhile, The Numbers Band often seemed on the verge of something bigger – especially when longtime supporters such as Anton Fier of the Golden Palominos or David Thomas of Pere Ubu would raise the band's profile. But, for the most part, they never gained the larger audience or recognition they deserved.
That's the easy story. The small miracle behind it is that The Numbers Band kept doing it for another 38 years – usually with a strong following of like-minded locals who share the band's many Rust Belt scars, physical and otherwise. We might not follow Bob's advice when he exhorts us to go home and dismantle our cable TV systems. But we certainly appreciate his "fuck you" attitude as we meet bold new strains of the Lowest Common Denominator, whether it involves music, TV, smart phones or how we make sense of our lives here in NE Ohio.
Maybe Bob said it best (in an interview with Creem magazine): "We are not interested in making hits, we are interested in making history." And you can hear a big part of that history in these live recordings from 1975.
The Numbers Band live in '77 at Kent State… Remember the sexton:
Jack Kidney on harp and vocals, tearing into a song made famous by Junior Wells and Buddy Guy, Hoodoo Man Blues… If your date thinks this is a bad night out, you gotta dump the chump.