In honor of the Halloween season (and in recognition of the Walking Clampetts' annual pilgrimage to The Tangier), we hereby re-post this frightening playlist.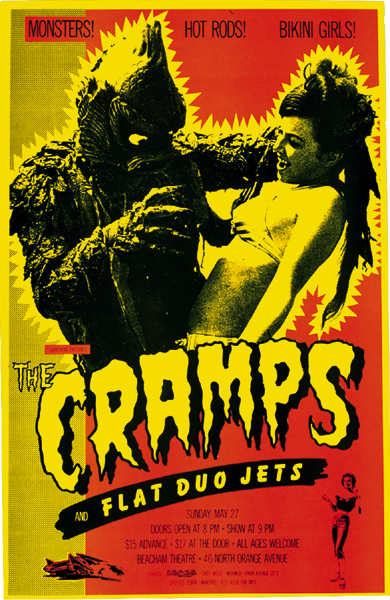 I've resisted the temptation to use this theme during past Halloweens, but I relented this year for three reasons: a) it's actually a pretty cool theme; 2) I'm running out of ideas; and iii) what else would I use to feature the Bonzo Dog Doo-Dah Band?
Let's get right to the tunes, which have been carefully selected to put a chill down your spine… or at least make you question my general state of mind.
I think it's only appropriate to start with a native son of the Rubber City, the late/great Lux Interior (born Erick Purkhiser) of The Cramps. I only saw the band once, in Columbus back in the mid '80s. Someone mentioned it was at the end of a long tour, and Lux seemed to become more and more unhinged as the evening progressed. He stripped down to his gold-lamé bikini briefs, guzzled several bottles of red wine, stuffed his mic into his crotch and started humping everything in sight, including some unfortunate PA speakers. All of this barely registered with the rest of his band – including lust-magnet Poison Ivy on guitar and the ultra-cool Nick Knox on drums. But I was scarred for life, especially when they launched into this one… Goo Goo Muck
Depravity came easy to The Cramps, so obviously they were influenced by hillbilly psycho Hasil Adkins. Here's a guy who wrote not just one, but several songs that include references to chopping off his girlfriend's head (but he's a sentimentalist at heart – in one tune he suggests mounting it on the wall). Shouldn't someone this deranged get a lot of airplay during the Halloween season? I struggled over which Hasil song to feature… perhaps something from his compilation of chicken-flavored songs, Poultry in Motion? Then I came across this youtube clip, which seems to strike just the right balance between levity and lunacy. Enjoy…
You might equate surf guitar with sunny beaches and smiling teenagers, but I've come across more than a few songs in this category that give off a sinister vibe. In fact, I often crank up my favorite surf collection when handing out candy to the neighborhood kids – mainly because these tunes sound completely alien, and maybe a little disorienting, to those of us who live in oppressively dark, chilly and landlocked communities. Here's one of the darker surf tunes ever recorded, which makes sense since the band hails from Pennsylvania (their scary stringbender, Randy Holden, came up with the band's name – a genius move to wrangle some free equipment from Fender). Mar Gaya/Fender IV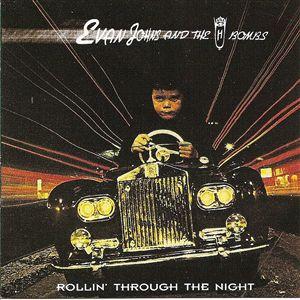 We featured the world's most dangerous guitar player, Evan Johns, in a previous post. And it's been ringing up quite a few hits lately… seems that Johns, still struggling with chronic health problems, has started hitting the music clubs again in his adopted home of Austin ("Guitar hero Evan Johns lives!" reports the Austin Chronicle in this recent profile). I'm glad he's up and about, but I don't think he'll be playing this menacing original any time soon. If someone mistakenly put me in charge of a haunted house, I'd slap this on an endless tape loop, walk away and come back later to clean up the mess… Madhouse
On Halloween night, some folks prefer to pitch the candy, turn off the porch lights and head down to the basement, where they can spend a little quality time exploring the dark recesses of their endangered minds. Misfits like Ross Johnson, who came up with this insane rant in '82. Johnson was a central figure in the Memphis alternative rock scene – drummer for the Panther Burns, friend of Big Star's Alex Chilton, former writer at Creem along with the legendary critic Lester Bangs… and now he works as a librarian at the University of Memphis. So obviously he has every right to reevaluate his legacy with liner notes like this (from Make It Stop! The Most of Ross Johnson): "The main feeling I have when I listen back to these pieces (I won't call them songs) is discomfort… I loved recording them, but I can't listen to them without cringing and feeling ashamed." Wet Bar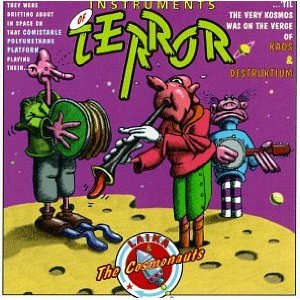 This one's a no-brainer – a song inspired by the shower scene in the Hitchcock classic Psycho. Once again, we have a surf guitar band that honed its chops far, far away from the sunny beaches of Southern California. Laika and the Cosmonauts blasted out of Finland back in 1987 with a uniquely cinematic take on surf rock – a sound that really came together on their '92 release Instruments of Terror. Unfortunately, they packed it up for good a few years ago, but left us little sonic nightmares like this one to remember them by. I think I'm starting to miss those gang-showers at the gym. Psyko
"There's an object in the sky that I can't identify"… Not exactly the close encounter Travis Wammack was hoping for when he drove his girlfriend out to the lake. At the time (1966), he was a promising young guitslinger with a minor hit under his belt, the blazing instrumental Scratchy. Following his abduction by the aliens, he played on a bunch of hits recorded at Muscle Shoals' FAME Studios, traveled the world for 11 years as Little Richard's band leader, and earned the title (possibly self-proclaimed) of "Fastest Guitar Player in the South." So I think the whole thing worked out for him. His girlfriend, not so much. There's a UFO Up There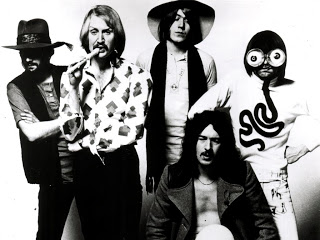 Let's close this out with world-class crazies The Bonzo Dog Doo-Dah Band. Just a quick survey of their song titles should tell you what you're dealing with: Can Blue Men Sing the Whites; My Pink Half of the Drainpipe; Jazz, Delicious Hot, Disgusting Cold; and Death Cab for Cutie (yes, giving a certain band its name). The Bonzos were rebellious art-school students who took London by storm in the '60s with Dada-inspired performances (when told to "warm up" for The Kinks, they came out and did calisthenics). The Beatles were big fans, inviting the Bonzos to play Cutie in the film Magical Mystery Tour. And you've got to love a band that sees the comedic value in phrases that the hippy-dippy songwriters of the day actually thought were profound, like "canyons of your mind." Here's one of the most annoying samples of all time… Sheer genius. Slush
Here's a modern re-make of the trailer for the original Psycho – for those of you still traumatized by the '98 version with Vince Vaughn:
This is a little disturbing – edited footage of The Cramps in '78, playing a show for patients at the Napa State Mental Hospital (although you can easily find the real audio online, this one uses the band's 1980 single Drug Train). Sweet dreams.