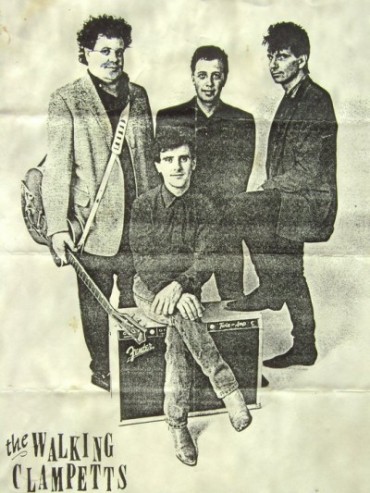 With all the great original music coming out of the Rubber City, I'm almost embarrassed to say that one of my favorite local bands plays covers.
Not your garden-variety covers, like the kind of swill you might hear at a Holiday Inn lounge ("Eighties Night with A Crock of Beagles… Special Prize for Best Hair!"). I'm talkin' sweet surf guitar, red-hot rockabilly, gritty garage rock… In other words, the very lifeblood of RCR's global music empire.
When guitarist John Teagle formed the band in 1981 as Johnny Clampett & the Walkers, I was down in Cincinnati exploring roughly the same musical roots with The Warsaw Falcons. But I made regular trips back to Akron to disinfect my clothes and borrow money, which enabled me to pay a small cover and witness the mid-Eighties version of band, renamed The Walking Clampetts. The new lineup featured Teagle, second guitarist Mike Purkhiser (brother of Eric aka Lux Interior of The Cramps), Bob Basone (now with Wesley Bright & the Hi-Lites) on bass, and Hammer Damage veteran Michael Wray (interviewed here under his alias Mike Hammer) on drums. [I'll confess that I failed to mention Hammer's Clampett connection in that post… apologies to all offended parties.]
My first impression of the band could be described as extreme envy, since I was in the process of looking for another band to join (but had already moved to Columbus to take a gig in state government). To me, the Clampetts were a dream lineup. Teagle played surf guitar like Nokie Edwards with a bad attitude… Purkhiser was one of the best rockabilly guitarists I'd ever heard up close and in person… and the hard-rockin' rhythm section of Basone + Wray made me wish they were in the studio when a few of the originals were recorded. Also, Purkhiser had a deep, Johnny Cash-inspired voice that seemed tailor-made for the vintage material.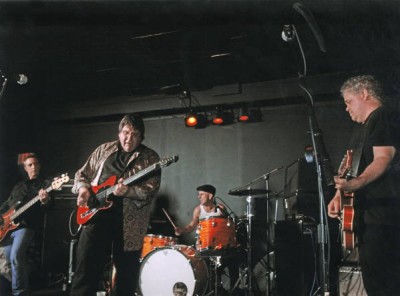 Given the unlikelihood of me becoming the fifth Clampett, I filed the band under "must see" status for future hometown visits. But I didn't really need to be reminded… Every trip to Akron involved a quick search through the local music rag (this was pre-interwebs, mind you) to see if and where the band was playing. Between them and The Numbers Band, I had plenty of ammunition to use on some lugnut back in Columbus raving about the zany cover band they saw at a Buckeyes tailgate.
I even convinced one of my best friends to hire The Walking Clampetts for his wedding. So I'm sure someone, somewhere, has footage of me leading a drunken conga line in front of the band. Please contact me ASAP to negotiate terms for immediate destruction of said video.
Needless to say, I'm excited to report that The Walking Clampetts will reunite for a Thanksgiving weekend show (Nov. 29) at The Tangier in Akron, with special guest Carlos Jones. If you're within a single-day drive of the Rubber City, buy your tickets now: General Admission-$20, VIP Seating-$25.
In honor of the Clampetts reunion (and the band's fondness for obscure B-sides), I decided to share a few rockabilly and surf favorites.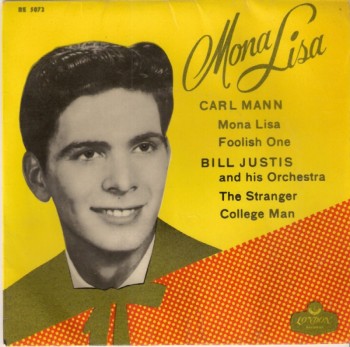 Carl Mann cut his first song for Sun Records in 1958 at the age of 16 – a rockabilly version of Nat King Cole's Mona Lisa – and soon became the label's youngest million-selling artist (Conway Twitty also scored a hit with a similar arrangement of the song). But that wasn't his first recording… He also cut this less-popular gem the prior year for Jaxon, a small label based in Jackson, TN and owned by hillbilly rocker Jimmie Martin. Mann started out playing guitar but switched to piano so he could play with the Jimmie Martin Combo (Martin helped Mann learn the songs by writing the notes on the ivories with a magic marker). He eventually moved to Nashville to pursue a career in country music and still performs today, mostly playing gospel in church. Here's a taste of his secular side: Gonna Rock 'N' Roll Tonight
Hailing from Glendora, CA, The Surfaris are best known for their international hit and surf classic, Wipe Out, featuring Ron Wilson's iconic drum breaks. Guitarist Jim Fuller, often referred to as "the Godfather of surf guitar," gave Leo Fender a huge boost by often posing for promo shots with his Dakota Red Stratocaster. Both Fuller and second guitarist Bob Berryhill remain active today leading their own bands. In a recent interview (classicbands.com), Berryhill upended the tired cliché of surf bands playing beach parties: "…We never went out onto the sand. The sand would just get into your equipment and your guitars and there wasn't enough money around then to say 'We'll just ruin this and go get something new.' You didn't do that." Here's my vote for the band's greatest song: Point Panic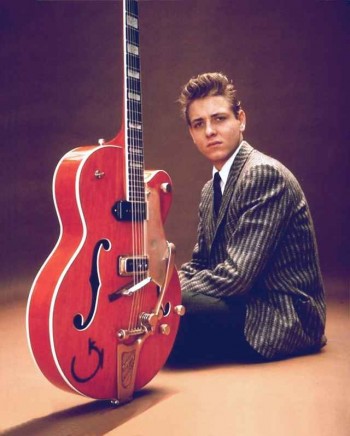 In 1957, rockabilly legend Eddie Cochran cut this blistering B-side to a smarmy little number called Drive-In Show. Writer Billy Poore (Rockabilly: A Forty-Year Journey) had this to say about the single's lead song: "Poor Eddie, they had him singin' these hokey, trite, teen-oriented lyrics such as 'I bet my peanuts to a candy bar you'll be cuter than a movie star.'" Thankfully, Am I Blue is something altogether different, with tasty fretwork by Cochran: Am I Blue
Although credited to The Canadian Nomads, this tune actually was written and performed by New Mexico native George Tomsco, flame-throwing guitarist for The Fireballs – Norman Petty's go-to band for many of the songs he recorded in Clovis, NM following his successful run with Buddy Holly in the Fifties. Las Vegas Scene is a standout cut from That's Swift: Instrumentals from the Norman Petty Vaults. The UK comp offers 24 prime examples of the patented Petty sound – bold, in your face, bright guitars, thick bottom end… As Dan Auerbach pointed out in this post, recording surf-based instrumentals in landlocked New Mexico isn't as far-fetched as you'd imagine: "First of all, it's not easy to find a good singer – especially if you run a studio in Clovis. But Petty could create a real band almost instantly with a guitarist who could pick out a few melodies." Case in point: Las Vegas Scene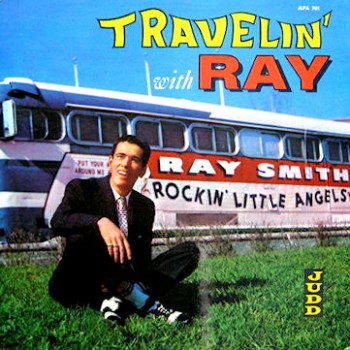 Here's another worthy B-side, the flip to Ray Smith's Sun Records single Why, Why, Why. Both songs were written by the Silver Fox, Charlie Rich, who also played piano on Smith's Sun sessions in the Fifties. A native of Paducah, KY, Smith made a decent living in the Sixties on the rugged Canadian club circuit previously charted by Ronnie Hawkins & the Hawks (reborn as The Band) and Twitty. "He has a hiccupy sound reminiscent of others in this category," Billboard dryly noted at the time. Smith used a handgun to kill himself following a 1979 rockabilly revival tour of the Netherlands (I'll refrain from commenting on how the tour went). Slick pickin' on this one by another Kentucky native, Stanley Walker: You Made A Hit
I'm not sure if our final pick was ever released as a single, but it appears on The Ventures' 1962 album Twist with The Ventures, with Nokie Edwards playing lead. For you hard-core Ventures freaks out there, the See for Miles label (UK) reissued this album with Twist Party 2 on a single CD in '95. That's 27 twist-flavored songs – more than anyone should have to listen to in one sitting (and don't even try twisting that long). But this one's a keeper: Driving Guitars (Ventures Twist)
Bad picture, great performance… The Clampetts rip through the Link Wray classic, Rumble, and then manhandle Great Balls of Fire:
My favorite surf video, featuring Dick Dale & the Del-Tones… Looks like their accountant played bass, and Dad played drums: