Here's a re-post in honor of jazz legend Sun Ra, who would be 101 years old today. Apologies to Akron's new jazz club BLU, which actually appears to be doing quite well.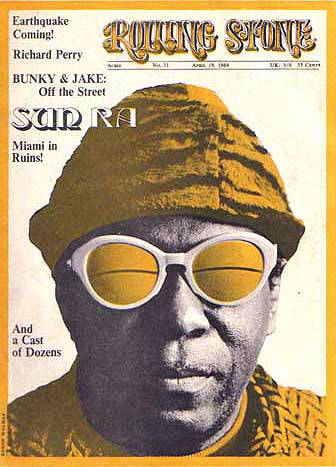 Let me start by pointing out that what I don't know about Sun Ra could fill a book. A 476-page book, to be precise – written by John F. Szwed, who happens to know a lot about Sun Ra.
I'll also admit that the idea for this post started with a delicious slice of dark humor that appeared several years ago on AllAboutJazz.com. The piece, Careers in Jazz, was written by pianist/composer Bill Anschell, who seems to have some hard-earned experience with the subject. And judging by a few of the testy comments that followed the post, it's clear that Anschell really struck a nerve (or "opened a vein," as a couple of struggling jazz artists put it).
Anschell came out swinging with the following thesis: "People who want to play jazz actually outnumber those who enjoy or even tolerate it, let alone pay to hear it. Consequently, in the microscopic jazz economy, there isn't nearly enough to go around, though competition for the crumbs is relentless and sometimes brutal. This simple financial reality underlies virtually all of the infighting, backbiting, and doomsaying that define the jazz condition."
He then went on to list various categories of jazz artists, both struggling and otherwise. And these categories should be familiar to anyone who has attempted to play any form of music professionally or has spent a fair amount of time around working musicians.
For example, there's the Gig Whore, who typically supplements his or her paltry income with well-paying gigs at weddings, shopping malls and community theaters. Then there are the Career Professionals, who spend their weekdays working for The Man and their weekends letting their freak flags fly. And how about the Epiphytes, who Anschell describes as the "true heroes of the jazz world" – the rugged aesthetes who would rather spend a lifetime eating ramen noodles than a minute playing the opening riff to Piano Man.
I've spent most of my adult life playing blues, soul and rock as a Career Professional, with a few brief stretches as a Survivalist (hanging on to a thankless, unskilled job, since I've never really qualified for Working Wives status). And I've whored my way through more than a few wedding parties. So I can certainly appreciate the cruel realities that underscore Anschell's biting wit.
I found the whole piece hugely entertaining and especially enjoyed the comments, like "how does mocking the people who perform the music that the author professes to love help to create more jazz?" Reminds me of a brand of musician I've mostly been able to avoid throughout the past three decades – the strident, overly earnest and humorless schmuck who views a career in music as an entitlement. I'd always rather have the wisecracking smartass in my band, even if the earnest schmuck has better chops.
Aside from making us laugh, I don't think Anschell's article is really aimed at gigging musicians anyway. As one of the commenters pointed out, it's really for those hapless kids working their way through countless jazz programs offered by hundreds of universities around the world (Anschell's description of jazz educators is particularly unflattering). If you're considering a career in jazz, do it with your eyes wide open. Only a handful of artists become the Chosen Ones who can follow their muse and earn a decent living without whoring themselves (smooth jazz, anyone?) at every turn.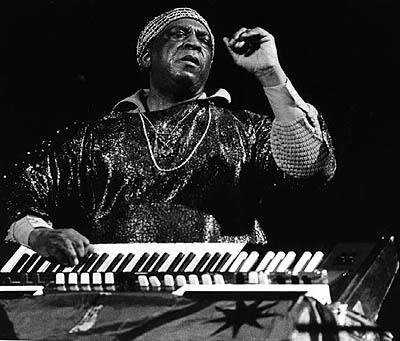 But reading that piece took me on a very circuitous route to Sun Ra. As I look at neo-hippie bands like Edward Sharpe and the Magnetic Zeros and, in the New York minute that preceded the Zeros' rise to fame, the Polyphonic Spree, it occurred to me that maybe this is what the jazz world needs right now – a healthy dose of showmanship. Let's face it, the current business model sure isn't working. And wouldn't you rather have highly trained and prodigious jazz musicians doing this sort of shtick rather than indie poseurs?
When it comes to reinvention, Edward Sharpe's got nothin' on Sun Ra. The former Herman Blount from Birmingham, Alabama, claimed he was once teleported to Saturn, where strange beings with antennae sticking out of their heads urged him to drop out of college and express himself through music.
Given this grandiose vision, you'd expect Sun Ra to be somewhat of a blowhard. But he brought a great sense of playfulness to his "Arkestra's" live shows and reportedly had little patience for avant-garde jazzbos who took themselves too seriously. A Sun Ra concert was all about celebration, with band members and often accompanying dancers clad in costumes inspired by ancient Egypt and B-movies.
In his book "Space is the Place: The Lives and Times of Sun Ra," Szwed describes a typical performance by the Arkestra in the late '60s: "It was intensely dramatic music, moving from stasis to chaos and back, horn players leaping about, or rolling on the bandstand, sometimes with fire eaters, gilded muscle men, and midgets, an all-out assault on the senses. At the end of the evening, the musicians and dancers moved among the audience, touching them, surrounding them, inviting them to join the Arkestra in marching off to Jupiter." In other words, no one had to bring the charts for Satin Doll.
I'll never forget watching Saturday Night Live back in '78 (remember when the show used to book more left-field musical acts like Ry Cooder, Taj Mahal and Leon Redbone, rather than chart-toppers who are almost as lame as SNL's last 20 skits?) and being completely floored by a Sun Ra performance. Maybe it was the substance I was abusing at the time, but I felt like someone had sucked me into the mothership and taken me to a distant galaxy.
I couldn't find a copy of the SNL appearance on youtube, but here are two performances by the Arkestra (sans dancers) from the jazz-centric show Night Music, which was hosted by saxophonist David Sanborn and aired on NBC from 1988-1990. The clip also includes a brief interview with Sun Ra in which he describes his interstellar roots ("People need to be tuned up… They're out of tune with the universe"). The closing number includes Al Green on cowbell and an uncomfortable-looking woman trying to figure out what to do:
Make no mistake, these guys had some serious jazz chops to go along with the grand spectacle. Sun Ra was a dazzling pianist who pioneered the use of electric keyboards. His longtime sax players, John Gilmore and Marshall Allen, definitely qualify as Chosen Ones and could've played with any of the top jazz artists (and in many cases did) of the 20th Century. And notable Arkestra alumni include Pharaoh Sanders (sax), Don Cherry (pocket trumpet) and Julian Priester (trombone). Here's one of the first recordings featuring electric keyboards – from Sun Ra's 1956 album Super-Sonic Jazz:
I love jazz. Can't play it, but I've listened to it for years and have nothing but the greatest respect for most people who have taken a stab at a steady jazz gig. And if you've read our posts on Miles Davis, Sonny Rollins, Art Pepper and Thelonious Monk, you know it's probably best not to get me started on the true giants of the genre.
But c'mon people… lighten up a little bit. If jazz is in trouble (which appears to be the case), it's because too many people treat it like another fossilized field of study at Springfield Community College and not like a form of entertainment. Even Monk liked to dance onstage…