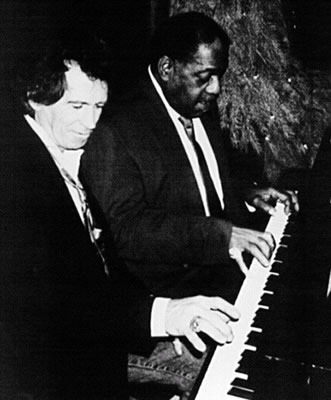 In one of our first posts, I described the unique challenges of serving as a hired sideman for rock legend Bo Diddley. Well, that assignment probably was a cakewalk compared to backing up Chuck Berry. Just ask Keith Richards and Johnnie Johnson.
Richards' thorny relationship with Berry was captured in the 1987 documentary "Hail! Hail! Rock 'n' Roll." And Johnson had his own axe to grind with Berry (more on that later).
I was reminded of the ties that bind Richards and Johnson while listening to the song Tanqueray (featured in our last post) from Johnson's 1992 release "Johnnie B. Bad." The tune showcases Johnson's stunning chops on piano and features guest artist Richards on guitar and background vocals. Tanqueray And that sent me on yet another detour as I started searching for prime video of Johnson struttin' his stuff.
I found several clips on youtube, but I was mainly entertained by some footage from the Berry documentary – specifically, a rehearsal session involving Berry, Richards and Johnson.
If you haven't seen "Hail," I suggest you check it out, especially if you have a weakness for '50s rock. The director, Taylor Hackford ("An Officer and a Gentleman"), did a good job of capturing the complicated mess that is Berry. But one could argue that Richards stole the show. Charged with the task of serving as the musical director for a concert in St. Louis celebrating Berry's 60th birthday, Richards grew increasingly frustrated with Berry, who has little use for anyone telling him what to do. At one point, Richards instructed the soundman to place a "decoy" amp on stage, given Berry's tendency to twist knobs for no good reason (the real amp used for the concert mix was placed far from Berry's reach – in the basement of the theater!).
Richards' patience is especially tested during a rehearsal for Berry's classic song Carol. Just look at the sneer on Richards' face in the video – probably more of a playful bonding with his musical soulmate Johnson, who knew only too well what Richards was feeling. Not that Berry was off-base as he prodded Richards. Although the guitar lick in question was counterintuitive to Richards, it's on the original single (but not quite as pronounced as the way Berry plays it).
Reminds me of an equally counterintuitive instruction that Bo Diddley gave our drummer – don't play the Bo Diddley beat. Said drummer took it in stride… The groove ended up feeling right, and who was he to question Bo? Richards, on the other hand, had probably signed on to the project as a favor and was tired of putting up with Berry's shit (even though he clearly admired the man's artistry and had spent his entire career reinventing Chuck Berry riffs). "He's the only guy that hit me that I never got back," Richards says of Berry. "Maybe I'm saving it."
Johnson's troubles with Berry were more deeply rooted. He eventually sued his former boss, claiming that he co-wrote many songs – including Roll Over Beethoven and Sweet Little Sixteen – that were only credited to Berry. Given the many years that had passed since those songs were recorded, the lawsuit was dismissed. But Johnson, who passed away in St. Louis in 2005, received some long-overdue recognition when he was inducted into the Rock and Roll Hall of Fame in 2001. As Richards points out in the movie, Berry built many of his hits around the keys Johnson was playing on piano, instead of typical guitar keys like E, A and D. "Chuck adapted them to guitar and put those great lyrics behind them. Without someone to give him them riffs… voilà! No song. Just a lot of words on paper."
But Richards obviously had a great deal of respect for his musical mentor. On hearing Berry for the first time, Richards says, "that's when I knew what I really wanted to do. I didn't dream I could make a living at it, but I knew that's what I wanted to do. I would do it as a hobby even if I was an accountant… Probably be better off!"
Here's to Keith Richards and Johnnie Johnson: High Priests of the Sacred Order of Rock 'n Roll Sidemen.
More Johnnie Johnson – radiatin' the 88s with Johnnie's Boogie, from '95:
I couldn't resist ending with this great relic from one of our gigs with Bo Diddley, a gift from our soundman. As you can tell, Bo didn't care much for my amp: Jack It Up