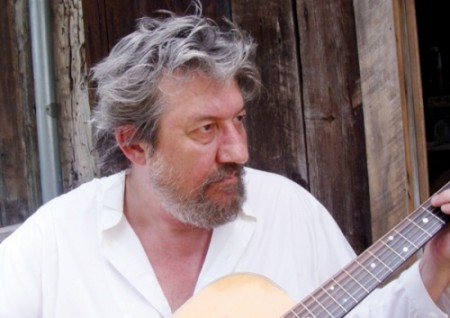 Someone asked me why I cover so much musical turf elsewhere (including artists/labels in southwest Ohio) when there's a lot of great talent here in the Rubber City to feature.
I didn't come up with a very thoughtful answer at the time, so here's a more detailed, four-part response:
It's my blog
I've already shown plenty of love for Akron-area bands such as The Black Keys, Wesley Bright & the Hi-Lites, The Numbers Band, Shivering Timbers and Hammer Damage
The first band I joined was a rockin' little combo in Cincinnati called The Warsaw Falcons
It's time to give thanks and praise to guitarist, singer and songwriter David Rhodes Brown, driving force behind that band and many others during his 50 years as a working musician (mostly in or near the Queen City).
I learned more about being onstage from DRB than any other musician – including my older brothers, who basically taught me how to play. He schooled me on attitude, feeling, where to stand, how to stand, what amp to use, what clothes to wear… even preferred amount of facial hair (none, although he's clearly broken that rule in his Sixties!). "You're not joining this band until you cut all that shit off your face," he said to me back in '81, when I could play harp like an understudy for Paul Butterfield but looked more like a weed wrangler from Daytona Beach. He even commented on stuff he couldn't see: "Why wear those nice pleated pants and then shove your wallet and car keys in your front pocket?" Eh, because some dude picked my pocket last week, and… "You look like the maintenance guy. Leave that shit in your guitar case until you're done."
You might be getting the impression that David is all about first impressions. But let me add he was right about all those things – among the many basic truisms of live performance (for example, always try to look a little bit better than the best-dressed guy in the room). More to the point, he's a consummate musician and songwriter, with plenty of chops to back up his fearsome stage presence.
I first caught DRB live in '79 with his new wave band The Attitude. He was playing a small club right around the corner from my apartment in Mount Adams. Talk about first impressions… The distance between stage and ceiling was around eight feet. David's lean frame took up about six and a half of that. Throw in another six inches of pompadour and a flailing right arm… It seemed almost miraculous to me that, while prowling the stage like a mad hyena, he consistently slammed hand and pick into the only 2-3 notes on the guitar that really mattered (it took years of practice to master the fine art of seemingly unhinged rock guitar, he later confessed).
David owned Cincinnati for most of the next decade as The Attitude morphed into the Wet Spots (which opened for Iggy Pop at Bogart's) and then the Falcons. I was only along for the ride for a couple years, but it was an especially mind-blowing experience for someone fresh out of college. Lots of lines, as I recall… Lines outside most of the bars we played, lines offered by some dipshit coke dealer hoping to get chummy with the band and our new female companions (who seemed to prefer me without the creepy moustache).
Somehow we all survived – at least one of us narrowly. I moved to Columbus, but not before joining the Falcons for three gigs as Bo Diddley's backup band (a great honor I chronicled here). David went on to Austin and Nashville, returning to Cincinnati in 1995 to help take care of his aging mom and an older sister with cancer. He reformed the Falcons with Rolling Stones veteran Bobby Keys on sax and later assembled a smokin' hot revue called The Soul Pocket Band, named Cincinnati Magazine's "Best of the City" in 2010.
Instead of listing all the bands DRB has played in over the years, I'll direct you here for a full account of his many musical permutations. Recently, he's been living in Rabbit Hash, KY and pursuing more rural strains of music he inherited from his grandfather, Thomas Findlay Brown, a champion fiddler from Litchfield County, KY. I guess you could describe David – now mostly on steel guitar – as godfather of a healthy honky-tonk/Americana scene in and around Cincinnati that includes bands such as 500 Miles to Memphis, Tex Schram and the Radio King Cowboys and The Tammy WhyNots.
Let's check in with David Rhodes Brown as he celebrates a half-century in music.
TQ: It's been a long, strange trip, my friend… It all started back in '64 with a sock-hop band called The Weejuns. What made you think it was a good idea to pursue a career in music – as opposed to, say, becoming a captain of industry?
DRB: The music career kind of pursued me. My grandfather was a self-taught fiddle player who won county fairs hands down back in the 1920s. He taught his nine children how to play instruments. My father, John Edmund Brown, played keyboards and sang in the church choir. At age 11 I was asked to join the boys choir, then the organist asked me to sing solo requiems on Saturday – so at age 13 I was getting paid $15 a week just singing Gregorian Chant. The next year my sister got a guitar for Christmas and didn't play it, so I did until I broke all the strings off of it. Music was like magic, and I wanted to be a magician. Around that same time in my young teens I jumped over the fence at Clovernook Country Club (where I was a caddy) and snuck in the side door of a night club (you had to be 16 to get in… I was a few years short of that). Onstage was a guitarist named Lonnie Mack. I was floored. I said "That's what I want to do!"
You've played in more bands than I can possibly mention in this post. Let's pick it up where I jumped in – The Warsaw Falcons (circa 1981). First of all, it's a truly awesome name for a band, inspired by a jar of Polish pickles. I started out as a big fan, then I was thrilled when you asked me to join (I'll never forget my first payday when you handed me $80… I think that's still the most I've ever made at a gig!). The material was a curious mix of rockabilly, blues, Memphis soul, Motown… and, of course, your top-shelf originals. But let's talk about those oddball covers for a minute – Ricky Nelson, Conway Twitty, Johnny Faire, The Eagles (the R&B vocal group, not the one with Henley the Antichrist). Describe the process you and (singer/sax player) Tommy Schneider went through to pick songs to cover.
Tommy and I considered ourselves songwriters first and musicians second. We really weren't interested in doing any current covers. We dove back into our earliest memories and pulled out as much obscure gold as we could find. Songs like Lonely Blue Boy (Twitty) and Honky Tonk Hardwood Floor (Johnny Horton). I came up with my own version of Fever (Little Willie John)… We quickly learned to play that one at the end of the evening. If we played it in the first set the folks in the audience got all sexed up, found partners and left the building! I felt the need to provide something that couldn't be found anywhere else… People had to have their Falcon Fix.
After rockin' it out for a year or so, we decided to scale everything back with the more acoustic Big Bill Pickle and the Jerkin' Gherkins (another awesome band name, and I'll take full credit for that one!). Strangely, the Gherkins seemed to rock even harder than the plugged-in Falcons, and I was shocked by the size of the crowds we drew at Cory's. At one point, the owner took me in the club's basement to show me broken and splintered rafters from all the people dancing and jumping around… bitch, bitch, bitch! I'd say we were unplugged before unplugged was cool. Your theory?
The Cory's years… Personnel changes and a more defined direction caused us to jump off the suburban circuit and find a once-a-week home to hone our craft. Upright base, upright piano, front room at Cory's, 170 people in the building with 30 waiting on the sidewalks to get in! It was a phenomenon.
I'd brag that I was part of the Falcons' greatest lineup, but that's not the case. I think the band really hit its stride with the mid-'80s trio – you, John Schmidt on bass and Doug Waggoner on drums. You had it all going on – great originals, sweet look, big sound, high energy… How did that band not get signed to a major label?
It was still early in the roots rock era. Labels didn't know what to do with us. (Here's a taste of the trio live, manhandling a DRB original: Worried Mind)
I have my favorite DRB originals – Dangerous Man, Never My Lover, Brand New Man, etc. Which songs are you especially proud of, and what inspired them?
Top of my list is Pray The Angels. It was inspired by my friend, Mike Flugeman, a paraplegic – always on the thin edge of life and death. I wrote that in 20 minutes and never changed one word: Pray The Angels
When I was 25 I wrote a folk song called The Price. A few years ago the folks running a project called Music For The Mountains asked me to submit a tune for their compilation. I jumped back into the studio with some current players and brought Tommy Schneider back in for his iconic flute part. That song is probably more valid today than it was 39 years ago, when I wrote it: The Price
It's hard to focus on the old tunes… I'm pumping new ones out on a regular basis, and every one I write is my new favorite. I'm in the middle of 12 new ones in the studio right now!
In recent years, you've gone back to your Kentucky roots, playing steel guitar with hillbilly and country swing bands and moving to Rabbit Hash, which sounds like Prairie Home Companion on a moonshine bender. I'm also glad to see you're still showing the kids how it's done – most notably, the Cincinnati-based band 500 Miles to Memphis. But I'm really intrigued by this whole Rabbit Hash thing. Could you break it down for our readers?
Rabbit Hash is The Center Of The Universe. Period. It is the perfect place for a musical gypsy like myself to find a tree stump and just breathe. It's beautiful. You walk into town and your blood pressure lowers by at least 10 points. There's a 180-year-old General Store that hasn't changed in decades. Spontaneous, honest-to-goodness bluegrass music on the porch or around the old wood stove… seemed like the perfect place to rekindle my folk roots. I learned to play claw hammer banjo and started pumping out new melodies and stories of bygone America. Rabbit Hash really can't be described… It has to be experienced. Oh, and my dog is the mayor (but that's a whole story for another time… she gets enough press as it is).
You've played with some pretty cool characters over the years – Bobby Keys, Billy Bremner (Rockpile, The Pretenders), Sam Bush (mandolinist extraordinaire), Lonnie Mack (guitar legend)… What would be your dream lineup for a DRB-led band?
All the players you just named, with Bo Diddley on stage as the MC. Actually, music to me is more about camaraderie than playmanship. I gotta say, I already had my dream lineup… The Warsaw Falcons Trio. Who gets two of those in a lifetime? I Fall Apart
Bo Diddley with The Warsaw Falcons at The Cincinnati Gardens, 1983: Mannish Boy
The Southgate House Revival in Newport, KY will be hosting a Golden Anniversary Celebration and Roast for David Rhodes Brown on Sunday, Nov. 16 at 7 p.m. Expect many laughs at DRB's expense, great music (a number of local artists will perform his songs) and maybe even a few surprises… not bad for a $5 cover.
CBS Sunday Morning visits Rabbit Hash and uncovers some dirt on local politics… But they didn't stick around long enough to declare DRB's dog Lucy Lou ("The Bitch You Can Count On") the winner in that year's mayoral campaign.