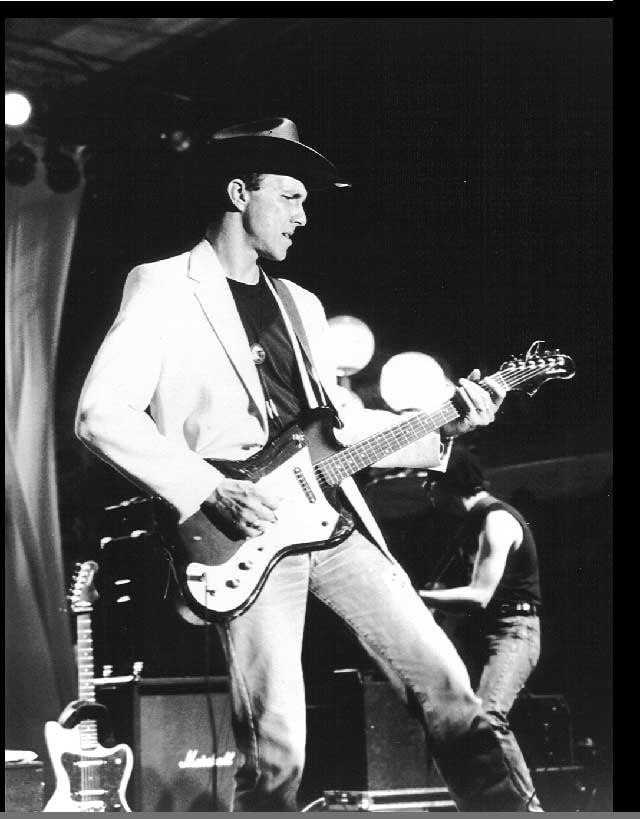 If the Grammys had an award for Ridiculously Talented, Incredibly Versatile Roots-Music Wunderkind, Mike Henderson would be a hands-down favorite to win every year.
But here in America, 2011 – where fame is simply a measure of Charlie Sheen's tweets and Snooki's teats – Henderson remains a virtual unknown.
Here's a guy who grew up in Independence, Missouri, playing garage rock on guitar and harp… then picked up bluegrass mandolin and fiddle while attending the University of Missouri… then toured the Midwest playing slide guitar and harp in a blues band, the Bel Airs… then moved to Nashville to pursue a career in country music as a distinctive singer, songwriter and multi-instrumentalist – throwing dobro into the mix along with electric and acoustic (flat-picking) guitar, harp, mandolin, fiddle… he probably shreds on the hurdy gurdy too.
I first found out about Henderson back in the early '90s, when I picked up a couple of albums by alternative-country artist Kevin Welch on Reprise. The material wasn't exceptional, but Henderson already was building a reputation as a bold, fiery guitarist. His singular sound came from setting his strings relatively high off the fretboard on his mandolin. "You gotta crank the action up on a mandolin to get it to be loud, to sound out," Henderson said. So as he gained strength in his fretting hand, he also began using heavier-gauge strings on his guitar (à la Stevie Ray Vaughan) to get a full, warm tone.
Henderson also began writing his own material and was soon picked up by RCA, which released his first solo album, "Country Music Made Me Do It," in '94. Although over-produced, the album featured ten strong originals including The Restless Kind, a tune that showed up on an earlier release by Welch: "Well I've seen the country and I've been to town; I've rode in limousines with the tops rolled down. I've walked down the roads where the rivers freeze… I know what it takes to do what I please."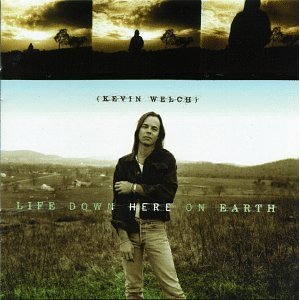 If anything, these lyrics anticipated Henderson's next move. Later that year, he joined Welch and other like-minded Nashville artists – Kieren Kane of the O'Kanes, fiddler Tammy Rogers and drummer Harry Stinson – to start their own label, Dead Reckoning. Although Welch, Henderson, Kane and Rogers each released solo albums on the label, Dead Reckoning mainly served as a loose musical collective based on the artists' shared frustration with the Nashville establishment and the sad state of country music. One of my favorite releases on the label is Welch's "Life Down Here on Earth," which featured all five founders along with other guest artists like Vaughan keyboard player Reese Wynans.  Here's some tasty guitar work by Henderson on a Welch original: The Love I Have For You/Kevin Welch
One of the better qualities of the Dead Reckoning albums is the way they blur the lines between country, blues and bluegrass – sometimes in the same song. And that mirrored the way artists like Henderson were leading their own musical lives, playing bluegrass at a local coffeehouse one night and then blazing through blues standards the next night at a corner bar. Henderson likens it to the music he heard on the radio as a kid in Independence – "the old Top 40," as he calls it. "There was Slim Harpo, Ray Price, Ray Charles and The Beatles and everybody was on one station," he said. "So, I grew up hearing a really wide variety."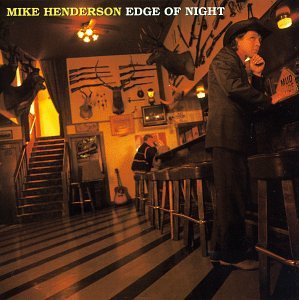 Henderson's solo release on Dead Reckoning, "Edge of Night," is especially eclectic, moving seamlessly from roots rock (I Wouldn't Lay My Guitar Down) to blues (Nobody's Fault but Mine) to honky tonk (Drivin' Nails in My Coffin). And in his other role as producer, Henderson finally figured out how to capture the snarl and bite of his own guitar in a studio setting: You're So Square
I love country music, but I'm flat-out hopeless when it comes to blues. So the Henderson albums that really pinned my ears back were the two he recorded on Dead Reckoning with his straight-ahead blues band, the Bluebloods. You'd be hard-pressed to come up with better examples of first-rate contemporary blues – which I know is akin to making one of those "highest mountain in Indiana" claims. But this band had the kind of swagger and soul that should be required to play tunes called Bloody Murder and Give Me Back My Wig.
The original lineup featured two Nashville studio cats – bassist Glenn Worf and drummer John Gardner – as well as Wynans on piano (replaced by virtuoso John Jarvis on the second album). And it came together as a casual side project, just four highly accomplished musicians blowing off some steam playing bar-band blues. The two albums, "First Blood" and "Thicker than Water," have that go-for-broke spirit – and a level of confidence that you rarely hear from guys who don't exclusively play Muddy's music (not to mention one of the best rhythm sections in the business): When The Welfare Turns Its Back On You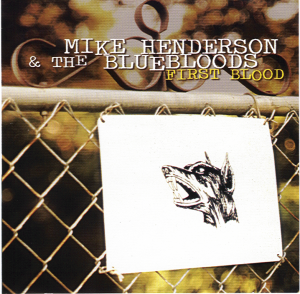 Long-time Henderson fan (and former journalist) Mark Knopfler of Dire Straits offers high praise in his liner notes to "First Blood": "There really aren't that many people around who carry with them an understanding of the music, black and white, who can write, sing and play country and then deliver a cracking blues set without so much as a pause to buy another pack of camels."
Henderson also blows some hair-raising harp on a few tunes – another strength that didn't miss Knopfler's attention: "When Mike asked me to write these notes, I took the tapes and played them. 'Who's playing that amazing harmonica?' I asked Glenn. 'It's Mike,' he said. 'He doesn't play it on gigs because he can't be bothered to put his harp amp in the car.' What do you do with a man like this??" Here's a harp-driven original from "Thicker than Water" that proves the band isn't afraid to stretch outside standard blues and conventional arrangements: Slow Your Motor Down
If you're lucky, you can still catch a rogue lineup of Mike Henderson & The Bluebloods rattling the walls at some joint in downtown Nashville. Or you might be able to find Henderson fixing guitars at Glaser Instruments. But his main gig these days is the SteelDrivers, a hard-driving bluegrass band that features his long-time accomplice Tammy Rogers as well as Muscle Shoals guitarist/singer Gary Nichols, banjo player Richard Bailey and bassist/singer Mike Fleming.  Here's a bluesy tune from their latest release on Rounder, "Reckless" (with former vocalist Chris Stapleton): Peacemaker
Henderson also remains a successful songwriter in Nashville, having written tunes for the Dixie Chicks, Garry Allan, Randy Travis, Tricia Yearwood, Travis Tritt and others.  So although widespread fame may continue to elude him, he ain't doin' too bad.
Mike Henderson & The Bluebloods on video… Special thanks to Ray Fuller for slapping this on his facebook wall and reminding me to get off my ass and write this post.
The SteelDrivers live at The Station Inn in Nashville, 2008… I like how they laugh through Bailey's flubbed note at the end of his solo. Great vocal by Stapleton; wonderful harmonies and fiddle solo by Rogers: