Although it may seem like we're careening out of control now and then ("Thankless Jobs"), I started this blog with a simple, basic premise.
Over the years, I've collected a whole lot of music. And I haven't always done it through legitimate means. So I finally figgered, I write good… I know a little bit about a lot of this stuff… I can't possibly listen to all these tunes in one lifetime… and I probably should find something to do to offset all this bad karma I've taken on for file-sharing and other forms of digital thievery.
The solution? Rubber City Review. To use the parlance of shitty cinema, it's just my small way of "paying it forward." You're welcome. (Speaking of compensation, don't forget to purchase some of this music legitimately through the "picks" we provide at the end of each post… Mama needs a brand new pair of shoes.)
Hitting play on my iTunes library is like holding a small cup in front of a wide-open fire hydrant. So I use playlists to help me navigate through this teeming metropolis of artists and genres. Not all of these playlists make sense to other people (e.g. "Off Da Hook" and "Sausage"). But one of my favorites, "Sixties/Garage," seems fairly bullet-proof – that is, until you open it up to debate among an entire universe of music nerds.
What exactly is garage rock? Is it rock music primarily conceived in a garage? Wikipedia defines it as "a raw form of rock and roll that was first popular in the United States and Canada from about 1963 to 1967." But let's face it, the garage itself originated in early-20th Century England. So do you include the early sixties recordings of The Rolling Stones and The Kinks? I do… so throw me off the next panel discussion.
I view garage rock as a predecessor of punk; an antidote to a lot of the swill that seemed to find its way to the top of the pop charts in the early Sixties. Here's just a short list of some of those hit songs:
Theme from "A Summer Place" by Percy Faith (#1 in 1960)
Itsy Bitsy Teenie Weenie Yellow Polkadot Bikini by Brian Hyland
It's Now or Never by Elvis (movie-star Elvis)
Wonderland by Night by the Bert Kaempfert Orchestra
Tossin' and Turnin' by Bobby Lewis (#1 in 1961)
Blue Velvet by Bobby Vinton
Go Away Little Girl by Steve Lawrence (please, go away)
Dominique by the Singing Nun (sorry, Sister Mary)
Not exactly what you'd call the golden age of rock 'n roll – unless you include all the "nasty bits" (as Tony Bourdain would call them) floating just beneath the surface on both sides of the pond. Songs often performed by rank amateurs with a sense of abandon that had nothing to do with state-of-the-art studio equipment, string sections, backing vocals and constant tinkering by nervous producers trying to keep their jobs at the major labels.
Of course, like any other vital sub-genre of rock, garage had its glory years and at least two or three revivals – including '70s "garage punk" (Iggy Pop, The Ramones) and whatever you want to call contemporary bands like The Hives, The Vines and The Strokes. But we'll focus on the first wave of garage rockers – and, of course, just the stuff that resides in my playlist. You gotta problem with that?
If I were to stay true to the form, I'd probably just pick 6-7 songs from the much-heralded "Nuggets" compilation assembled by Jac Holzman, founder of Elektra Records, and Lenny Kaye, before he played lead guitar for Patti Smith. "Nuggets: Original Artyfacts from the First Psychedelic Era, 1965-1968" was released as a two-record set back in '72, and Rhino Records expanded it into a box set issued in '98. And it's hard to argue with gems like this one, from Boston-area band The Remains: Don't Look Back
But I've decided to play fast and loose with the whole garage label, hence the "Sixties/Garage" title. I always found it interesting that stateside bands like the Standells, the Beau Brummels and the Blues Magoos were heavily influenced by British Invasion bands like the Rolling Stones and the Kinks, which owed a huge debt to American blues. So where does the term garage apply? This next Jagger/Richards original from the Stones' '64 album "12×5" made my playlist, because it sounds every bit as sinister as tunes that groundbreaking garage-rock bands like the Sonics were recording at roughly the same time. And it signals one of the band's first major departures from its blues-purist roots: Empty Heart
Speaking of the Sonics, no garage-influenced collection is complete without at least one song by this bruising quintet from Tacoma, WA. Gerry Roslie's blood-curdling wail remains one of the great treasures of rock 'n roll. And most of the band's recorded output sounds like its members were whipped into a state of rage by a sadistic, maniacal producer. But I doubt that was the case, so I'll just attribute it to grim weather and the logging industry: Psycho
Most people wouldn't describe The Band as garage rockers. But they definitely gave off that vibe back in the early '60s, when they recorded as the Hawks with Canadian transplant Ronnie Hawkins. They also cut some tough-as-nails numbers without Hawkins – as Levon and the Hawks and, with this next tune, as The Canadian Squires. Pianist Richard Manuel handles the lead vocals on Uh Uh Uh, and to my ears, he sounds just like drummer Levon Helm. I also like Robbie Robertson's throwaway harp playing on this tune. Never underestimate the power of a poorly played harmonica: Uh Uh Uh
Getting back to the Brits, the Kinks followed roughly the same trajectory as the Stones. They started out aping Muddy Waters, Slim Harpo and Jimmy Reed before realizing they could come up with a few decent songs of their own. And when Ray Davies started writing classics like Where Have All The Good Times Gone and Tired Of Waiting For You and this next one, the Kinks never looked back. Once again, we could argue til the cows come home if this qualifies as garage. Doesn't matter… It's my list, and the song stays: Til the End of the Day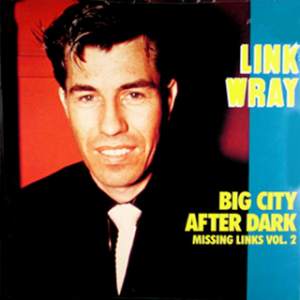 My other favorite form of rock from the era is surf. And I think of guys like Link Wray and Lonnie Mack as the common ground between surf and garage rock – just like Freddie King blurred the lines between surf and blues. When you listen to an instrumental like Big City After Dark, it's easy to imagine it being performed in the same space that's used to store power tools, gasoline, motor oil and toxic bug spray. It's from a '62 single on the small Mala label under the moniker Ray Vernon and the Raymen (Link's brother Vernon, who played rhythm and bass guitar and usually manned the 3-track Ampex recorder). This stunning act of depravity is from a collection of Wray rarities on the Norton label, whose proprietors describe it as "ultimate crime-inspiring whangery that spits, sweats and swaggers." Amen: Big City After Dark
Lonnie Mack is probably too accomplished a musician to be considered "garage," but he makes the cut on my playlist simply because rock music in the early '60s didn't get any better than songs like Wham and Memphis. This next number also appeared on Mack's '64 release on the Cincinnati-based Fraternity label, "The Wham of That Memphis Man!" – an essential album by any standard. Here he covers a blues tune by Jimmy Reed. And even though it features background singers, Mack earns a pass by bringing in Gigi and the Charmaines, a rockin' little R&B trio from the Queen City. If he had been signed to a big label, they would've replaced the Charmaines with Lily and the Whites: Baby What's Wrong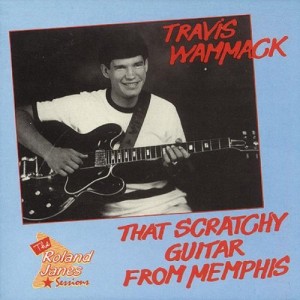 If you like Lonnie, you'll also dig "the Fastest Guitar Player in the South," Travis Wammack. The native of Walnut, Mississippi, recorded his first album at the age of 11, and scored a minor hit in '64 with the instrumental Scratchy when he was only 17. That scorching workout and 20 others produced by Sun Records session guitarist Roland Janes are included on "That Scratchy Guitar from Memphis," a compilation on the German Bear Family label. Word has it that when Janes sent a copy of Scratchy to Chet Atkins, the Nashville legend sent it back with an unintended compliment: "This scares me. I pass." Wammack went on to do session work in the '60s at FAME Studios in Muscle Shoals and ran Little Richard's band from 1984 until 1995. He continues to dazzle audiences today with his lightning-fast licks, but he can also slow it down to play funky numbers like this one (must've inspired the '74 hit Kung Fu Fighting… garage soul, maybe?): It's Karate Time
I'll close with a tune that was recorded at the tail end of garage rock's glory years, and it's by one of my favorite rockers of all time, Doug Sahm (aka Sir Douglas). I had the huge pleasure of seeing Doug and band – including the great Augie Meyers on farfisa – perform at a small club in San Antonio in May 1999, only a few months before Sahm passed away from a heart attack. He was in fine form, bitching about the dot-commers up in Austin and raving about the Spurs (some things never change). But mostly, for two blessed hours, he turned that crappy little dive into a groover's paradise. R.I.P., Doug: You're Doin' It Too Hard
Here's a real time-suck – a series of videos on youtube titled "60s Garage, Surf, Freakbeat & Psychedelic Music," from the mysteriously named GrimlyFormingPW. With respect for your time, I only included one. You're welcome.