Big-band blues. Urban blues. Blues that knows somebody.
Call it what you want… and blow it off at your own risk. Sure, any attempt to move Robert Johnson into a high-rent neighborhood is going to have its shortcomings. But if you root around a little bit, you'll find some funky gems that belong in any self-respecting blues collection.
If this neighborhood had a first resident, it would be the great Texan T-Bone Walker. And his blues pedigree is inarguable. As a kid in Dallas, he'd walk the legendary bluesman Blind Lemon Jefferson from gig to gig – an important job by any measure. But he also was influenced by (and played with) the great jazz guitarist Charlie Christian. And he really hit his stride in the clubs of Los Angeles, where blues and jazz musicians were rubbing shoulders in the early '40s and coming up with swing-based stompers like this one (which helped set the stage for jump blues and its baby, rock 'n roll): Hey! Ba Ba Re Bop/Lionel Hampton
T-Bone's greatest contribution involved marrying the sound of swing – usually emphasized by a small horn section – with his newly electrified and highly percussive attack on guitar. And there are few sounds more pleasing to my ears than the sides he recorded on the L.A.-based Black & White and Imperial labels from 1946 to 1954. Here's a tune he recorded in '46 at one of the first sessions for Black & White: Don't Leave Me Baby
Few bluesmen are more identified with the uptown sound than B.B. King, an obvious disciple of T-Bone Walker (in her book "Stormy Monday: The T-Bone Walker Story," Helen Oakley Dance quotes King as saying "Once I'd heard him for the first time, I knew I'd have to have [an electric guitar] myself. Had to have one, short of stealing!")
Now I'm not real wild about a lot of B.B.'s latter-day recordings… I tend to gravitate toward earthier shades of blue. But some of the sides King cut for the RPM and Kent labels back in the '50s and '60s find that sweet spot between the juke joint and the night club – or, to be more accurate, between Memphis (where B.B. recorded for Sam Phillips, pre-Sun Studios) and L.A. (where this next tune was recorded in '66): Early Every Morning
Even more satisfying are the soul-based classics of chitlin' circuit regulars Bobby "Blue" Bland, Little Milton and Johnnie Taylor.
But first, I'd be remiss if I didn't include a song by one of the great blues divas of all time, Etta James. She certainly has enough class to kill us softly with sensitive ballads like At Last and A Sunday Kind of Love, or carefully interpret any number of jazz standards (My Funny Valentine leaps to mind). But as a former heroin addict and the illegitimate daughter of Minnesota Fats, Etta is always two steps away from the blues. On this next tune (recorded live in L.A., 1986), she's joined by another uptown cat, jump-blues legend Eddie "Cleanhead" Vinson. Listen to how Etta schools the sophisticates at Marla's Memory Lane Supper Club as she applies her rich contralto to this Great American Songbook favorite… Pass the Louis XIII, please: Baby, What You Want Me To Do?
Bland's singles from the 50s and '60s for the Houston-based Duke label practically raise the uptown blues subgenre to the level of, dare I say, great art. In a weird way, they remind me of the mini-operas that honky-tonker George Jones recorded with Nashville producer Billy Sherrill in the '70s (here's an example from a previous post: The Grand Tour) – tautly arranged songs filled with drama and emotion. Songs that make you feel sad, but also thankful that a three-minute ditty can elicit a response stronger than "is that a cowbell?" or "who decided to run tape on this?"
Bland's main musical foils throughout this period were his first-rate guitar players, starting with wildman Pat Hare (who followed up on the promise of his Sun single, I'm Gonna Murder My Baby, by indeed murdering his girlfriend and eventually dying in prison) on Bland's first hit, Farther Up the Road. Then Clarence Holliman took over, breathing some blues fire into Bland's best singles from the '50s. And Oklahoman Wayne Bennett took over in the '60s with a more polished, jazzier touch. Here's a signature Bobby Blue song, with a very subtle Bennett on guitar, that Gregg Allman covers on his new album, "Low Country Blues": Blind Man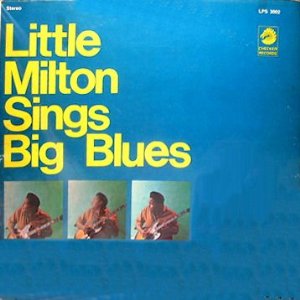 Like B.B. King, Little Milton recorded for Sam Phillips and was heavily influenced by T-Bone Walker. But his best sides were released on Chicago's esteemed Chess label. If you don't have a good sampling of those Chess albums – "We're Gonna Make It," "Sings Big Blues" and "If Walls Could Talk" – RCR's phone lines are open to take your order. Milton went on to record for Stax and Malaco, but many of those tunes tended to favor soul and even disco at the expense of Milton's considerable blues cred (a guy who once backed Sonny Boy II should not play disco). Here's Little Milton at his best: Ain't No Big Deal
Maybe we should cut Milton a little slack. He signed up with Stax in '71, a little past the label's sell-by date. By then, its most explosive blues-based sides had already been recorded by master stringbender Albert King and silky soulman Johnnie Taylor. And those guys had the unfair advantage of being backed by the world's greatest band – Booker T on keys, Steve Cropper on guitar, Duck Dunn on bass and Al Jackson Jr. on drums. Taylor also went on to record with the Southern soul-blues label Malaco, but I think he did his best work uptown (Memphis, that is): Little Bluebird
From the movie Wattstax, a documentary of the '72 music festival organized by Stax Records at the Los Angeles Coliseum to recognize the 7th Anniversary of the Watts riots. Stax collapsed three years later, probably due to a lot of the conspicuous consumption seen in this clip, which features Johnnie Taylor in a small-club performance.
And just in case you thought T-Bone Walker wasn't a real bluesman… Another great clip from the American Folk Blues Festival. Just T-Bone with Shakey Jake on vocals, 1962.