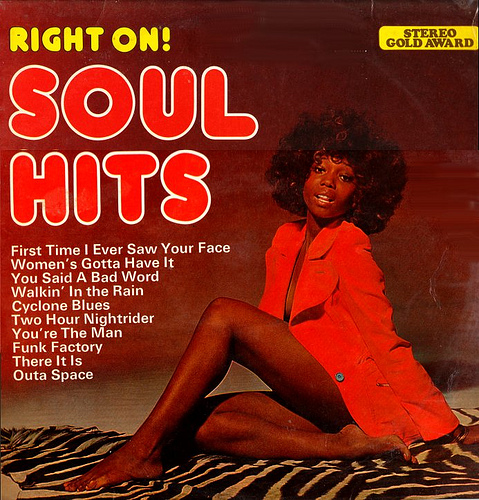 Time for our long-overdue follow-up to this post, in which we reported that the soul music revival had finally made its way to the Rubber City. I wasn't suggesting that Eighties Rock is now out of favor – it's still the dominant soundtrack in most theme bars (Scorchers, Scoreboards, Skittles, Scooters, Scumsuckers… must I go on?). But a few enterprising DJs are starting to make people far younger than me appreciate classic Stax-Volt soul and its many mutations.
As I noted in Pt. 1, I have no real evidence of said revival – other than I recently stumbled into a local club where I was stunned to hear the DJ playing rare, out-of-print soul and funk albums by artists I'd never heard of. Mostly hard-core southern soul, but also a few tunes that were clearly conceived many miles from Memphis. Songs like this one, recorded in '93 by a band of funky freaks from Munich, Germany (you heard it right – German funk): More Mess On My Thing/The Poets of Rhythm
My first direct exposure to soul and funk was as a student at Miami University, where I only lasted two years (I never felt comfortable at a school where the students were more conservative than my parents). Although campus was a non-stop parade of kids named Muffy, Buffy, Bif and Skippy (another name for a theme bar?), the music scene around Oxford, Ohio, in the mid-'70s was something altogether different. One band, Medicine Wheel, included refugees from the Lemon Pipers (Green Tambourine) and Ram Jam (Black Betty). You could also find guitar legend Lonnie Mack or his keyboard player Dumpy Rice playing at a dive just down the road in McGonigle.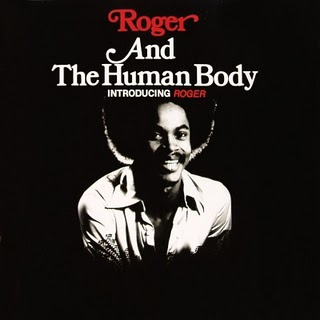 But the most fearsome act of all was Roger and the Human Body, a family funk band from nearby Hamilton, Ohio. The band's charismatic leader, Roger Troutman, could play Hendrix-like runs on guitar, then tear it up on keyboards, harmonica and even the flute… sometimes in the same extended jam. But his main innovation was combining the talkbox (think Joe Walsh's Rocky Mountain Way or Peter Frampton's Do You Feel Like We Do) with a keyboard-driven synthesizer.
He eventually turned that contraption into gold in the early '80s with his hugely popular band Zapp and songs like this one, which reached number two on the Billboard Soul Singles chart in 1980: More Bounce to the Ounce/Zapp
But back in '75, Roger was playing bars, freshman mixers and student union parties with his brothers Larry, Lester and Terry, along with several other musicians from the fertile southwest Ohio soul and funk scene that produced the Ohio Players, Robert Ward and Bootsy Collins, among others. We'd often catch the Human Body at the King of Clubs, right across the street from the dive where Lonnie and Dumpy would play. And when things were really cooking, you felt like you had to lean into the stage to keep the band's energy from knocking you over. Freedom/Roger and the Human Body
Although Troutman took his funk machine around the world, he kept his home in southwest Ohio and recorded hits for other artists – including Sugarfoot from the Ohio Players and Shirley Murdock – at his studio in Dayton.
In 1999, Troutman was shot dead outside of his studio, the victim of a murder/suicide involving his older brother Larry – a former member of the Human Body and Zapp. The tragedy appeared to stem from Larry's financial problems and Roger's efforts to distance himself from them. Roger was cut down in his prime, only 47 years old and the toast of rappers and hip-hoppers ranging from Tupac Shakur and Dr. Dre to Snoop Dog and The Notorious B.I.G. He had recently jump-started his career through his contribution to a huge Tupac/Dr. Dre hit, California Love, and his deep grooves served as the foundation for West Coast hip hop. Rapper Ice Cube became a fan at the age of 11, when he saw people dancing to More Bounce at a party… "I just think that was a rush of adrenaline for me, like a chemical reaction in my brain." Much like the reaction I had when I first saw Roger and the Human Body turn the bright pink sweaters of Miami coeds into twisted knots of sweaty funk. (For more on Roger Troutman, read this article in SF Weekly).
Rather than end on a low note, I decided to feature a few quick samples of soul and funk gems I've been listening to lately…
Here's a tune that was covered by the Neville Brothers on their classic album "Live at Tipitina's." Surprisingly, the original is by Little Esther Phillips, who tackled a number of genres over the years but was probably best known for her '50s R&B sides. I found this one on a "Raw Soul" compilation put together by the UK music magazine Mojo. Makes you wonder what the geniuses at Atlantic Records were thinking when they weaned her off of this hard stuff in favor of jazzy pop. Mojo Hannah/Little Esther Phillips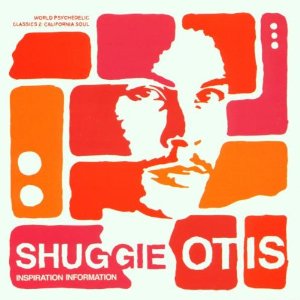 God bless David Byrne for rescuing the early '70s recordings of Shuggie Otis from complete obscurity by releasing "Inspiration Information" on his Luaka Bop label in 2001. Simply put, this is some of the greatest soul and funk ever committed to wax. Shuggie's beautiful, mind-blowing arrangements were way ahead of their time (I'm sure he learned a lot of the basics from his dad, Johnny – a legend of post-war R&B and early rock). And he was an amazing guitar player, mainly because of what he didn't play. If Shuggie had less taste, he would've been a huge star… Sparkle City/Shuggie Otis
Here's a cautionary tale from Betty Wright, better known as the "Clean Up Woman." It's from her debut album released in '68, "My First Time Around." The Miami native remains active in the music biz, recording backing vocals for Erykah Badu, David Byrne, Jimmy Cliff and many others. She's also a two-time Grammy nominee, as both a producer (Joss Stone's "Mind, Body & Soul") and vocalist. Girls Can't Do What The Guys Do/Betty Wright
We touched on Brooklyn-based Daptone Records and Sharon Jones in a previous post. Here's another great cut from the label's outstanding stable of artists – essentially, a rotating cast of musicians totally dedicated to keeping the spirit of funk alive… and maybe more important, playing it the way god and James Brown intended. This tune is by Charles Bradley, a J.B. devotee who spent much of his life either living on the streets or working as a chef. Hopefully, he'll finally get the break he so richly deserves: The World (Is Going Up In Flames)/Charles Bradley
"The Heart of Southern Soul" is a fine collection of long-lost soul nuggets recorded in Nashville, Memphis and Muscle Shoals for Nashville-based Excello and its affiliated labels. Among other obscure artists, it features The Wallace Brothers, a duo from Atlanta who recorded this steamy little number at Rick Hall's legendary Fame Studio in Muscle Shoals. Soul music of the highest order… Line Between Love and Hate/The Wallace Brothers
No soul selection is complete without something from the Stax-Volt catalog. But let's bypass the usual hits by Otis Redding or Sam & Dave in favor of a lesser-known artist, Ruby Johnson. She recorded some first-rate soul for the Volt label, including the minor hit I'll Run Your Hurt Away, but never really caught on and left the music business for good in 1974. A couple of interesting factoids about Johnson – she practiced the Jewish faith throughout much of her life, and she eventually ran a federal program called Foster Grandparents, which helped handicapped children connect with the elderly. Nothing particularly respectable about this song… certainly not Steve Cropper's gutbucket guitar, one of his finest moments on record. I'd Rather Fight Than Switch/Ruby Johnson
They called him the Tan Canary… one of the most extraordinary voices to come out of New Orleans. But Johnny Adams was little known outside of the Crescent City, probably because he was so damn eclectic. He sang R&B, jazz, blues, country – and, for the purposes of this post, hard southern soul. I almost included a sample of this song in our "Great Moments in Modern Music" post. It's the little vocal melisma he does with the word "leave" ("do you want me to leeeeave…") and then shouts "baby"! Knocks me out every time. A Losing Battle/Johnny Adams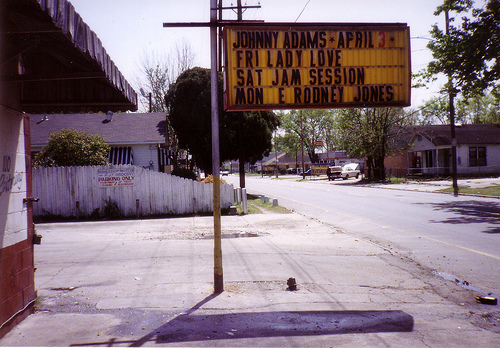 Deep soul on video… Here's another tune from "The Heart of Southern Soul" compilation. It features The Kelly Brothers, who started out as a gospel quintet from Chicago and went on to record gospel-infused soul for the Sims and Excello labels. Robert Plant must've had this one in his archives – he covers it on his "Band of Joy" album…
Here's Charles Bradley backed by the Menahan Street Band, performing at Mellow Johnny's Bike Shop in Austin as part of this year's SXSW. The Menahan Street Band includes bassist Nick Movshon, who tours with The Black Keys. Wish my local bike shop would book these guys…
Just in case you were wondering how that whole talkbox thing worked out for Roger…