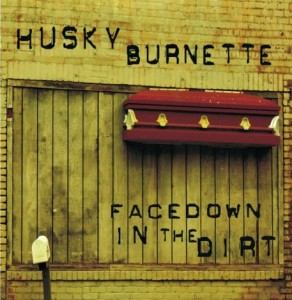 Just when you thought two-piece bands had run their course, into the sandbox jumps Husky Burnette. And yes, he's part of the same bloodline that brought us Johnny and Dorsey Burnette (if you don't know who those two guys are, you probably should head on back to Drunken Vegan right now). Husky calls Chattanooga home, but he's currently on tour with his drummer Tony "Tonky Ponk" Jones supporting their new release on the Cracker Swamp label – "Facedown in the Dirt." They take North Mississippi Hill Country blues, drag it through a few hollers, douse it with kerosene and blow it up real good (here's a taste: Mile Marker 68). R.L. Burnside and Charlie Feathers would be proud… not to mention cousins Johnny and Dorsey. But rather than bore you with the many virtues of this fine effort, I thought I'd let the man speak for himself.
T.Q.: Almost found myself facedown last weekend, so I'm really enjoying the new album. Sounds like it was recorded live – thick, greasy and in your face. Fill us in on how you made it.
H.B.: The album was recorded at Fry Pharmacy Studios in Nashville, TN. 16-track tape machine, reel to reel, like the lord intended! It was done live off the floor which I love doing cause you get that "feeling," as opposed to tracking it where you can't play off of each other. Plus, there's only two of us… with the exception of Zach Shedd on upright bass on two tracks. So if someone messes up just do the tune over, no big deal. Very comfortable place to record.
Leo Kottke famously described his singing as reminiscent of "geese farts on a muggy day"… How would you describe your voice?
I have no idea how to describe it. I've heard lots of things, but maybe too much greasy chicken, whiskey with a glass of nails chaser and cigarettes… and not enough training.
I see you're a third cousin of Johnny and Dorsey Burnette. I don't hear too much of the rockabilly influence, but definitely some hillbilly. How did you get into the whole Hill Country dirty blues thing?
I was introduced to more modern (at the time, late-80s) Chicago and Texas-style blues by my Uncle Tim. So I decided to find exactly where that came from after hearing about other artists… And also after seeing who really wrote certain songs in liner notes, I went looking for those particular artists. Went as far back as Son House, Furry Lewis and Robert Johnson etc then eventually settled in a Hill Country style cause it made me move and stomp more than anything. Gotta love the stomp-trance style.
When it comes to primal, honest-to-god rock 'n roll, the Johnny Burnette Trio is as good as it gets. Rumor has it Johnny started yelping during Paul Burlison's guitar solos when he backed into one of Burlison's lit cigarettes (Rockbilly Boogie)… Any truth to that rumor?
Man I have no clue. I seriously doubt it but how funny would that be? All these singers still doing it today all cause of a cigarette burn… haha. Truth is, I know nothing all that deep about them – only the stories I heard from my grandfather and his brothers (all first cousins to Johnny and Dorsey), from their father, and from my uncles Tim and Rick.
Love the opening to Preacher Man. Is that a nod to David Byrne (Once in a Lifetime), or did Byrne lift that rap from an actual sermon?
The preaching – that's my last drummer, Dave Dowda, before I got Tony, my current drummer in the lineup. Before I even knew Dave I heard he would get drunk and "preach" 80s pop song lyrics like a baptist preacher (being from Lafayette, GA in the bible belt I guess he was too familiar with it). So I made him do it at certain shows as an intro and definitely wanted it for the recording. I still give a nod to Byrne though.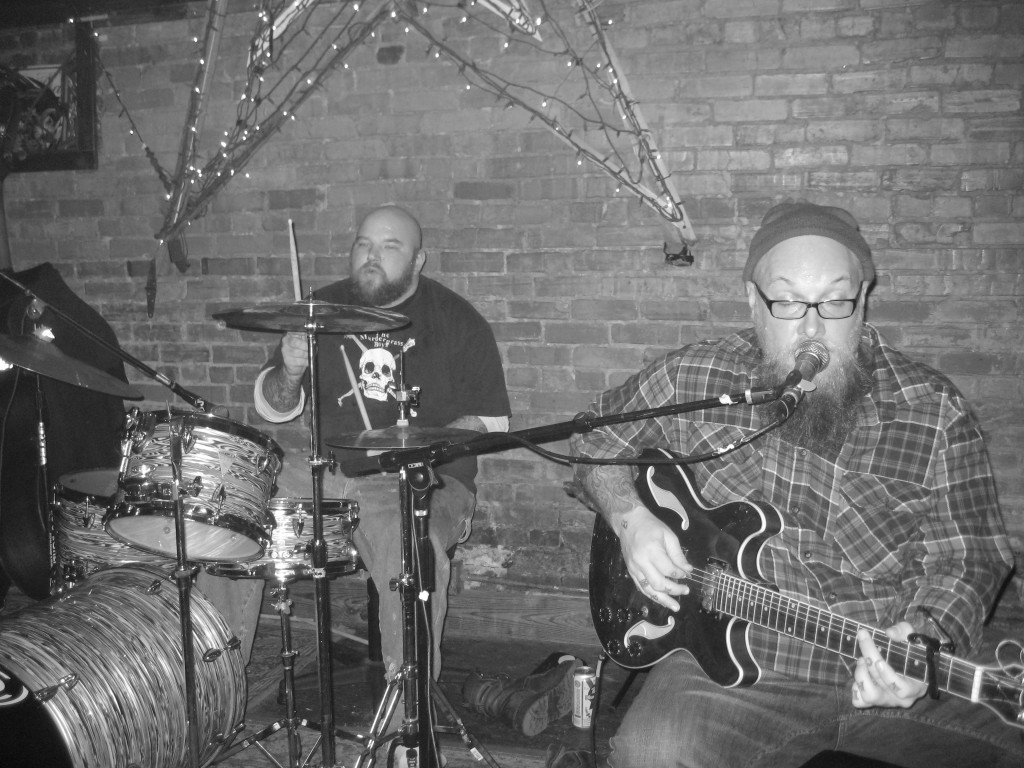 Taking potshots at preachers is a fairly dicey proposition in the Deep South (half my family is from Milledgeville, GA)… What's your take on organized religion?
Well Tim, it's kind of like that game, Just The Tip, Just For A Minute. Know what I mean? OK.
Interesting answer – and I have to say, I like how you southern boys roll (up here it's "just for a second")… You take it down a few notches on McCoy's Blues. What's the story behind that tune?
I actually wrote the song after hearing the troubles a close friend of mine, Roland McCoy, had just gone through before and during his divorce. I really dig that tune.
In another interview (with a far-less-important blog, no doubt), you mention that your van was almost run over by another band's tour bus… Would you like to expand on that?
We played Chicago last year a day before Exodus and Malevolent Creation. The club told us to crash there for two nights and watch the shows, so we went roaming around and sightseeing during the daytime. While out I had two people calling and calling and calling and raising hell saying the Exodus bus driver was about to physically move my van with their bus. I guess I was parked too close to load-in. It was a huge ordeal cause I couldn't get back to the club for an hour or two and my cell phone was dying. I love Exodus though. Not that juicy of a story though…
Ever think about doing a tune by Dorsey Burnette, like Way in the Middle of the Night? (I think James Burton plays lead on that one.)
Actually yes and that's one of the tunes I'd like to do. I love Dorsey's stuff.
I'm sure you get the occasional comment about a certain two-piece from the Rubber City. How would you make the distinction between The Black Keys' early "Big Come Up" sound and yours?
I guess The Black Keys are more of a rock band with soul and blues undertones/influence, where I do blues with rock undertones/influence. Then again, what do I know? I'm really bad when it comes to comparisons/distinctions… So that could be totally wrong. I know they kick ass, I do know that. I really dig the new album, adding bass and keys.
Any last words??
We'll be on the Coney Island Roadshow Tour on the east coast from Oct-Dec so come see us. Check out www.huskyburnette.com and also www.thecrackerswamp.com for the dates and more artists on the Cracker Swamp label.
Here's one of them newfangled music videos… probably filmed by the Chattanooga Chamber of Commerce. A little keepsake for those of you who caught Husky on tour this summer:
Acoustic Husky…