Want to stare into the very depths of someone's soul, or at least find out if a long drive together is a bad idea? A few of the following questions about music preferences might help. Beatles or Stones (which we covered here)… Jimmy Cliff or Bob Marley… Loretta Lynn or Tammy Wynette… Allman Brothers or Lynyrd Skynyrd… John Coltrane or Miles Davis… Radiohead or Coldplay… Captain or Tennille…
And don't let your subject off the hook. If someone can't take a stand either way, that just means he/she is unworthy of your trust.
I'll throw another one into the mix – Stevie Ray or Jimmie Vaughan… The former, obviously, is one of the most celebrated guitarists of the last 30 years. A guitarist who, for better or worse, had an impact on virtually every blues-based stringbender who followed. A once-in-a-generation talent who might even be more popular dead than he was alive.
But put me down for Jimmie, and not because I didn't have utmost respect for his brother. Like thousands of other students of the instrument, I made several pilgrimages to see SRV live and left convinced that I'd witnessed the Most Amazing, Death-Defying Act Under the Big Top. But Jimmie's the guy you come across on your way to the parking lot… He's sitting on the edge of a rail car playing gutbucket blues through a broke-dick amp as a few strippers and circus freaks slow-dance nearby. In other words, a little closer to the blues according to Charlie Patton and Robert Johnson.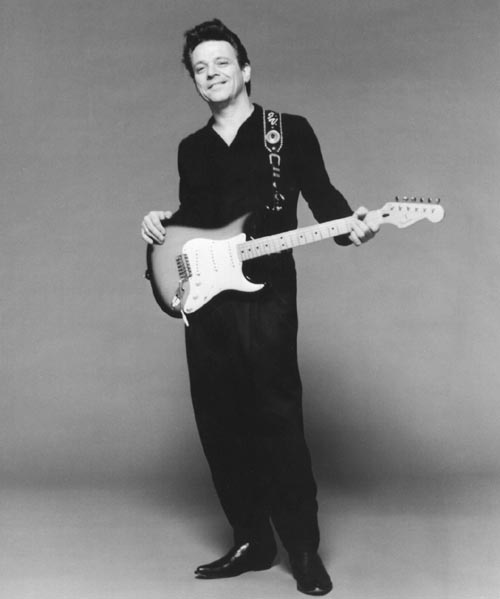 Actually, one of the first times I heard Jimmie Vaughan's guitar was back in '81 at a strip joint in Newport, Kentucky – across the river from Cincinnati. Of course I was dragged there by my friends to see Miss Nude Memphis (which seemed slightly more promising than paying to see Miss Nude Paducah across the street). And I have to admit, Memphis didn't disappoint. Most of the other girls danced to bad '80s rock, but the Memphis Belle whipped out The Fabulous Thunderbirds' first album and what seemed like an entire vat of massage oil, and I've been a fan ever since – of Vaughan that is… not sure what happened to Belle, or the oil. Rich Woman
Eventually I caught Vaughan and the T-birds at a small club in Dayton. Even though the band went on to become a minor sensation in the mid-'80s with songs like Powerful Stuff and Wrap It Up, they always seemed a little uncomfortable playing larger theaters and summer "sheds." They were right at home in that Dayton dive, though… and I was a little worried at one point that Vaughan's thick, smoky guitar would set off the club's fire sprinklers. I'm a Good Man
Vaughan eventually left the T-birds behind – which I always respected because I'd already lost interest in the band when they torqued up their sound for a major label. And at least from a creative standpoint, his career as a solo artist has been far more rewarding than even I would've predicted.
First, we found out that he has a soulful and expressive voice – an instrument that he never used with the T-birds (granted, Kim Wilson is a tough act to follow). Here's one of his early forays into lead singing: Love the World
He also had the extreme good taste to hire Bill Willis on organ and George Rains on drums.
Willis is a guy who clearly deserves his own blog post, having served as a staff bassist at King Studios and contributed to many of the label's legendary recordings by James Brown, Freddie King, Little Willie John, Bill Doggett (responsible for one of the great instrumentals of all time, Honky Tonk) and many others. Here Willis lays down the low end for one of Freddie's signature songs: I'm Tore Down
Willis eventually persuaded Doggett to show him a few tricks on organ, and he's been ridin' the B3 ever since, recording and performing with the likes of LaVerne Baker and Floyd Dixon. He does it Jimmy Smith-style, kicking out funky bass lines on the B3's foot pedals. Here he locks in tight with Vaughan and Rains (and special guest Joe Sublett on sax) on a tune that recalls the glory years of the organ combo: Tilt A Whirl
Vaughan's other secret weapon, Rains, should be considered a legend simply for joining the San Francisco lineup of the Sir Douglas Quintet back in '68. The Texas expat helped made border-rock history on cuts like Mendocino and Nuevo Laredo before moving back to Austin and joining the city's fertile blues scene back in the Seventies. Rains served as de facto house drummer for Clifford Antone's record label and club, where he probably sat in with Vaughan more times than he can remember. Clearly, he never met a shuffle he couldn't nail down tight: Kinky Woman
That's the solid core Vaughan started with back in '94 with his first solo release, "Strange Pleasure." Everything else was gravy. Rich, tasty gravy. Gospel/doo-wop vocals, second guitar (including flamenco on one tune), vibes, sax… and one very dangerous blues mama, Lou Ann Barton, who adds plenty of spice to a few of Vaughan's best moments as a solo artist: In the Middle of the Night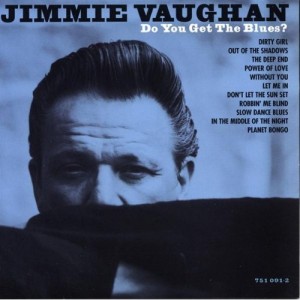 My favorite Vaughan album – "Do you get the blues?" – had the unfortunate distinction of being released on September 11, 2001. But it didn't take me long to appreciate its many joys, which probably served as little subconscious reminders that all was not lost post-9/11. Let's put it this way – it damn sure gave me more of a healing feeling than Charlie Daniels' "This Ain't a Rag, It's a Flag." I especially latched onto this soulful little number that finds Vaughan settling into a slow groove with his son, Tyrone, on rhythm. In fact, I'd like to hear more of Vaughan exploring that same sweet spot that his idol, Johnny "Guitar" Watson, found between blues and funk: Without You
Speaking of Watson, I'm not sure if anyone captures the bite and sass of that bluesy-funky sound better than Vaughan. Exhibit A: Motor Head Baby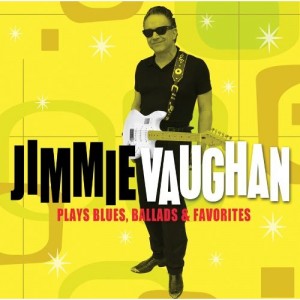 Vaughan recently followed up on his fine 2010 release, "Plays Blues, Ballads & Favorites," with "Plays More Blues, Ballads & Favorites." OK, maybe not the most innovative marketing concept… but definitely more vintage Vaughan – smart, in-the-pocket blues-based goodness. And definitely a few cuts above your standard contemporary blues fare. Here's a taste from the earlier release – a blazing instrumental that proves Vaughan is only getting better with age: Comin' and Goin'
Vaughan live, with his tribute to brother Stevie Ray. Abrupt ending, but pretty sweet slice of JLV in action…