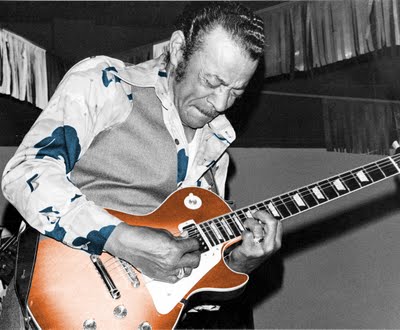 We'll kick things off with our own little version of "name that riff": Mystery Riff
John Lennon's snarling intro to Revolution? Guess again… Blues guitarist Pee Wee Crayton laid down this radioactive riff back in '54 on Do Unto Others – one of the first recordings to feature Leo Fender's new toy, the Stratocaster. And it was waxed some 14 years before Lennon came up with the same idea. Am I trying to point out the Beatles weren't original? Of course not… just suggesting they stole from the right sources.
Connie Curtis "Pee Wee" Crayton is one of those blues guys who, every 20 years or so, gets the attention he deserves – including a lengthy two-part feature in Living Blues magazine from '83 and this more recent appraisal by our friend The Hound – but then he drifts back into obscurity. For example, a quick search of Crayton on Amazon brings up a couple of second-rate domestic releases and a few pricey, out-of print imports, but you can find virtually all the B.B. King and T-Bone Walker you need. RCR says it's time to right this wrong… and we won't stop until this blistering workout finds its way into the next Nike commercial: Pee Wee's Wild
Back in the Fifties, a live showdown between Crayton and Walker would generate the same amount of hype that a heavyweight title bout now brings to Vegas – with Crayton gladly playing the role of trash-talking upstart. Here's a great example of Pee Wee getting up in T-Bone's grille (from a '56 edition of the Pittsburgh Courier):
"'I think I'm better than he is,' Crayton told The Courier. 'He can play with but three fingers. I use all mine. He may be a better showman – he does the splits and puts his guitar behind his head – but I can play better… Anyway,' he continued, 'when he puts his guitar behind his head, he can't play anything. He may hit a few chords, but that's all."
Walker gives a little back too: "Pee Wee might say anything. I can take T-Bone Jr. here (R.S. Rankin, T-Bone's nephew) and run him off the stage. Pee Wee plays two or three pretty good numbers, but the rest of them he stole from me." Pee Wee and T-Bone… the first gangstas?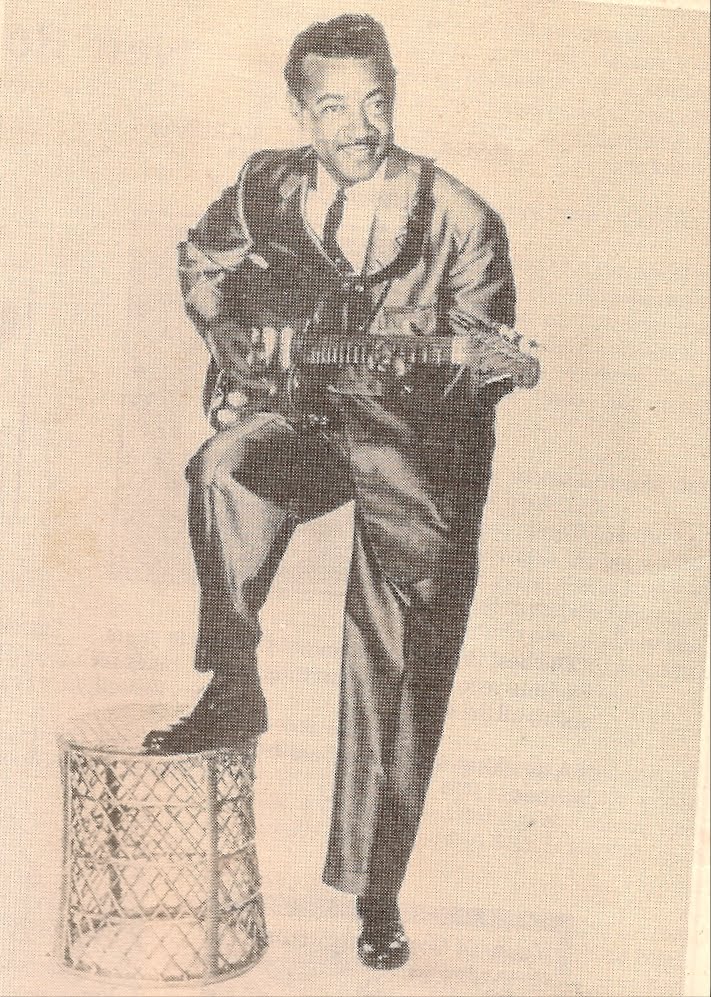 Chest-thumping aside, Crayton had the greatest respect for his mentor and fellow Texan. But it's interesting to place the two legends side-by-side. Walker: the elegant stylist with an impeccable sense of time… like an expensive bottle of French Bordeaux wine: T-Bone Shuffle Then Crayton: bold, brash and maybe even a little belligerent… think warm muscatel, fermented while you wait: Crayton Special
I'll defer to the Hound for the thoughtful and entertaining bio. Suffice it to say that, like Walker (four years his senior), Crayton was born and raised in Texas and then migrated to L.A. in the mid-'30s. But while Walker hit the ground duck-walking through the music clubs along Central Avenue, Crayton was a late-bloomer – working in a shipyard during the war before moving to Oakland, where he made a name for himself both as a bandleader and a sideman (most notably for R&B hitmaker Ivory Joe Hunter).
The commond ground for Walker and Crayton was the emergent sound of West Coast R&B. It was the land of honkers, shouters and bar-walking showmen – and Crayton fit right in with his fiery guitar and 300-foot-long chord. In short order, he became one of the few guitar-shredding frontmen in a sax-driven form.
You could argue that Crayton's style was a near-perfect amalgam of all the influences that came together in L.A. before jump blues was eclipsed by rock 'n roll. He played it down-home and dirty like a true son of the south, but threw in just enough jazzy sophistication to show he had no intention of moving back to Texas. With his distinctive croon, he also mastered that unique West Coast artform known as the blues ballad (think Charles Brown and Nat King Cole). Here's one of the best examples of the form, Pee Wee's sweet cover of a T-Bone original: I'm Still in Love with You
He eventually added a few other spices – including chitlin'-circuit soul and some fancy fretwork that he learned from the great jazzman Kenny Burrell during an extended stay in Detroit during the late '50s and early '60s. But you wouldn't sell Pee Wee short by lumping his best stuff into three golden eras:
The Modern Recordings – singles that Crayton recorded for the Modern, R.P.M. and Flair labels from 1948 to 1951
The Aladdin/Imperial Recordings – featuring some of New Orleans' best session players
The Later Years – OK, this category is a bit of a cop-out, but I'm sticking with it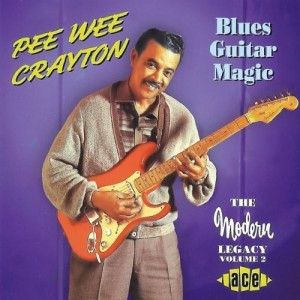 Crayton moved back to L.A. in the late '40s mainly for the opportunity to record for Modern, where artists ranging from Etta James to John Lee Hooker created some of the era's finest blues and R&B singles. Crayton's Modern recordings were no exception. Ranging from slow-burning ballads to full-blown meltdowns, they helped pave the way for the first generation of rockers – including Elvis, who reportedly was knocked sideways by a Pee Wee performance in Memphis.
On many of the Modern singles, Pee Wee was backed by the legendary band leader, arranger and sax player Maxwell Davis, who also is responsible for some of B.B. King's finest moments on record. Crayton also rubs up against jazz royalty – including Count Basie band members Harry "Sweets" Edison on trumpet and Ben Webster on sax, and the king of Kansas City piano, Jay McShann. Here Pee Wee uses some fat chords (and not always the right ones) to punctuate McShann's boogie woogie: Boogie Woogie Upstairs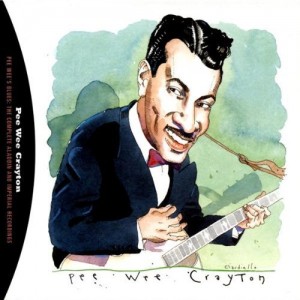 Crayton came up with a few hits during the Modern years – including Blues After Hours and Texas Hop – but he soon lost favor at the label as B.B.'s star began to rise. After floundering around for a few years, he landed in New Orleans in '54 to record at Cosimo Matassa's Rampart Street studio. There he teamed up with city's finest producer, Dave Bartholomew, and his band to cut some first-rate singles for the Aladdin and Imperial labels. Among other highlights, Crayton and Bartholomew came up with the flame-throwing riff at the top of this post… not to mention a few New Orleans-flavored rockers, shuffles, the requisite ballads and this outstanding instrumental featuring Salvador Doucette on piano: Blues Before Dawn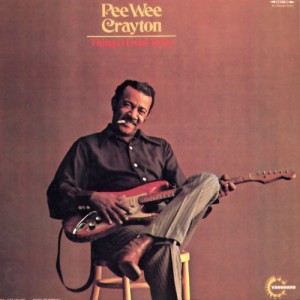 I'd loosely define Pee Wee's later years as running from 1971 – when he recorded a well-received album called "The Things I Used to Do" for the Vanguard label – up to his death in 1985, a year that found him still actively performing and recording. During the lean years (mainly the Sixties), he lived mostly in L.A. and supported his family by working as a truck driver. But as he enjoyed a modest revival into the Eighties, he was befriended by next-generation bluesmen like harp players Kim Wilson (The Fabulous Thunderbirds) and Rod Piazza (the L.A.-based swing-blues outfit The Mighty Flyers).
Piazza even managed to give the elder Crayton a new lease on life by backing him with the retro-sounding Flyers on a session in '83 (with the wonderful Debra "Honey" Piazza on piano): Come On Baby
He was the first Strat-wielding bluesman – the guy who showed the way for Clapton, Hendrix, Vaughan, Knopfler and many other Strat-handlers who followed. But he was far from your typical blues legend… a sharp-dressed crooner who also drove a truck and loved to play golf (yeah, you heard it right – the guys at the country club probably had no idea who they were playing with). Low handicap aside, he still belongs on any meaningful list of guitarists who matter.
No Pee Wee videos on youtube… so we'll have to settle with the full version of the song we teased at the top (on 78 no less):