Another rough week, another re-post… Sue me. (Hey, our last post rang up almost 200 Likes – maybe it's time to send some of our readers back to Drunken Vegan!) Here's one of our first posts, from November '09. RCR got off to a bit of a shaky start, but when this one came together, I knew I was onto something. Can't imagine a world without Speedy and Jimmy.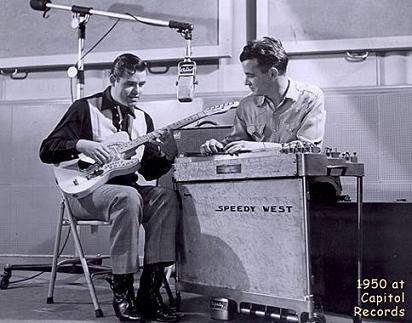 I used to spend countless hours combing record stores for rare blues and R&B. On one such occasion, I was convinced that the ganja-impaired proprietor was playing one of his favorite albums at 45 RPM instead of 33… and I told him so. He solemnly handed me a curious-looking Japanese import – a compilation of "country and western" tunes that featured a couple of guys named Jimmy Bryant and Speedy West. And I was off on another quest to learn more about the great, forgotten heroes of American music.
Turns out, the record store DJ had it right… It's just that my ears refused to process the sounds I was hearing as genuine recordings of real musicians playing real instruments in real time, without any studio gimmicks or special effects. Which only gave me greater respect for the unique talents of Bryant and West. How could two guys – one on electric guitar and the other on pedal steel – combine such blazing speed and sheer musicality? Case in point… Stratosphere Boogie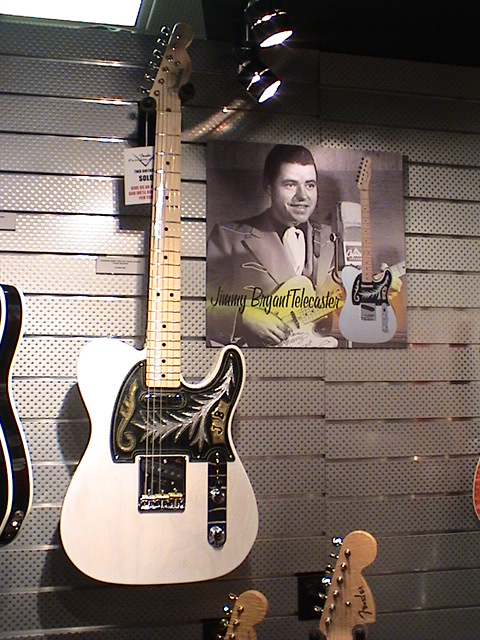 A little background… Guitarist Ivey "Jimmy" Bryant was born in Moultrie, Georgia, in 1925. His father's modest skills as a sharecropper had little influence on his son – but the elder Bryant made an impression in other areas, especially with his musical ability (he was proficient on several instruments), his bad temper and his love of the bottle.
At the age of 18, the younger Bryant joined the army of General George Patton and was severely injured by a grenade in 1945 during the invasion of Germany. With little to do during his recovery, Bryant used the time to learn how to play guitar and fiddle – and further honed his skills in USO clubs after the war. He eventually moved to Los Angeles to take advantage of the city's growing reputation as a hub of country and hillbilly music.
Wesley "Speedy" West had a more stable upbringing in Springfield, Missouri, where his father worked at a gospel publishing company and played guitar. Young Wesley learned how to play the Hawaiian guitar at the age of nine and soon earned some notice after winning a prize at a school-sponsored talent contest (he got his nickname from a local DJ). While still in his teens, he worked in a machine gun factory during World War II and eventually started farming and playing local gigs to support his wife, Opal, and son, Donnie. Like Byrant, he felt the lure of California, so he packed up the family and survived a "Grapes of Wrath"-like journey to land in Los Angeles in 1946.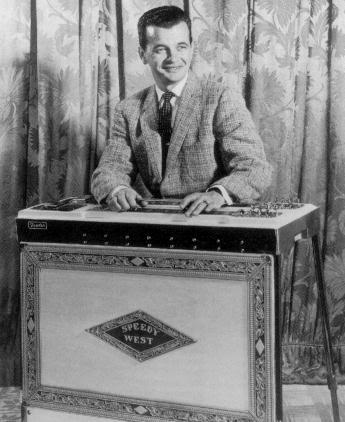 While Bryant was playing in local dives, West was gaining notice among the city's great western swing bands – and he eventually joined a 23-piece outfit led by Spade Cooley. Already an established name, West met Bryant at one of L.A.'s skid-row music joints in 1948. The two quickly formed a mutual admiration society and began a musical partnership that reached its peak in the studios of L.A.-based Capitol Records.
Given West's near-reckless approach to the pedal steel guitar, it shouldn't come as a surprise that he recorded with the king of the novelty music craze in the 1940s and early '50s, Spike Jones. But the instrumentals that Speedy cut with Jimmy Bryant from 1950 to 1956 on Capitol Records are far more sublime than ridiculous (for the most part) and are widely regarded as little works of art by some of today's greatest pickers. Speedin' West
I like to think of the Bryant/West instrumentals as part of a very American take on the famous recordings by legendary Belgian guitarist Django Reinhardt (whose dazzling runs inspired Bryant) and his usual foil, violinist Stephane Grappelli – sort of a Hot Club of L.A. instead of France. Reinhardt and Grappelli were simply burning their way through the show tunes and standards of the era (along with a few fine originals, like Django's memorable Nuages). If anything, the standard arrangements served as launching pads for all the fireworks that followed – mere excuses for Reinhardt and Grappelli to trade incredible solos that still stand the test of time… Sheik of Araby
Bryant and West gave themselves a little more freedom by creating their own vehicles for improvisation – songs like Frettin' Fingers, Swingin' on the Strings and Speedin' West. Sure, when you strip away the solos, the basic song structures are just as cornball as Dinah and Sweet Georgia Brown. But Bryant/ West give Le Hot Club de France a run for its money on workouts like this one… China Boy
And let's not forget the many sessions where Bryant and West backed up early-Fifties hit-makers like Tennessee Ernie Ford, Gene Autry, and Roy Rogers and Dale Evans. Before you start scoffing at that short list of Hollywood cowpokes, let me give you some aural evidence that Bryant and West didn't screw around in the studio – no matter who they were supporting (the first edit is Speedy's solo, then Jimmy's)… I'm Hog Tied Over You/Tennessee Ernie Ford & Ella Mae Morse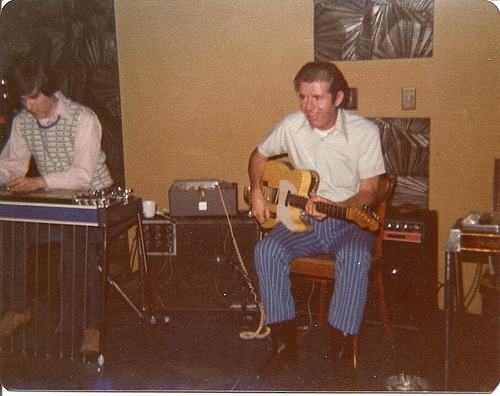 The advent of rock 'n roll and other musical trends weren't kind to Bryant and West. Bryant's playing always danced on the edge, and he had little patience for following anyone's direction in the studio or bending to the conventions of Nashville. He recorded a few jazz-based originals before drifting into obscurity in the 1960s and '70s. A lifelong smoker, Bryant died of lung cancer in 1980. West kept himself busy with some studio work and eventually took a job in Tulsa as a warehouse manager for Fender Musical Instruments. After suffering a stroke in 1981, he never played again, and finally succumbed to chronic health problems in 2003.
Today, Bryant and West are recognized as pioneers on their respective instruments – with Bryant among the first guitarists to master the Fender Telecaster and West an "early adapter" of the pedal steel. Sadly, only a small handful of their recordings together are available on iTunes, and two exceptional compilations of their Fifties instrumentals – "Stratosphere Boogie" and "Swingin' on the Strings," both on the Razor & Tie label – appear to be out of print (someone correct me if I'm wrong). But those CDs are still available on amazon – get 'em before they're gone for good!
West and Bryant on the Hometown Jamboree, a country-western show that aired every Saturday night in Los Angeles (1949-1959) on KTLA-TV (turn up the sound on this one).