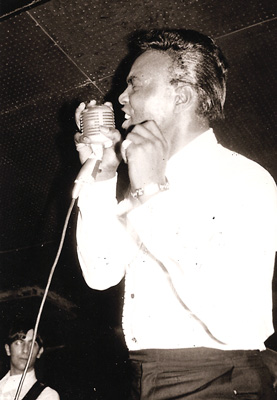 American Idol's Randy Jackson would probably describe him as "pitchy," and I don't think he'd make it on anyone's team on The Voice. But Arthur Alexander is one of the great heroes of early southern soul – covered by The Beatles and The Stones and often credited with kick-starting the legendary Muscle Shoals Sound.
Yes, I'm referring to those makeshift studios in northern Alabama that gave us classic recordings by Aretha Franklin, Wilson Pickett, James Carr, The Staple Singers, The Allman Brothers, Bob Dylan, The Black Keys (2010's Grammy-winning "Brothers")… And it all started with this tune by Arthur Alexander, recorded in a former tobacco warehouse in Muscle Shoals: You Better Move On
The song became the first national hit recorded in Alabama, reaching number 24 on the U.S. charts. But more important, it gave local record man Rick Hall enough cash to build a better studio in town, which also brought more profitable session work to guys like Dan Penn, Donnie Fritts, Spooner Oldham and, later, members of the Muscle Shoals Sound Rhythm Section… in other words, the architects of deep southern soul. Here's a prime example of what Alexander's hit begat: I Never Loved a Man (The Way I Love You)/Aretha Franklin
But Alexander wasn't what you'd call a prototypical soulman. He didn't have the fire of Otis Redding or the funk of James Brown. His was a more reserved, countrified brand of soul – with a slow-burning intensity that makes you feel nice and warm inside… and then rips your guts out.
He obviously was a big influence on The Beatles. John Lennon reportedly stocked half of his jukebox at the Dakota in NYC with Alexander's singles. George Harrison called You Better Move On "one of our favorite records." Paul McCartney was quoted as saying, "If The Beatles wanted a sound it was R&B. That's what we used to listen to and what we wanted to be like. Black, that was basically it. Arthur Alexander." In fact, no less than three of Alexander's tunes ended up in the early Beatles catalog – Anna (Go To Him), Where Have You Been and Soldier of Love. And The Rolling Stones jumped on the A.A. wagon in '63 with a fine cover of the song we sampled above (here's the Stones' version: You Better Move On).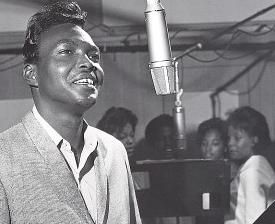 He also was covered by The Bee Gees, Ike & Tina Turner, Dusty Springfield, Jerry Lee Lewis and Ry Cooder. He even sat in with a young Jimi Hendrix at a club in Nashville and worked as a staff songwriter at a Music City publishing house along with Fritts, Kris Kristofferson, Tony Joe White and Billy Swan. Then he died of a heart attack right after making one of the most remarkable comebacks in music history. Why hasn't Hollywood (or at least HBO) jumped all over this story?
Alexander was born on May 10, 1940, in Florence, Alabama – just across the Tennessee River from Sheffield, where he grew up, and Muscle Shoals. As a kid, he soaked up a wide range of influences from the radio and even cowboy movies featuring Roy Rogers and Gene Autry. And you can hear some of that twang – with a heavy dose of soul, of course – in Alexander songs like Go Home Girl and this one (a Bobby Bare remake): Detroit City
He actually recorded some of his best stuff in Nashville backed by Music City's finest, including Charlie McCoy (great harp player, among other things), Pig Robbins (country's main piano man in the '60s) and Kenny Buttrey (drummer extraordinaire… think of that slippery rhythm on Dylan's Lay Lady Lay). Here's a first-rate example of Nashville soul, Arthur Alexander style: Where Have You Been
But back to the backstory… Alexander's music career started with a vocal group he put together as a teenager, The Heartstrings. Even then, he had an affinity for the cooler sound of great R&B crooners like Percy Mayfield and Clyde McPhatter. But he also managed to cut a couple of searing blues-rockers for the Judd label (owned by Sam Phillips' brother Jud) back in 1960. Recorded above a drug store in Sheffield, the session was run by local hipster-impresario Tom Stafford, who was dedicated to making a star out of Alexander. Despite the obvious merits of the tough-as-nails Sally Sue Brown and this nasty little gem, Stafford fell short in his first attempt:
But Stafford knew he had a hit a year later when he heard Alexander working through an a cappella version of You Better Move On. So he contacted Hall (a former business partner) and arranged to have it recorded at Hall's new studio in Muscle Shoals. The resulting hit put northern Alabama on the map in '62, and Hall went on to lead Muscle Shoals' transformation into a soul music mecca. Alexander built his own legacy with a string of early soul classics (not to mention a few near-misses) mostly recorded in Nashville. Here's another one of the keepers which was later covered by Marshall Crenshaw on his 1982 self-titled debut: Soldier of Love
Beginning in the early '60s, Alexander's career was handled by Nashville DJ and producer Noel Ball, who seemed to leave no genre or musical combination untouched in his efforts to score another hit for his artist. Although he couldn't match the success of Move On, Ball at least had the good sense to send a couple of unadorned tracks by Alexander to Norman Petty, who had struck gold at his Clovis, New Mexico studio with Buddy Holly. Petty overdubbed those tracks with his mighty house band The Fireballs and their blazing guitarist George Tomsco. The end result? Pure rock 'n soul magic: You Don't Care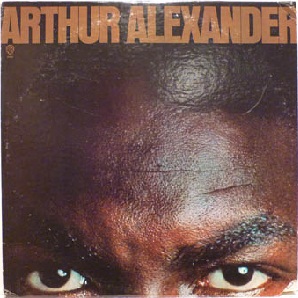 The late '60s and '70s weren't kind to Alexander. A string of questionable business deals had left him without publishing rights to his biggest songs. He became bitter and withdrawn, which only worsened as he struggled with alcohol and drug use. He did small time in several prisons and longer stints in psychiatric hospitals (apparently his fragile psyche was ill-equipped to handle psychedelic drugs). Along with the songwriting gig in Nashville, he recorded for several labels, including Monument, Warner Brothers and Buddha. Virtually all of his songs from this period disappeared quietly, but one in particular remains an unquestioned soul masterpiece. Rainbow Road was written by Penn and Fritts, who later claimed that the song's opening was inspired by their old running buddy Alexander: Rainbow Road
Broke and dejected, Alexander moved to Cleveland in 1977 to be with his common-law wife, Lynell Birt, and their daughter, Andrea. Among other jobs, he worked construction and drove trucks for the local electric company. His personal situation improved considerably as he kicked drugs and got religion (he later referred to himself as a born-again Christian). He eventually landed a job driving mothers and their children to and from one of the local Head Start centers. When that job went away due to funding cuts, he was transferred to a family center in Cleveland's gritty Hough neighborhood, where he mainly worked as a custodian – and where virtually no one knew of his amazing musical past. And that's where a former indie rocker and longtime fan named Jon Tiven tracked him down in 1990.
Alexander had been resistant to several previous attempts to pull him back into the music business, but apparently he started to change his mind after watching an episode of "Married… With Children" in which Al Bundy tries to remember a song from the Sixties that turns out to be Anna (Go With Him). In the meantime, Tiven, who had co-written a few songs for Huey Lewis & the News and B.B. King, decided he wanted to help engineer Alexander's comeback. After several phone calls, he convinced Alexander to meet him in New York City, where the reticent soulman played a songwriters' showcase at The Bottom Line and joined Tiven in a meeting with Elektra Records, which quickly struck a deal to record Alexander. Although Tiven had set the stage for the comeback, he later was rejected by the label to serve as the album's producer – the job was handed to Ben Vaughn instead.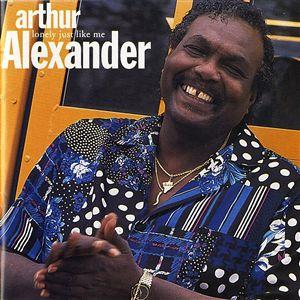 Vaughn surrounded Alexander with several old hands from Muscle Shoals and Nashville, including Fritts, Penn, Oldham and guitarist Reggie Young. "Lonely Just Like Me" was released in early 1993 to rave reviews. The album captures a relaxed and confident Alexander as he revisits some old favorites from the '60s and tackles a couple of latter-day classics like If It's Really Got To Be This Way, a great country-soul tune that he co-wrote with Fritts and guitarist Gary Nicholson (with some tasty fretwork by Young): If It's Really Got To Be This Way
Alexander kicked off a busy schedule of promo opportunities – including appearances on NPR's Fresh Air and TV's Entertainment Tonight. But it was all too much for his broken body to handle. Unbeknown to even his family and closest friends, Alexander had been seriously ill for some time. He had gout, back problems, hypertension and an ailing kidney (his other one was removed during gallstone surgery). In other words, he was suffering from all the side effects of a rough life. And the real tragedy was that everything gave out just when he finally got it together.
Alexander passed out during a meeting in Nashville with several industry representatives (he was trying to recapture some of his publishing rights). He was rushed to a hospital and died of a heart attack the next morning – less than three months after the release of "Lonely Just Like Me."
Given Alexander's profound influence on many artists who followed, it boggles the mind that he hasn't been inducted into the Rock and Roll Hall of Fame. I think Keith Richards said it best when he was questioned about Alexander's legacy: "When the Beatles and the Stones got their first chance to record, one did 'Anna' and the other did 'You Better Move On.' That should tell you enough."
For a great overview of the life and times of Arthur Alexander, check out Richard Younger's book "Get a Shot of Rhythm and Blues: The Arthur Alexander Story" (shown below).