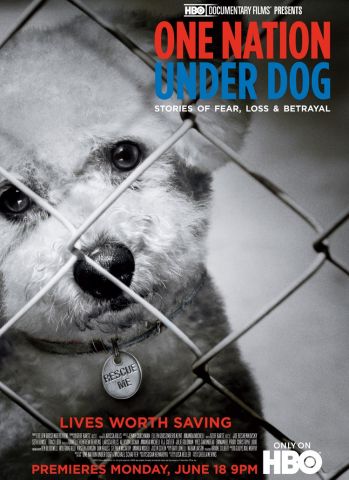 Wish I would've come up with that headline. But it belongs to a typically provocative HBO documentary (and the book by Michael Schaffer that inspired the movie) that focuses on the various psychoses, neuroses and idiocies shared by a large percentage of dog-owning humans.
I should know. My wife and I have two dogs – a fairly large Black Labrador named Zeus and a smallish American Eskimo, Juno. Up until about four years ago, I'd been able to successfully sidestep the whole dog ownership thing throughout my adult life (we owned four cats, which reflects a whole different shade of crazy). Then my teenage daughter made a play for the Eskimo, using a PowerPoint presentation to highlight the various strengths of the breed and reasons why I should allow her to bring said animal into our home. Since it was the only piece of work she showed me during her high school years, I felt I should reward her for a job well done. Enter Juno, with bro' Zeus soon to follow (I think we were trying to fill the empty nest following the departure of our youngest).
Anyway, we quickly came face-to-face with the whole dog-owning culture – including various schools of thought around issues such as training ($5 for a book, or $1,500 for a professional?), walking ("heel" or 50-foot lead?), lodging (spa or kennel?), dog parks (yes or no?) and even designer foods (colossal waste of money… sorry, no debate here).
But these issues seem trivial compared to some of the life-or-death struggles captured in One Nation Under Dog: Stories of Fear, Loss and Betrayal (with segments directed by Ellen Goosenberg Kent, Amanda Micheli and Jenny Carchman). For example, one segment features a New Jersey doctor who has a penchant for threatening his neighbors with four ill-behaved Rhodesian Ridgebacks. Despite several attacks – including one that severed a small girl's ear – the doctor saves two of his dogs from "the big sleep" by spending a small fortune on their legal defense (apparently high-priced Bulldogs are good at defending Ridgebacks).
But the segment ends with an unexpected emotional twist as doc and wife voluntarily euthanize one of their dogs following another vicious attack. I thought both owners were assholes, but definitely felt a little of their pain as they huddled around their lifeless pet. And yes, that's what this whole dog-owning thing has turned me into – a complete sap. Years ago, I felt all smug and superior as one writer referred to dogs as "dumb chums" for their clueless owners. Now I'm one of them.
This opening piece just sets the stage for the craziness that follows. One guy spends $150,000 to clone his deceased pet, using a lab in Korea. A seemingly destitute woman welcomes more than 100 stray dogs into her home and surrounding property. A support group in San Francisco helps a roomful of grieving humans deal with the recent loss of their favorite dogs, bringing new meaning to the term "a man's best friend."
These stories reminded me of a favorite saying by a local reporter who wrote a column on pets: "Not all dog owners are nuts, but all nuts are dog owners." Which, of course, reminded me of hound-breeder Harlan Pepper's solemn recitation from the movie Best in Show: "Peanut. Hazelnut. Cashew nut. Macadamia nut. Pine nut. Pistachio nut. Red pistachio nut…"
Then came the real kick in the gut. The documentary's last few segments show a group of dogs (including puppies) being euthanized… an abused pet being dropped off at the shelter… an animal rescue group raiding a puppy mill in Tennessee that looks like it was thrown together by Dr. Josef Mengele… And finally, we meet some truly heroic nutballs – including a man and a woman (and a few of their supporters) who have dedicated their lives to rescuing dogs from shelters and matching them up with caring, loving humans. God bless these crazies.
Some of the footage is rough stuff, but the overall message is clear: Owning a dog is serious business, with a host of responsibilities – including spaying and neutering – that are routinely ignored by way too many Americans. And the film drives this point home with some staggering facts:
Some 2 million dogs are destroyed each year in animal shelters
More than 70% of the dogs in some rural shelters are routinely killed by lethal injection or gas
For most dogs on death row, rescue groups are the only way out
Only about 20% of the dogs Americans own come from shelters, yet 25% of the dogs in shelters are purebreds
Puppy mills are the primary source of dogs sold in pet stores
Some cities with low-cost spay and neuter programs have reduced the killing in their shelters by nearly half
Just a few thoughts to consider before you head over to the pet store (like we did, and won't do again) to pick out your next dog. You might want to look for a rescued pup instead.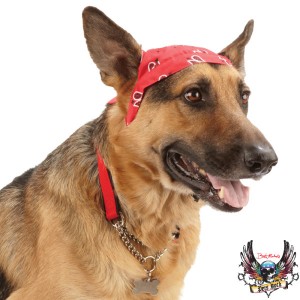 What does any of this have to do with our usual topic, music? Nothing, really. But I'll wrap this up by adding that a lot of rockers are a little nutty about their dogs too. For example, Motley Crue lead singer Vince Neil bought a private jet just to transport his Cocker Spaniels. The dude from Poison, Bret Michaels, just launched his "Pets Rock Collection" – including some pretty cool Western shirts and bandannas for Fido. More than a few roving troubadours – including James Taylor's son, Ben – take their dogs on tour with them. And The Sonics score extra points for covering this dog-centric tune: Walkin' the Dog
If I were a rock star (there's a loaded phrase, usually followed by a tasteless reference to supermodels and a vat of body cream), I'm not sure what I'd do with our dogs. Buy them their own jet? Nah… I'm too cheap. Take them on tour with me? Nope… too messy. Dress them up like the guy from Judas Priest? That's just tacky… and my dogs wilt in the heat even without leather accouterments.
But I definitely wouldn't get rid of them. For better or worse, they're now part of the family. So add that to the list of reasons – right after "too old" and "unable to shred" – why I'm not a rock star.
As vet advisor Dr. Leslie Brooks rightfully points out, many people who adopt a dog do not fully understand all the responsibilities, time, and costs that come with being a dog parent. Click here for 11 little-known facts about owning a dog.
To find out how you can adopt a pet, go here.