Last week I bitched about not coming across any new tunes that merit a second listen. Well, my daughter Allie must've heard me all the way down in Lexington, because she sent me a couple of worthy contenders (both released last year on the Light in the Attic label) for my listening pleasure on Father's Day.
Mind you, these songs were recorded more than four decades ago. But they're new to me… and the strengths of these two collections are almost completely unrelated. In other words, you wouldn't dare put one on right after listening to the other – but you probably should find a place for both wherever you store your music (mine's in the Cloud, where I can access it on my iPad next Thursday if I press "play" today).
One features a highly accomplished guitarist and songwriter surrounded by strings and other unexpected flourishes, including the bluesy bluster of Mick Ronson's electric guitar. The other captures a rank amateur on sax creating some rough and ready dance tunes with a rotating cast of Memphis soul extras. But they both succeed in spite of – or maybe because of – their obvious weaknesses. No calculated makeovers or marketing hype. Just a couple of unreconstructed oddballs, working completely within their element… What's not to like?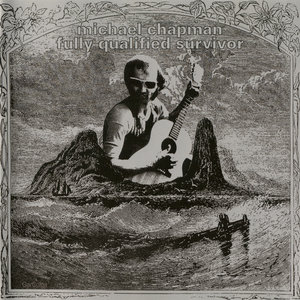 Well, I wasn't completely won over by Michael Chapman's 1970 release "Fully Qualified Survivor" – although I'm surprised my more acoustically inclined music buddies never told me about this guy. Just a quick listen to the opening of this tune tells you he knows his way around a Martin: Postcards of Scarborough
Chapman's songs take their time, meandering in Dylan-esque fashion as he moves from one casual couplet to the next – what Chapman likes to call "big ideas in little words."
Here's a little taste, from the song Aviator:
No concessions to my past, no; none that I can make… If I had my time I'd do it all again.
I'd just make a few adjustments to the way I treated you, and let myself be washed by the rain.
The rain that takes my time away. It takes my time away.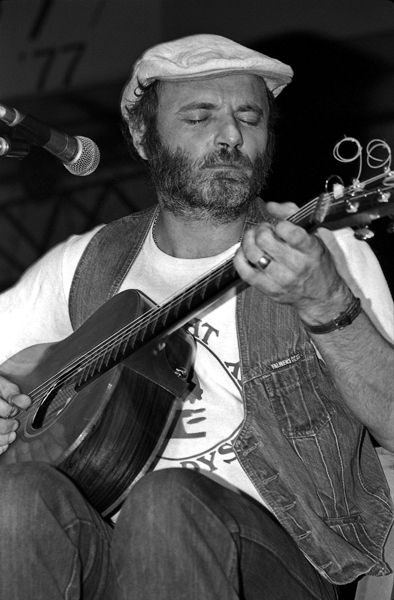 The album's also noteworthy for bringing Ronson to the attention of David Bowie, who made him a founding member of the Spiders from Mars. Here Ronson shows off a little of that metallic strut that got him the gig with Ziggy: Soulful Lady
Despite the laid-back charm of his originals and sympathetic strings on a few cuts (arranged by Paul Buckmaster, who later made a name for himself with Elton John), Chapman comes dangerously close to sounding like a parody of a Brit troubadour. Don't get me wrong, I'm all about bands like Traffic (circa John Barleycorn) and artists like Richard Thompson who revel in the roots of their respective homelands. But Chapman's voice is an acquired taste… maybe a little affected? And at least one cut sounds like an unintended homage to Benny Hill: Stranger in the Room
I should cut him some slack… Maybe British folk-rockers were required to sound a little daffy back then (Donovan?). Hey, just a few quaint reminders of the era. You might like "Fully Qualified Survivor" as a nice soundtrack for a rainy day – if it involves cheap wine and strange liaisons (or, as the sticker on the front says, "enjoy it with a joint on a lazy afternoon"). My daughter bought me this one? Hmmm… the mind reels.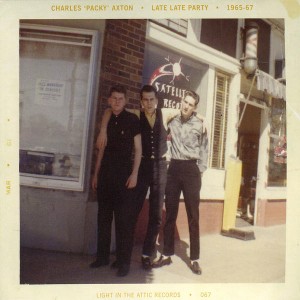 The real keeper of the two is "Late Late Party," which gathers 17 cuts from 1965-67 featuring the one and only Charles "Packy" Axton – son of Estelle Axton, who founded the legendary Memphis soul label Stax along with her brother Jim Stewart.
Packy was the original bad boy of Memphis soul. Apple of his mama's eye, but massive thorn in the side of his Uncle Jim, who ran the Stax studio out of a former movie theater in south Memphis. Packy was undependable, drank way too much and left this world way too soon. Stax guitarist Steve Cropper sums it up this way in Peter Guralnick's excellent book Sweet Soul Music: Rhythm and Blues and the Southern Dream of Freedom: "Packy was a playboy… He was a mama's boy. He wasn't a total goof-off, but Packy was allowed to do what Packy wanted to do."
Which wasn't necessarily a bad thing, because as Guralnick points out, Packy was a bit of a visionary too. You could argue that the roots of Stax and Memphis soul lie in his first band, The Royal Spades – an all-white combo that was dedicated to capturing the sound of African-American dance bands that were tearing it up in local nightclubs like the Plantation Inn. And Packy's band was filled with future legends of soul, including Cropper, Duck Dunn, Wayne Jackson (Memphis Horns) and Don Nix. As an interesting aside, Nix wrote the Freddie King classic Goin' Down; produced albums for Eric Clapton, Jeff Beck, George Harrison, Lonnie Mack and many others; and even rode herd on a Memphis-flavored project by Michael Chapman.
The Royal Spades eventually morphed into the Mar-Keys, which gave Stax its very first hit in the summer of '61 with the instrumental Last Night (Guralnick describes it as "almost atavistic in its repetitiveness"). There's some debate around how much of a role Packy played in creating this song, but his minimal sax playing is a key ingredient. Last Night/The Mar-Keys
That tune doesn't appear on "Late Late Party," which picks up Packy's story in 1965 – after he'd worn out his welcome with Uncle Jim at Stax. Determined to keep her son's career alive, Estelle allowed Packy to tag along with an all-star Stax revue on a trip to L.A., where she shopped him around to a few other labels. They stopped in a studio long enough to cut the following gem with a lineup that basically was Booker T and the MGs (with Booker on piano, and without Dunn). Released on the Pure Soul Music label, Hole in the Wall made it to #5 on the charts… "It was like giving away a hit record," Stewart later protested. Hole in the Wall/The Packers
The rest of "Late Late Party" features a fairly consistent lineup of Memphis talent playing under various aliases – The Martinis, The Packers, The Pac-Keys, L.H. and The Memphis Sounds, Stacy Lane – and nearly as many labels (were these guys on the lam?). Packy's sax doesn't break any new ground, but gets the job done. Maybe more important, he co-wrote 10 of these sizzling-hot numbers (three tunes on the compilation were previously unreleased). All of them seem plucked from a more subterranean version of Stax Records. Think of a wild party in a shitty Memphis rec room – if some of the city's best musicians happened to stop by in the wee hours with a boxful of liquor. And here's what happens when Packy has a little too much to drink ("he's not actually hurling, he's hollering," his niece points out in the liner notes): Hung Over/The Martinis
For my money, guitarist Lee Baker steals the show on most of these songs (another guy I've never heard of… I need some new friends). Baker really digs in with a choked-up, almost percussive sound on tunes like this one: Key Chain/The Martinis
And all you amateur kazoo players out there should appreciate this tune, which features a rare R&B solo on an instrument usually relegated to jug bands: Hip Pocket/The Pac-Keys
Packy died in 1974 at the age of 32… He essentially drank himself to death. But he left behind a colorful legacy – both musically and personally – that seems to define the timeless appeal of Memphis soul. Keep 'em coming, Allie.