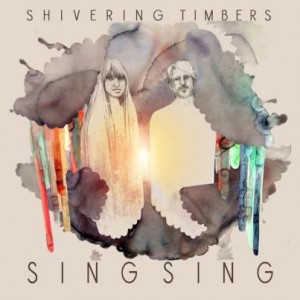 About a year ago, my wife and I went to an arts/music festival at our favorite neighborhood in Akron. Against all odds, we found an outdoor table at Chipotle (well-kept secret: their Margaritas are killer), right next to the main stage. But we were ready to give up our choice spot about three songs into the first act, which made my brain bleed. They were one of these gleefully tuneless post-punk bands with a basic contempt for things like rhythm, chord changes, singing, dynamics… It's like they came together for the sole purpose of making me question my love of music.
Then Shivering Timbers hit the stage, demonstrating how a great band can lift your spirit and turn a fairly commonplace setting (like Chipotle, for example) into hallowed ground. I found myself carried away by the warm, ethereal sound of Sarah Benn's voice, floating above a lush bed of acoustic bass. And I quickly forgot about the painful noise of the previous band when Sarah's husband Jayson started playing guitar. Both lyrical and soulful, he reminded me of Chris Isaak's former guitarist James Wilsey… which also reminded me that sad songs are perfect for a beautiful sunny day – if they're performed by the likes of Isaak or Shivering Timbers. Brad Thorla brought it all together with some tastefully understated drumming, and even chimed in on toy piano at one point. They truly saved the day, and my family (sister Mary and bro-in-law Chuck showed up too) will always be thankful for that.
Shivering Timbers' first album – "We All Started in the Same Place" – was recorded in 2010 and produced by Chuck and Mary's son Dan Auerbach at his former home studio in west Akron. It wouldn't be a stretch to call it a homespun collection of fractured fairy tales accompanied by some dark and twisted music (sounds like Dan might've had Tom Waits in mind). An auspicious debut, but it doesn't really prepare you for their more accomplished follow-up, "Sing Sing" (set for release on Sept. 4).
The band has been favorably compared to various indie darlings like PJ Harvey, Iron and Wine and Nick Cave. But as I listen to the new album, I can't help but think back a lot further to some of the better psychedelic rock of the Sixties. The Youngbloods with Jesse Colin Young, It's a Beautiful Day, Traffic, Jefferson Airplane… bands that were both highly original and musical, in the sense that they typically built their songs around folk-based melodies and other organic hooks as opposed to endless jamming.
Here's a standout cut by The Youngbloods: Darkness, Darkness
And here's a perfect example of how Shivering Timbers is keeping that spirit alive (great cover of a Neil Diamond tune): Holly Holy
That's just a small taste of the new album's many charms – we'll share a couple more as part of a recent online conversation I had with Sarah (below). But first, some background on "Sing Sing":
Sarah Benn: upright bass, lead vocals, banjo, horns, percussion
Jayson Benn: guitars, background vocals, Earthquaker Devices, vibes, thunderharp, mandolin
Brad Thorla: drums, percussion
David Marchione: drums, piano, background vocals
Brian Olive: backup vocals, sax
Tori Kadish: backup vocals
Full Disclosure: Doing his best Robert Hunter, bro'-in-law Chuck Auerbach wrote the lyrics to two songs on "Sing Sing": Without Someone and Annalee
Produced by Shivering Timbers and Brian Olive at The Diamonds, Cincinnati, OH; engineered by David Marchione and Brian Olive; additional recording by David Marchione at Sonic Blues, Beach City, OH; mixed by Collin Dupuis at Easy Eye Sound, Nashville, TN; mastered by Brian Lucey at Magic Garden Mastering, Columbus, OH
Cover art by Julia Bunn; layout and design by Chelsea Blackerby, Sarah and Jayson Benn
T.Q.: On behalf of our male readers (and with all due respect to your husband Jayson), let me just point out you rock the whole dress-boots thing.
S.B.: THANKS!!
OK, got that out of the way… I've been wearing out the new album, which sounds more aggressive and muscular than your spooky debut, "We All Started In The Same Place." I love your voice, and it's nice to hear Jayson really dig in on guitar. Was nephew Dan a little reluctant to turn you loose on that first album?
Last album we didn't have a drummer, and honestly a lot of that stuff was written right there on the spot, recorded in one take. We hadn't yet developed or honed in on a sound, or decided which instruments we wanted to play. We played everything on that album. This time around we're coming off a good two years of performing as a trio and have found out what we are capable of, and what sounds we like making.
A few songs have this hymn-like feel to them… almost pastoral (in an edgy sort of way). Holly holy, for example – also Wayfaring Stranger and Satan, Your Kingdom Must Come Down. Sounds like you've been listening to some gospel music.
Holly Holy is a great song. Neil Diamond is a kindred spirit I think. We both have this affinity for gospel music; it's the feel of it, and how it stirs people so deeply for all different reasons. I've always had an affection for it. Right after Katrina I went to Jazz Fest in New Orleans (with Jessica Lea Mayfield… oh we had some fun, but that's another story). But I remember being struck by the energy coming from the performers in the gospel tent. That same energy has been in front of me before, and it almost always involved someone singing some sort of spiritual song, regardless of religion. I get some really good energy out of spiritual music. Singing to and about an infinite deity is the end of the road… it goes way beyond moaning about some ex-lover, or even about your personal problems. The gospel songs represent to me life and death, and I take "Jesus" to be just another word for God, which applies to most spiritual beliefs. Our most popular song – Evening Prayer (first album) – has me chanting an English translation of a Hebrew prayer. It's all in there… BUT then I balance it out with songs of utter frivolity and meaninglessness, like The Mopping Floor (on this album) or Three Young Rats (on the last album). Hence the nursery rhyme stuff. I love nursery rhymes because they're nonsense, but you can read into them if you choose, and often there's an historical context.
What are some of your other musical influences?
Well, Suzi (Jayson and Sarah's daughter) will likely grow up knowing almost every Joni Mitchell song because that is what I sing around the house all the time. But I don't think there's much of her influence in the music I'm making with this band. Honestly I'm afraid to allow myself to sing that way, she's so fearless with her voice. I haven't yet gained that fearlessness, but I hope to. Watching her performance videos on YouTube is a secret indulgence Suzi and I enjoy often. But then I love Minor Threat just as much. And The Descendants, my very favorite. From the ages 16-20 punk rock was my life, nothing else mattered. My first punk show was like being born again! I kind of feel like if you don't "get" punk rock, then we can never really relate, because I'll always carry that spirit in me, and if you don't understand it then you probably won't understand me. My dad always listened to '60s and '70s rock – Led Zeppelin, CCR, Beatles, Steppenwolf, CSNY, The Nuge… so that was always there in the background, and these days I listen to that stuff a lot. I used to play the trumpet a lot – for a few years I was really into it, and was learning some jazz but I was never very good at improv on that instrument. Then getting pregnant took the wind out of my lungs and I haven't played much since. I do listen to jazz though, mostly bebop and the cool modal stuff, and old standards: Edith, Ella, Sarah, etc. I love Portishead, and Beth Gibbons' voice is one of my favorites. I could keep going on and on about how many different styles of music I enjoy, but that would mean you'd need to come over and sit with me and a couple bottles of wine for an evening of yammering and searching YouTube videos of musicians.
You're on! You and Jayson are raising Suzi, and I'm sure both of you are pursuing other sources of income. How do you balance all of that with touring and promoting your album?
I don't have a day job other than my home, Suzi and Shivering Timbers work (I book, manage, publicize, organize, schedule… it's all me). Jayson works like a mad man during the week, and right now we're auditioning drummers almost every night (our main drummer had to take some time away due to his work constraints). Putting out an album and booking shows requires a lot of time, so we are really swamped right now. Balance, you ask? I don't know, we figure it out as we go along. We stay really in tune with each other as a couple, that's the most important part. If we get out of sync with each other, nothing works.
For better or worse, we've sort of staked our claim here in Akron (I touched on that here). Lately I've been boring people with a lot of blather about our parks, which I really missed when I lived elsewhere. And don't get me started on Swensons. What keeps you here, and is there anything that might eventually drive you away?
Family is here, and the family of friends that I've built. Sure, some of them move away, but someone has to stay home and keep a candle in the window, right? Half of my friends who have moved away have moved back to Akron after a few years. If not, then they visit, or I visit them. I've moved a lot in my life, and now I finally have a home in every sense of the word; I have no desire to leave that behind. I am not a defeatist Akronite. I have seen cities change for good and bad, nothing is permanent, and as long as there are good people around and good neighbors to be had, then the city will be okay. I try and do whatever I can to help my city (the PEOPLE of Akron) when an opportunity presents itself.  But we can't all sit around watching cable TV and wishing we could move away. That's lame. Empowerment…
Jayson: I just want to interject here that Swensons Galley Boys are one of the primary reasons I have remained an Akronite… and a carnivore.
Yeah man… guess I'll have to bring a sack 'o burgers when I swing by! What's on the horizon for Shivering Timbers? Anything else you want to share with us?
As long as we have a drummer available to travel, then we'll be playing shows somewhere in the Midwest and East Coast next year. West Coast is too far away. I think our car would break down in the wilderness on the way there and we'd have to eat each other. I'm scared of California. Don't you have to have cosmetic surgery before you're allowed in? I'm sorry, it's 1 in the morning and I am starting to lose it….
Shivering Timbers on video… Looks like they're making a run for it. No problem – I know where they live.
Shivering Timbers launches their new album on Fri. Aug. 31 at Musica in Akron, with special guests Good Morning Valentine, White Pines and Light of the Loon. Show starts at 8.
>