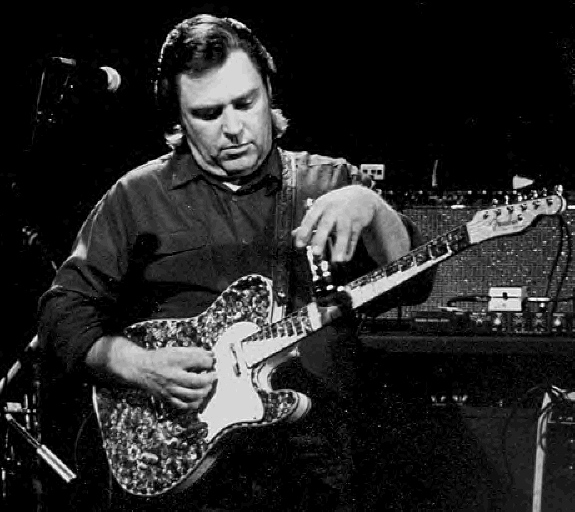 Without question, the best guitarist I ever witnessed in person was Danny Gatton.
And I've seen some great ones. Jeff Beck and Stevie Ray Vaughan, together in "The Fire Meets the Fury" tour of 1989… Vaughan was always a force of nature, but ultimately a little predictable. Beck was a revelation, though – even playing the dreaded jazz-fusion. I had no idea he could summon all those incredible sounds from his Stratocaster with just bare fingers against strings, and very few special effects.
Dickey Betts had so much presence and authority before he got the boot from the Allman Brothers Band. Maybe substance abuse does make you a more interesting guitar player (Clapton, anyone?). Speaking of substances, I also had the good fortune of wandering into a Grateful Dead show in Cleveland back in '73. Jerry Garcia sounded amazing toward the end of the concert. Too bad I had to sit through a three-hour sound check to get there.
On a smaller (small club, that is) scale, Gatemouth Brown was the most naturally gifted, effortlessly soulful player I've seen. I remember watching him duel with Roy Clark on TV's "Hee-Haw." Clark was pretty hot too – but you could see Roy sweat with every single note. Gatemouth would tear him to shreds while looking like he was waiting for someone to serve him a drink.
Brother James and I stumbled across the Nighthawks, with the great Jimmy Thackery on guitar, at the Rome Inn in Austin, TX. He took the small crowd on a side trip to virtually every musical landmark in America – Memphis, Clarksdale, Chicago, New York (Mickey Baker) and L.A. (Johnny "Guitar" Watson) and left us begging for more. I'm glad I saw him in his prime.
I've seen Muddy, Hooker, B.B., Lonnie Mack, Roy Buchanan, Mick Taylor with the Stones, nine-string freakshow Charlie Hunter… But when it came down to sheer virtuosity and feeling, Gatton was the man. He could burn with mind-numbing speed, and then slow down to caress a timeless theme like Harlem Nocturne or Melancholy Serenade. Simply put, he was a master of his instrument. But more important, he mastered every major form of American roots music – blues, jazz, country, rockabilly, western swing… Did I mention that Gatton was the man?
Like Buchanan, Thackery and another one of my favorite pickers, Evan Johns (who gained little renown with his band, the H-Bombs), Gatton was a product of the fertile roots music scene in and around our nation's capital. And fittingly, I first saw him play at a club right off of Pennsylvania Ave.
Physically, Gatton was not an imposing figure. He was a pudgy little guy with smallish fingers that looked like they had no business strangling a Fender. He wouldn't bother with badass poses or a bad attitude, preferring to flash an occasional goofy smile while destroying every convention of the three-sets-and-out (and carry your own shit to the van) bar-band routine. Gatton's playing seemed to transcend his physical presence and everything around him – including the crappy dives that kept him in business.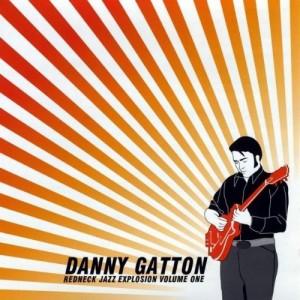 I won't get into the usual Gatton-related discussions regarding gear (like many of his country music idols, he preferred the Telecaster, and he invented his own special effect called the Magic Dingus box) or technique (he often used "banjo rolls" to sound like a small army of guitar players). Suffice it to say, Gatton could do virtually anything he wanted with an electric guitar. And if you had a basic appreciation of the instrument, seeing Gatton live in a small club was truly a life-altering experience.
He named one of his instrumentals Funhouse, which is a perfect word to describe a Danny Gatton performance. Jaw-dropping be-bop figures would segue into soaring blues runs, which would then dissolve into the carnival-like sounds of a Frank Zappa-influenced composition. The guy clearly had a boundless love for all forms of American music, and he claimed to have a weakness for the Blue Note recordings of Art Blakey and his Jazz Messengers. But he was especially dangerous playing rockabilly, which seemed to synthesize all of the great influences he absorbed growing up in a city with a cosmopolitan spirit and a southern heart (let's not forget D.C.'s location relative to the Mason-Dixon Line): 88 Elmira St.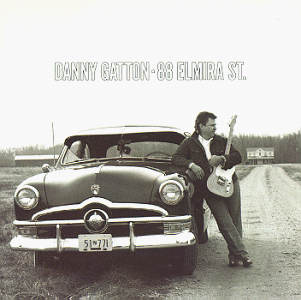 That cut was from one of two solid but fairly slick albums he recorded in the early '90s for a major label (Elektra). Gatton worked long and hard to taste that success, having slogged his way through countless bars and a few questionable record deals. He started out in the mid-'70s playing what he liked to call "Redneck Jazz" (the title of his second album, on the small NRG Records label). And he usually recorded with a worthy foil, like fellow guitar shredder Johns or the outstanding pedal steel player Buddy Emmons. Here's Gatton and Emmons dueling on a tune by Hammond B3 maestro Jack McDuff… Rock Candy
Amos Garrett, himself no slouch on guitar, gave Gatton the nickname "The Humbler." If one of his bandmates would start to get a little cocky after a gig, Garrett would whip out a tape of "The Humbler" blazing his way through one of his legendary live performances. I guess it was just Garrett's way of keeping everyone honest, including himself.
As Gatton's reputation grew, he added more session work to his busy schedule of bar and club gigs. Among other artists, he recorded with country star Roger Miller, rockabilly singer Robert Gordon and moody rocker Chris Isaak – although you'd be hard-pressed to find Gatton in the final mix of Isaak's "San Francisco Days" album (another one of those effectively sparse productions from Isaak). I'm guessing he provided the whacked-out fills on this cut: Beautiful Homes/Chris Isaak with Danny Gatton(?)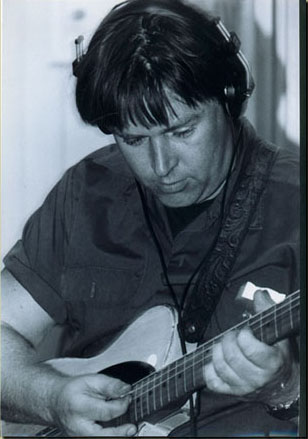 Sometime in the mid-'80s, I dragged a friend to see Gatton at a little club in Manhattan called U.S. Blues. We recognized a few other musicians in the crowd, including a couple from Bob Dylan's touring band. But that night, they were just like the rest of us – standing there in awe of Danny Gatton. We barely moved for two hours, having planted ourselves about 10 feet from the front of the stage. And although I've played guitar for years, I still struggle trying to describe the experience to other musicians. It's like closing your eyes and hearing a musical conversation among all your favorite guitarists, then opening them to realize it's all coming from one guy – and he looks like your auto mechanic.
Apparently, Gatton's unique genius was fueled by a fair amount of pain. And the professional indignities of being "the world's greatest unknown guitarist" must have been more than he could bear, especially after he lost his record deal with Elektra. In 1994, Gatton shot himself dead at his home in Maryland – only a few miles from the small clubs where he first honed his chops.
Several months later, Les Paul, James Burton, Albert Lee and other six-string legends paid tribute to Gatton during a series of shows in New York that helped raise money for his widow and daughter. But even a roomful of celebrities couldn't erase the humbling reality that Danny Gatton, a true giant of the electric guitar, remained a virtual unknown in the world of music.
We'll close with this cut from the appropriately named album "Unfinished Business": Melancholy Serenade
Danny Gatton on video… Thankfully, there are enough Gatton freaks out there to keep the youtube beast fed for years. Here's some schtick that never gets old – from a 1991 performance on Austin City Limits (one of nephew Dan's favorite Gatton clips):
For all you guitar-pickers out there, here's a five-minute lesson from the master… Remember, if you can't find your tuner, the dial tone on your phone is an F!