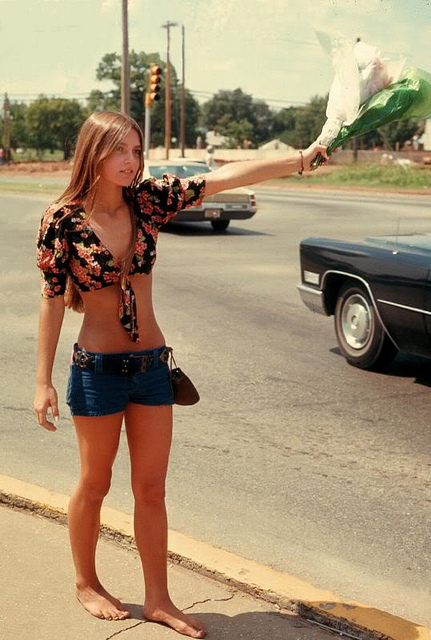 Let's talk about the Seventies. What exactly happened? I'm not sure I can answer that question, because I lived them – in the same smoky haze that partially obscured my view of The Rolling Stones during their '72 show at the Akron Rubber Bowl. I also recall losing about 30% of the hearing in my left ear at a J. Geils concert. Oh, and I spent two years in Athens, Ohio… Need I say more??
Fact is, the Seventies are back with a vengeance. The Stones are on tour. So are The Eagles and Fleetwood Mac. Scores of alt-rock bands – from Iron & Wine to Weezer – are recycling the Sound of the Seventies, with varying levels of success. Rolling Stone magazine recently featured The Mellow Mafia – a select group of session musicians who contributed to huge hits by James Taylor, Carole King, Jackson Browne, Carly Simon and other singer-songwriters of the era.
The RS article reminded me of my brief stint as a record store clerk in Athens, where I witnessed the slow and painful demise of those heavily sedated strummers. Punk rock was on the rise, as evidenced by the crate of unsold Dan Fogelberg albums I was storing behind the counter. And if you weren't in either camp (throw me in that category), you probably wouldn't find much to like in our store.
I spent much of the Seventies digging into the roots of my favorite artists from my teenage years, like the Stones, Taj Mahal, Jimi Hendrix, The Allman Brothers, Traffic, etc. So that put me on a blues track – mostly Muddy and Little Walter – with forays into hard country, bluegrass and other more idyllic strains that informed songs like Wild Horses and John Barleycorn. I guess I was a hippie at heart, even though I fully intended to make a decent living in some soulless urban setting.
So, what was my original premise? Ah, that's right… This is another cheap setup for a playlist (we'll save the intervention story for another post). I thought it would be fun to take a "Time-Life" approach and share a favorite song for each year. Also, my therapist thought it would way for me to begin the healing process by uncovering some deep-seated anxieties from "The Lost Years," as she likes to call them.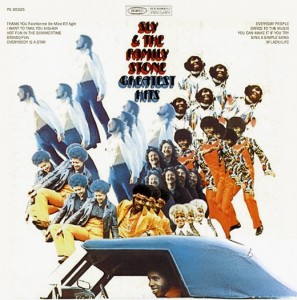 1970 Sly Stone released this song as a single in December 1969 (with the equally awesome Everybody is a Star), but it didn't really catch on until it showed up the following year on the Family Stone's Greatest Hits album. By February '70 it reached the top of the charts, making it one of the funkiest #1 hits of all time. I remember hearing it on a jukebox over and over again at a dive bar that inexplicably let me in to shoot pool with an older friend. So this tune will forever remind me of an important right of passage, Akron style. Thank You (Falettinme…)
1971 When I think of rock 'n roll in the early Seventies, I feel sorry for my kids. The Rolling Stones were on the greatest run in rock history – from Beggar's Banquet in '68 to Exile on Main St. in '72. Eric Clapton and Duane Allman set a new standard for blues-rock guitar with Derek & the Dominoes. Traffic created their own subgenre – let's call it pastoral rock – with their well-baked masterworks John Barleycorn and Low Spark of High Heeled Boys. Santana stepped up their game with each new album. Led Zeppelin, Free, Faces, Joni Mitchell, The Band, Bonnie Raitt… do any of you still give a shit about Dave Matthews?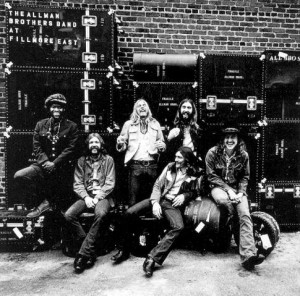 In my mind, '71 belonged to the Allman Brothers Band. I was spending summers in Milledgeville, Georgia – just down the road from the Allmans' home base in Macon – so I sort of felt like their Rust Belt ambassador. I literally wore out all four sides of At Fillmore East (might've had something to do with the cheap vinyl used by their label, Capricorn), and I still can't do without it. I'm back in my happy place every time I hear the first blast of their set opener, a cover of a Blind Willie McTell original. Pure southern blues goodness… Statesboro Blues
1972 The Stones owned that year as they toured in support of Exile – another big, sprawling love letter to the American South (mainly blues and Memphis Soul… for more on Exile, check here). Note to future terrorists: Don't try to break me by blasting Fillmore and Exile for hours on end. It didn't work back in '72. Stop Breaking Down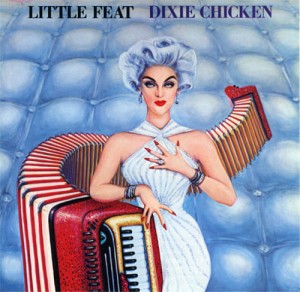 1973 Lots of great songs to choose from that year: Dr. John's Right Place Wrong Time… Billy Preston's Will It Go Round In Circles… The J. Geils Band's Southside Shuffle… James Brown's The Payback… Ultimately I decided to pick a standout tune by one of my favorite bands of the era, Little Feat. Their supremely talented frontman, Lowell George, also mined the south for inspiration – in his case, mostly New Orleans and the syncopated funk of The Meters. Few songs from the era hold up as well as this one – an American classic. Dixie Chicken
1974 Although the L.A. singer-songwriter movement was in full swing that year, I wasn't buying much of it. I was looking for something a little closer to the bone, like Ry Cooder's Paradise & Lunch and Gram Parson's Grievous Angel (released four months after his death in '73). I'd also discovered the many joys of Shuggie Otis' acid funk-fest, Inspiration Information, which was far more adventurous than anything else coming out of L.A. Joni Mitchell's Court and Spark seemed to live somewhere in that space between Shuggie and The Eagles… same amount of studio polish used by those crotch-rockin' cowboys, but at least with Joni you were listening to a true artist at work. Help Me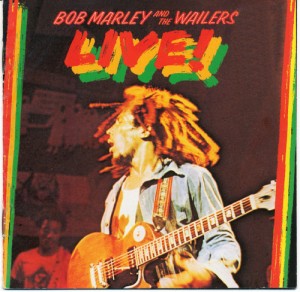 1975 Bob Marley began conquering the world. That's pretty much all you need to know about '75. Eric Clapton paved the way the previous year by scoring a hit with his cover of I Shot the Sheriff. Then Marley released the explosive Live! album in '75 (recorded at the Lyceum Theatre in London using the Rolling Stones Mobile Studio), and the stage was set for world domination. Just the opening of this song tells you Marley and the Wailers had arrived… and the rest of us would never be the same. Lively Up Yourself
1976 It was a great decade for funk – from Sly Stone to Prince, who released his debut in '78. Even the Stones got in on the action that year with their disco-fueled hit Miss You. But they were a little behind the curve… Two years earlier, you could shake your booty to new releases by Kool & the Gang, Wild Cherry (with the infectious Play That Funky Music), the Ohio Players, Earth, Wind & Fire, Funkadelic and the O'Jays. Let's give it up for the Godfather, who was still going strong well into the Seventies with dancefloor dynamite like this tune… Get Up Offa That Thing (Release the Pressure)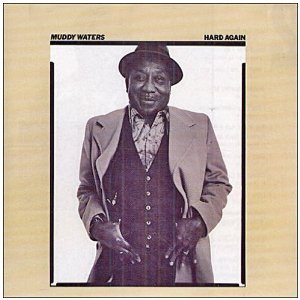 1977 By the late Seventies, much of rock had become bloated and irrelevant. Many bands seemed interchangeable – REO Speedwagon, Journey, Foreigner, Styx, Kansas, Chicago, Boston, Duluth, Fresno… it was all the same dreck to me. Punk rock served its noble purpose that year by making those bands sound even more ludicrous. I was partial to Muddy Waters' "comeback" album Hard Again, which had kind of a punk edge to it (so did the title – after hearing one of the cuts for the first time, Muddy said it made him hard again). And you can't deny the subversive energy of this tune. Sometimes you just gotta stay on The One… Mannish Boy
1978 I was on this Robert Palmer jag at the time. It actually started with '74's Sneaking Sally Through the Alley, which took full advantage of guest artists The Meters and Lowell George, and lasted all the way up to the end of the decade – right before he broke out as an MTV megastar. I especially liked this frantic workout from '78, from the same-titled album. Call it hyperfunk (definitely too many beats per minute for the disco dancefloor). Some People Can Do What They Like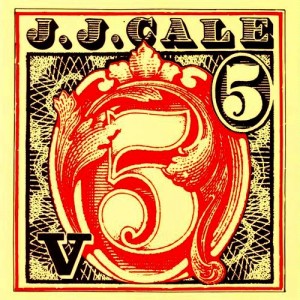 1979 Dire Straits released their first album in '78, but it didn't show up on my radar screen until the following year, when I also discovered the subtle pleasures of J.J. Cale's 5. So consider 1979 the year of the tastefully restrained guitar hero. Then came that barren wasteland of music called the Eighties… Don't expect an RCR post on the Eighties. Sensitive Kind
The Unsung Heroes of the Seventies? Those second- and third-tier bands who brought their rock and roll revival shows to crappy clubs and small theaters throughout the Midwest. Many of those bands were British; a few of them – like the J. Geils Band and Fleetwood Mac – eventually broke through to become major acts. So let's hoist our pewter mugs to Savoy Brown, Long John Baldry, Brownsville Station, Black Oak Arkansas, Humble Pie (with Peter Frampton and "the little rocker who could," Steve Marriott), Wishbone Ash, Foghat, Uriah Heep, Dave Mason… and the pride of NE Ohio, The James Gang: