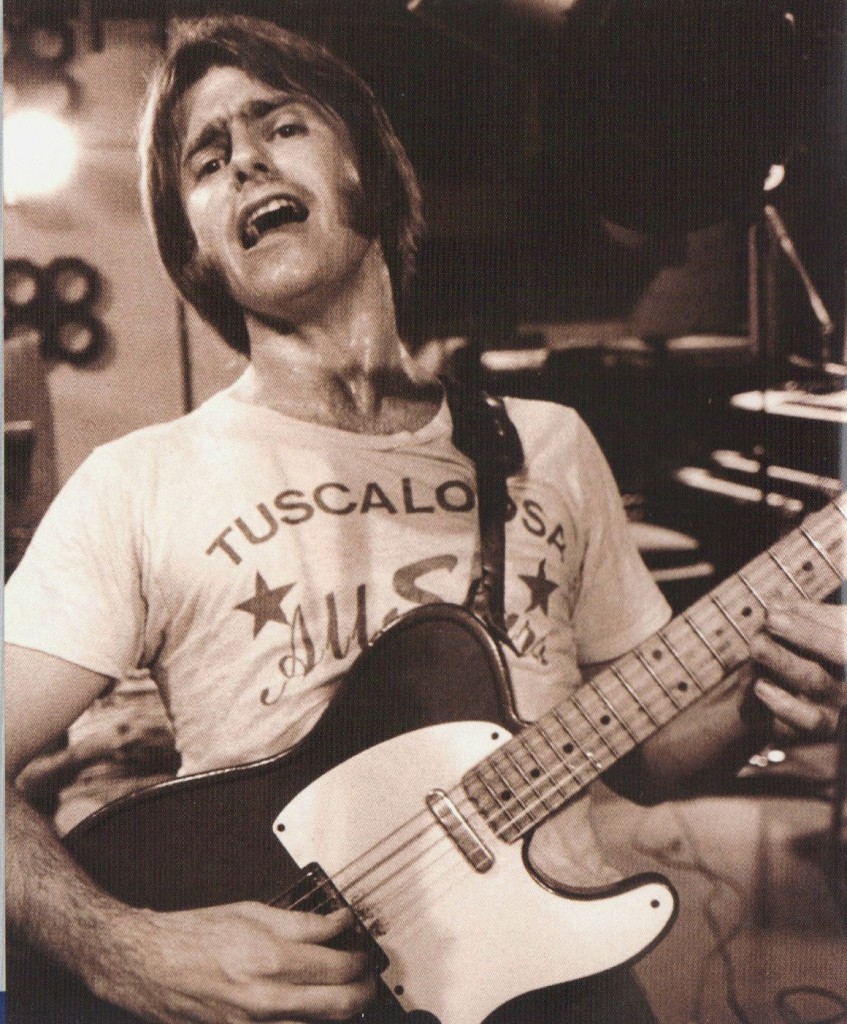 I've been listening to Eddie Hinton for years, and half the time I wasn't even aware it was him.
If you listen carefully, you can hear his chunky rhythm guitar and tasty fills on a whole slew of rock 'n soul classics recorded at the Muscle Shoals Sound Studio in Alabama, where Hinton collaborated with the legendary house band "the Swampers." Here's one of many hits from the late '60s and '70s that featured Hinton along with Jimmy Johnson on guitar, Barry Beckett on keyboards, David Hood on bass and Roger Hawkins on drums (as well as a rotating cast of other 'Bama-based musicians): Take a Letter, Maria/RB Greaves
Hinton also made his mark as songwriter, arranger and producer, co-writing songs for a number of artists including Percy Sledge (Cover Me and It's All Wrong But It's Alright) and Dusty Springfield. Here's one of my favorites from "Dusty in Memphis," written by Hinton and Donnie Fritts: Breakfast in Bed/Dusty Springfield
Like most kids who came of age in the early '70s, I couldn't avoid the countless songs on the radio that the Swampers made possible, even though I had no idea who those guys were. But I loved the hard grooves they laid down with the Staple Singers, Wilson Pickett, Joe Tex, Aretha Franklin, Solomon Burke, Bobby Womack and Percy Sledge… and that's just a short list of the many artists who came through Muscle Shoals searching for some of that deep Alabama soul.
Hinton had enough to fill a black gospel church, as I soon realized when I came across the stunning demos and long-lost albums he recorded as a solo artist. Then I was startled to see a photo of Hinton… Turns out all of this gritty, soulful emotion was pouring out of a funky cracker with a bad attitude. According to one of his long-time friends, John D. Wyker – former member of the Alabama band Sailcat that gave us the one-hit wonder Motorcycle Mama – Hinton took some pride in blurring racial lines. During a typical post-gig bullshit session, Wyker and others pressed Hinton to tell them what he wanted to do with his life. He replied "I want to make a record that a black man would buy and he would be unaware that a white man had made it!" Mission accomplished: Cover Me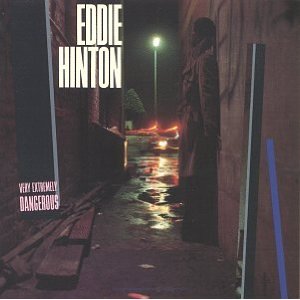 The first Hinton album I discovered was his 1978 release for Capricorn Records, the Macon-based label that launched the Allman Brothers and other southern rockers. At the time, I was enamored with bluesrockin' bands like The Nighthawks, whose fiery guitarist and singer Jimmy Thackery practically channeled Hinton during the band's great live shows. So I'll always appreciate Thackery for turning me on to songs like this, from Hinton's Capricorn debut "Very Extremely Dangerous": Yeah Man
Unfortunately, the label collapsed shortly after it released the aptly titled "Dangerous" – one of many setbacks that plagued Hinton throughout his life and career.
Things started simply enough in Jacksonville, where Eddie was born to Laura and Horton Hinton in 1944. But Laura divorced her husband five years later and took young Eddie to Tuscaloosa, Alabama, where he probably gained some of that gospel spirit from his grandfather – a preacher with the Church of Christ.
Before long Hinton was gigging with several bands in the Tuscaloosa area, including The Spooks and The 5 Men-Its. Here's a recording from 1966 by the latter band, with Hinton on lead vocals: Blue-Blue Feelin'
Hinton soon caught the attention of Duane and Gregg Allman, who came to the area looking for some raw talent. The Allmans reformed The 5 Men-Its into a new band called Hour Glass, signed a deal with Liberty Records and headed off for L.A. Meanwhile, Hinton was gaining some experience as a studio session man and, at the invitation of songwriter/producer Martin Green, moved to Muscle Shoals in 1967. Duane joined him there a year later, blazing his way through landmark sessions with Clarence Carter, Aretha Franklin, King Curtis and Boz Scaggs, among others. And when he tried to lure Hinton away with an offer to join The Allman Brothers Band, Hinton politely declined. Apparently, he had no intention of living a life on the road.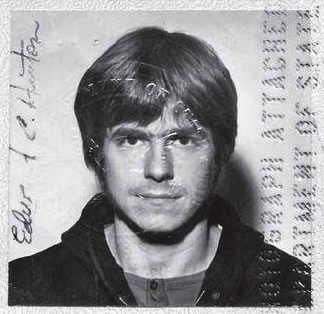 Initially, things went well for Hinton in Muscle Shoals. He bought a couple of nice cars and a nice house on Shoals Creek, where he settled down with his wife, Sandra. And he was earning six figures from the many hours of session work he was doing with the Swampers. But all that changed when an over-eager cop raided Hinton's house and busted him with a handful of weed. He then faced a rough deal that would haunt him for the rest of his life – the local prosecutor would drop all charges, but only if Hinton and wife would move out of state.
Hinton took the deal, which sent him down the same dark path traveled by other troubled musical geniuses (Arthur Alexander and Peter Green, to name a couple) – heavy drinking, drug use, angry outbursts, mental illness… By the mid-'80s, Hinton was broke, alone, and living on the streets of Decatur, Alabama. Wyker claims he found Hinton "sitting on the bench at the bus stop in front of the Salvation Army… He had his clothes in an old garbage bag and a small handleless suitcase."
Wyker deserves credit for staging Hinton's eventual rebound. He took him into the studio to record some songs that, combined with six cuts Hinton recorded with Jimmy Johnson in '82, were released on the critically acclaimed album "Letters from Mississippi." Here's a standout Hinton original from that album: Wet Weather Man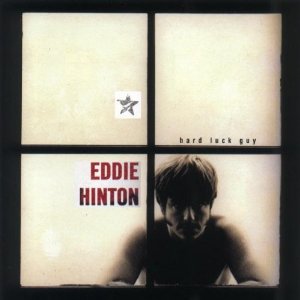 Wyker also guided him to the Rounder Records' blues subsidiary, Bullseye, where Hinton made his final recordings. During this time, he mainly lived with his mom in Birmingham, where he continued to write new songs and deal with his personal issues. By 1995 he had completed a successful tour of Italy and was working on his fourth "comeback" album – later released as the even more appropriately named "Hard Luck Guy." And the gut-wrenching title song might be Hinton's crowning achievement: Hard Luck Guy
But years of hard living finally caught up with him: Hinton died of a heart attack on July 28, 1995. He was only 51 years old.
Although I can appreciate virtually everything Hinton touched as an artist, my favorite songs are those amazing demos, mostly recorded in Muscle Shoals by some of Alabama's finest. In recent years, the demos were lovingly compiled by the UK's Zane label (god bless the Brits, because we sure as hell aren't doing enough to honor our blues and soul greats) on three CDs: "Dear Y'all: The Songwriting Sessions," "Playin' Around: The Songwriting Sessions, Vol. 2," and "Beautiful Dream, Sessions Vol. 3."
This is deep southern soul at its best – as good as anything you can find by Otis Redding or Wilson Pickett. As pioneering record man Jerry Wexler pointed out, Hinton was "a white boy who truly sang and played in the spirit of the great black soul artists he venerated." Pure, emotionally honest and down to the bone… Eddie Hinton just wasn't made for these times. Dreamer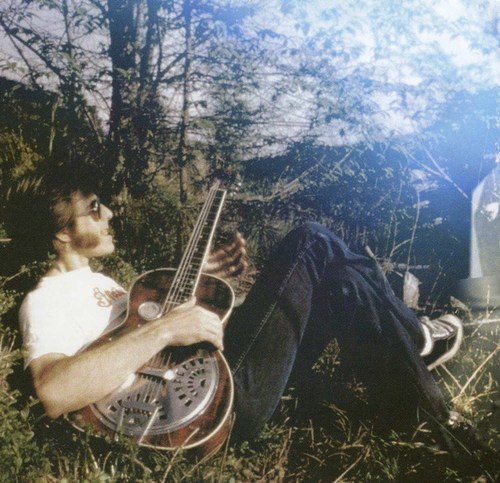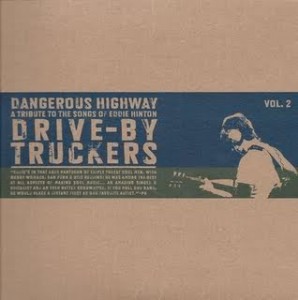 I should give credit to one American label that's doing it right: Shake It Records in Cincinnati, Ohio. In a few weeks, they'll be releasing the next two volumes in "Dangerous Highway: A Tribute to the Songs of Eddie Hinton" – an ongoing series of Hinton covers on 7" singles (the first ones featured Greg Dulli and Drive-By Truckers). The new installments will include two Dan Auerbach-produced songs by The Buffalo Killers and a split single with Heartless Bastards and Wussy. Check back here for more details.
Here's a great cover of Eddie Hinton's Everybody Needs Love, by the Drive-By Truckers. In this clip, the band's singer/guitarist Patterson Hood is joined by his dad David, who played bass with Hinton on a number of hits recorded at Muscle Shoals Sound Studio.