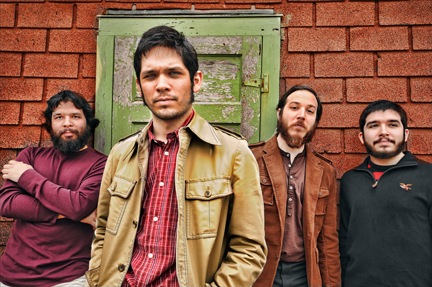 Bass players need a little love. At least that's what I heard from our friend Rene Villanueva (in foreground at right), bassist for the mighty fine San Antonio-based rock 'n soul band Hacienda (Collective Sounds/Alive Records). Rene read my piece on Great Unsung Guitarists and decided he'd had enough. It's time to give it up for the true unsung hero of the band – the lonely, quiet and criminally overlooked player who puts the fat on the bottom end (note to self: rephrase before posting). So being a "put up or shut up" kind of guy, I simply handed the reins over to Rene, who kindly agreed to author this post. But he's still stuck with our headline… You wanted a little love, right?
Rene: My list of bass players is not about technique, style, or sound individually, but of a culmination of the three. It's also hard not to let my love for individual songs and bands slip into my choosing of this list. I guess that kind of overall thinking should be thrown out, but oh well. This is a list of influence, and idolization. In no particular order… (I don't believe in rankings)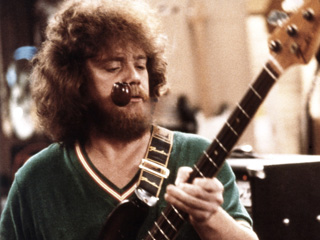 Donald "Duck" Dunn. One of my first teachers, and the guy who is still revealing bass secrets to me. Dunn is the master of groove and function. He fits in so well, it's hard to distinguish his thud and Al Jackson Jr's thump. The guy is stone-cold stylish too… He plays with a pipe all through The Blues Brothers, and without saying a word or resorting to crazy stage theatrics, he steals the show for me. Watch a '60s Booker T performance and you'll see that Dunn lives in the beat. His body moves in groove, breaths in groove, and always betrays a sense of humor.
Why He's Tops: Dunn puts music first. The songs are not about him, or the band, but about a beat and a feel. If he needs to play more, he plays more, but often he proves the value of less. Which is how he created some of the heaviest and best grooves of all time. His contribution to music is an anthology of American Soul. Time is Tight/Booker T and the MGs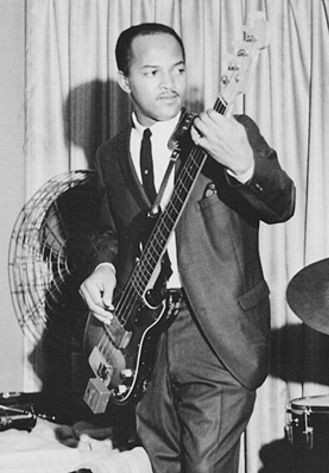 James Jamerson. Jamerson is the kind of player everyone wants to be. I'm convinced Motown was built around his sound. That is to say, he was given the sonic space to be as creative as he wanted. Bass players are often boxed in by the wildness of other instruments and the needs of the song. But Jamerson showed the way for a lot of disenfranchised bass players to carve their own sonic space. Jamerson unmistakably plays lead bass, but in a way that fits in so melodically with the song. Brilliant.
Why He's Tops: Technique is the proverbial double-edged sword. Too much can kill a groove, and not enough will keep you from getting started. Good players need enough skill to get by, but great players have more than enough, and never show it. I can only equate this to having the fastest car in town, but only using it to run errands. Jamerson found a way to incorporate ridiculous technique with necessity. And he accomplished this with melodic and rhythmic inventiveness. You can't find a better example of how to be the best without being too showy. What's Going On/Marvin Gaye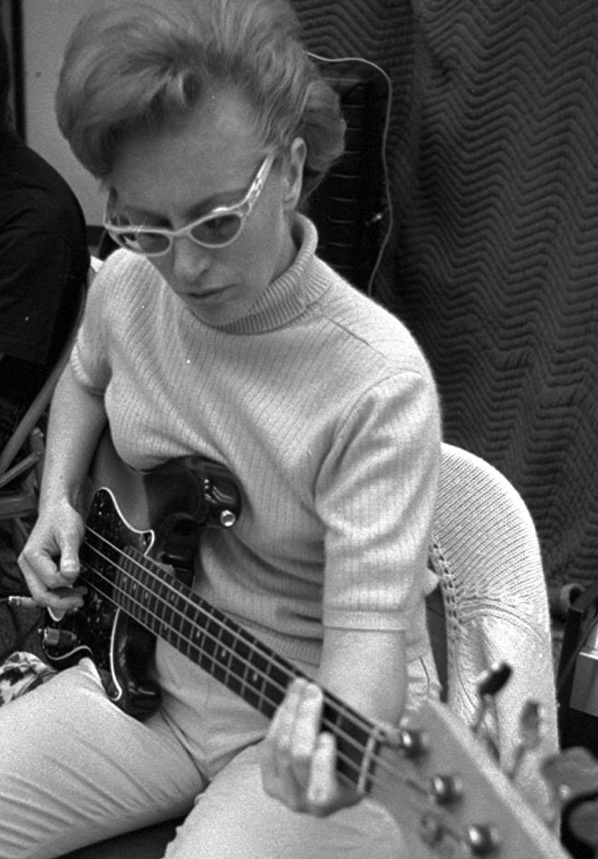 Carol Kaye. Like Dunn and Jamerson, Kaye was amazingly versatile. I find myself thinking, that's the same bass player on this track too? Once you see her discography [the video below offers a sampling] it's easy to feel insignificant, not only as a musician but as a person. Man, she stayed busy throughout her career. She had so many wonderful basslines, each one different than the last, on so many hits and albums – all with her beautiful tack-pick sound (one of the big reasons I play with a pick). Class and style all the way.
Why She's Tops: Kaye hits the definitive trifecta: Technique, Style, and Sound. All three championed with ease. Different genres, different bands, different writers… She not only gave them what they needed, but also put a lot of herself into the tracks too. So soulful. You can't go wrong by studying The Book of Kaye. River Deep, Mountain High/Ike & Tina Turner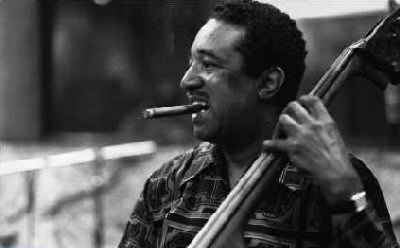 Ray Brown. My Jazz Dude, and also my first double-bass addition. I first got introduced to Ray Brown through his work with Oscar Peterson. If you've never heard that stuff, then listen on a nice speaker with time to absorb. It's beauty, soul, intuition and purpose. He's speaking through his music (this may sound like a jazz cliché, but it's only a cliché because it's really, really true). What is it like to be a true master – to really play your instrument and not let your instrument play you? The answer is in every one of Ray Brown's performances.
Why He's Tops: Countless great songs and albums. Grammy-winning songwriter. He's a Giant among Giants (sorry, another cliché!) and a pillar of inspiration. There's not a player out there – on any instrument – who couldn't learn something from Brown's musicianship. Night Train/Oscar Peterson Trio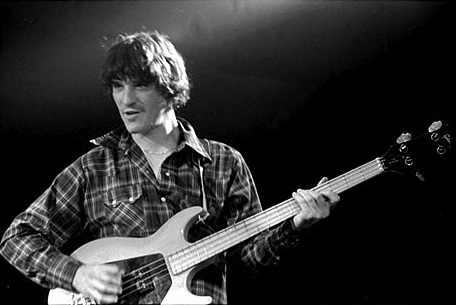 Rick Danko. What better role model for the singing bass player than Rick Danko? Sure, there are plenty out there – Sting, Jimi Goodwin, Geddy Lee… But Rick definitely gets extra points in my book for having the style to go with it. Sometimes wild on the action, sometimes abstract in choice, but always with the best attitude I've ever seen in a musician (though I've actually never met him, so I'm basing his "attitude" only on what I've gleaned from videos, photos, interviews and years of idol worship). Rick's got soul in his playing, but what strikes me is that his type of soul is a little different than the kind you hear in other players on this list. Let's just say he has heart. His playing is not just passionate but compassionate… as if he's trying to save the world with every song.
Why He's Tops: Rick is a great player. He's intuitive, deep and unique. Everything he plays is all Danko. Rick's also a great songwriter and singer, making him a triple-threat in my book. Charm and style for days, and a laid-back, classic bass style. No need for flashy windmills and look-at-me acrobatics. Bass players let the music do the talking. A little bit boogie-woogie, a little bit country, and a little bit R&B… Hey, isn't that how you would describe The Band as a whole? I guess it was all in the bass. Stage Fright/The Band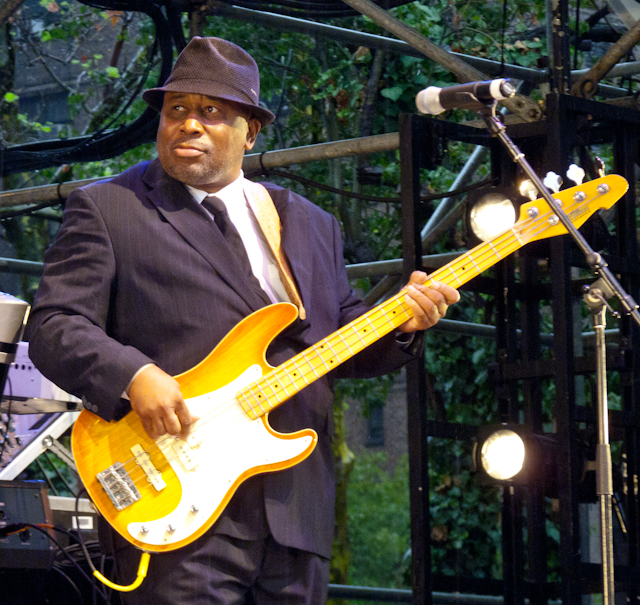 James Alexander. When I'm feeling funky and need to get some heavy grooves out, I always turn to The Bar-Kays. And when it came to laying down a serious low end, The Bar-Kays turned to James Alexander. I mean, if all he did was Soul Finger, he would still be high on my list, but he's got a whole discography of amazing grooves. Plus Hot Buttered Soul… oh yeah! The man is a tasty player, up and down. I also had the honor of opening for The Bar-Kays, who are still sensational.
Why He's Tops: When a bass player can lock in so seamlessly with the band, so he's no longer an individual player and instead becomes part of a rhythm section, you get groove perfection. And the only way to get that is with top-caliber players. James immerses himself in the band to create these infectious beats, and that's what makes it so good. He's the sound of movement. The sound of dance. The sound of Memphis Soul… and that's timeless. Give Everybody Some/The Bar-Kays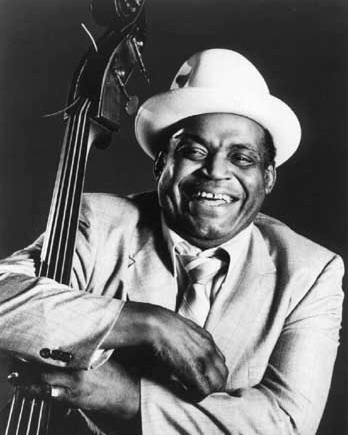 Willie Dixon. The man was almost a myth. Writer, boxer, self-proclaimed incarnation of the blues, and also one of the coolest bass players to ever exist. The man had style and vibe, and a voice like no other. He sang like a great actor – he always embodied the song. I especially love his work with Memphis Slim. Inspirational in every way.
Why He's Tops: Just one of his many famous songs should earn him a spot in the songwriting hall of fame. He influenced every '60s/'70s blues-based band (how many covers of Spoonful are there?). But his work also extends to rock, playing with Chuck Berry and Bo Diddley. And if you delve deeper into his work, you'll find many songs of varying style, expression and human depth. And yes, all of them have really solid bass grooves. I Love the Life I Live…/Willie Dixon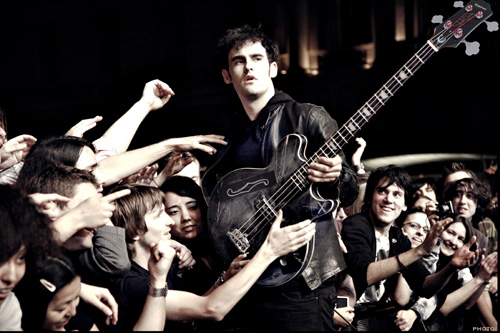 Robert Levon Been. For the sake of my own sanity, I had to throw in a modern player. But Been has worked too hard to not be appreciated. His style, tone and presence in the L.A.-based Black Rebel Motorcycle Club are all very meticulously thought out (all pluses in my book). Blending groove and melody, he's the real heart of BRMC. I love that Robert's not afraid to take risks, and lately he seems to be pushing even further into the depths of his instrument and craft.
Why He's Tops: The world needs more bass players with personality; who add a sense of vitality to the band. It's all well to sit back and groove along with the song. To blend in with the drums and hide in the rhythm. Play roots. That's the essence of great bass playing – be felt, not heard. It's hard to make a true statement on bass. Doing too much kills the groove. Doing too little kills the groove. With any instrument, there are times to pull back, and times to stand out. But often I hear bass players neglecting one over the other. Like everyone on my list, Been can do both, with a sound and personality all his own. He's at once a band member and a lead. That's the essence of standout players. And that's what inspires me in my craft. Teenage Disease/BRMC
What records did Carol Kaye play on (mostly with L.A.'s fabled studio pros, the Wrecking Crew)? The better question might be, what didn't she play on?
Soul Finger, baby! The Bar-Kays…