Flea market record bins are filled with artists who never got their due. And the fickle ways of listeners and labels alike are especially apparent when it comes to women soul singers. For every 'Retha, there's a Ruby Johnson – and 20 other criminally overlooked soul sisters who would have their own box sets in that parallel universe we like to call Rubber City Review.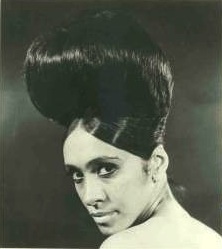 Take Liz Lands, for example. It would be easy to describe her as a "journeywoman" soul artist. Born in the Georgia Sea Islands… raised in NYC… recorded some obscure gospel and R&B cuts for Berry Gordy at Motown… even teamed up with The Temptations to wax a minor classic, Midnight Johnny. But Lands never really caught fire at Motown, so she knocked around a few other labels over the years, including the Chicago-based One-Derful! records (reminds me of The Oneders from the Tom Hanks film That Thing You Do!). She passed away last year in Atlanta – virtually unknown to even the most ardent soul fans. That's a damn shame, too, because Lands brought the goods no matter where she recorded. Case in point: the soaring A-side to a One-Derful! single from '67 (which is almost outdone by the equally awesome flip side, Don't Shut Me Out – making this one a true lost treasure). One Man's Poison
While California hippies were enjoying the Summer of Love in 1967, Irma Thomas was down in Muscle Shoals, Alabama, recording some hard-grinding soul music at Rick Hall's FAME Studios. The tracks were intended for release on Chicago's Chess label, but most of them stayed on the shelf for over 20 years. Thankfully, Chess/MCA finally released all of the FAME recordings in 1990. And they're about what you'd expect when you bring together the Soul Queen of New Orleans with Hall's amazing house band, including Spooner Oldham on keys and Jimmy Johnson on guitar. It's that deep, heartfelt sound of the south that seems to flow like the Tennessee River through Muscle Shoals. On this cut, Irma and band burn through a ballad written by Carole King and her first husband, Gerry Goffin. Yours Until Tomorrow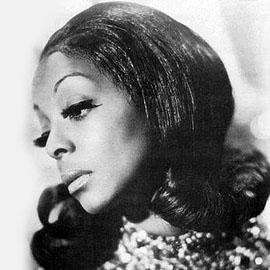 Like Irma, Laura Lee signed with Chess and recorded at FAME Studios in the Sixties (both artists also recorded for Atlantic's Cotillion subsidiary). But Lee is better known for sticking it to wayward soul brothers everywhere with quasi-feminist anthems such as Wedlock is a Padlock and Women's Love Rights, which includes the memorable chorus "Stand up and fight, girls, for your love rights… Love who you wanna 'cause a man is sure gonna" (she also gives a shout-out to her "men sympathizers," who were probably hoping they'd be on the receiving end of all this new sexual activity). Here Lee offers a simple message to an unfaithful lover: Don't come home with a mouthful of sorry, because sorry ain't gonna cut it… And remember, what happens in the dark always comes to light. Don't Be Sorry
I wouldn't call Ann Peebles (or Irma, for that matter) obscure… just grossly underrated. I'd pay good money to hear her sing just about anything – maybe even the Cat Stevens Songbook (eh, scratch that… I'm still pissed about his Rock Hall induction). But I'd rather hear her tear into this piece of raw meat – the flip side to her churning Hi Records hit, Breaking Up Somebody's Home. A prime slice of Memphis soul. Troubles, Heartache and Sadness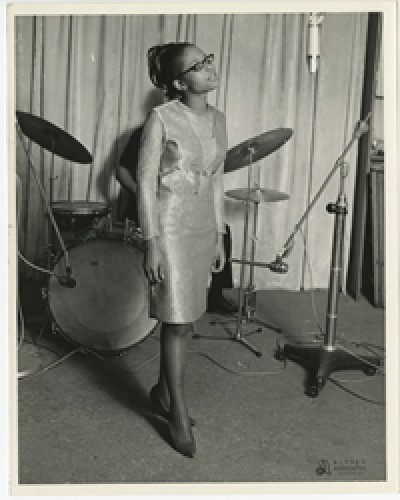 Let's dedicate this next song to all those lost voices of soul who never even made it to a major label – as well as enterprising record men and women such as Cleveland's Thomas and Louise Boddie, whose DIY operations helped shine a little light on powerful singers like Penny North, known to her parents as Audrey Beard. Although this cut is clearly in the soul vein, Beard first found her voice at the city's New Jerusalem Baptist Church – and she eventually returned to her gospel roots after dipping her toe into the secular pool with Satisfied. The single was recorded and pressed in a small building behind the Boddies' home on Union Ave (the homegrown operation was dubbed "Little Nashville" by some of the bluegrass and country & western artists who recorded there). Satisfied generated some local airplay and turned Beard/North into a minor celebrity as she promoted her single at local teen fairs and talent shows. But apparently the church seemed like a better bet than life on the road – she even turned down an audition with Motown before recording with Boddie and later rejected an offer from Imperial Records based on the strength of this song: Satisfied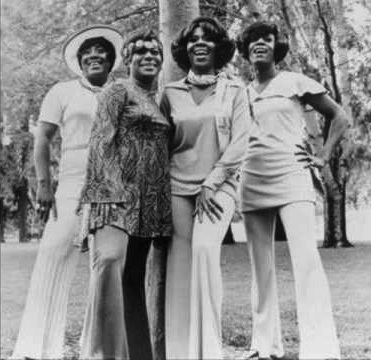 Never heard of the Sisters Love? You're definitely familiar with one of the group's original members, Merry Clayton. She's responsible for one of the greatest moments in rock 'n roll – that perfect crack in her voice during her hair-raising turn on The Rolling Stones' Gimme Shelter. The former Raelette also stars in the wonderful doc 20 Feet from Stardom about the most undervalued performers in the business, background singers (see video below). But I'll stop right there with Clayton… because I don't think she appears on this single. She was pursuing her solo career (which went virtually nowhere, by the way) while her fellow Raelette alumni were recording this little gem for Tamla-Motown in 1972. By the way, the song was produced and co-written by Willie Hutch, who scored the soundtracks to the blaxploitation films Foxy Brown and The Mack. So there you go – a veritable tribute to obscurity and missed opportunity. Mr. Fix-It Man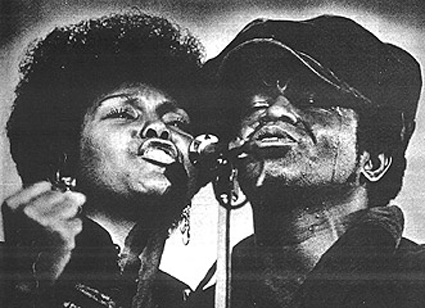 We'll close with an "answer song" to James Brown's Super Bad. And it's only appropriate that it comes from Myra Barnes, who used the alias Vicki Anderson when she performed with the James Brown Revue. Although Barnes/Anderson left the revue in 1972, she remained married to Brown's former right-hand man, Bobby Byrd, until his death in 2007. "I've never met a person in the world who sang better than Vicki," Brown wrote in his autobiography, The Godfather of Soul. "I used to call her Songbird… She can beat Aretha Franklin, and I love Aretha to death." That's high praise – probably over the top. But she gives her boss a run for the money on this one… Super Good
Merry Clayton and Judith Hill on CBS Sunday Morning – two background singers who deserve far more recognition.
And here's the trailer for the Oscar-winning doc 20 Feet from Stardom…