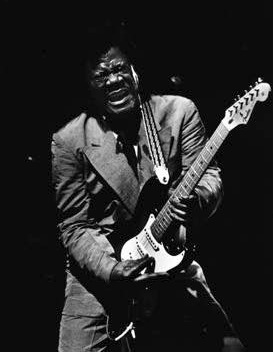 It's tempting to lump together "The Four Kings of Blues Guitar," as an enterprising record label named a recent compilation featuring B.B., Albert, Freddie and Earl. But I'm not sure they share enough common ground to warrant the title.
For example, you wouldn't throw Earl into a cutting contest with the very dangerous Freddie. Earl's legacy as a guitarist is more a matter of style, which is very much in the mold of his mentor, Guitar Slim. Not rudimentary – but not nearly as awe-inspiring as Freddie's playing. I'd describe Earl's chops as tasty, soulful and infectious… much like the New Orleans tradition he proudly represented throughout his 50 years as a working musician.
It also wouldn't be fair to list Earl's songwriting accomplishments next to those of his fellow Kings. In this case, Earl gets the crown – no contest. Trick Bag, Big Chief, Those Lonely Lonely Nights, Come On (famously covered by Jimi Hendrix), Teasin' You (Willie Tee), Do-Re-Mi (Lee Dorsey), Let's Make a Better World (Dr. John)… It's hard to imagine New Orleans rock 'n soul – or all of American music, for that matter – without the towering influence of Earl King.
OK, I'm done picking nits. Let's get right to the good stuff.
Born Earl Silas Johnson IV, King grew up in New Orleans' Irish Channel neighborhood – the only child of Earl Sr., a blues piano player who became a missionary prior to his son's birth (he died when Jr. was one), and Ernestine, whose nickname "Big Chief" inspired the aforementioned Mardi Gras classic.
At the ripe age of 14, Earl started sneaking into local clubs such as Big Mary's to check out a few of the city's legendary R&B performers. But his mother's influence kept him on a more righteous path – that is, until he and a childhood friend were discovered singing street-corner gospel by local raconteur Victor Augustine, who invited them to audition at his shop.
"He left us his card," King told music writer Jeff Hannusch (article in Offbeat). "When we went down to the address he gave us, there was a sign painted in the window, House of Hope – Dr. Mighty the Voodoo Man. When we walked in, we heard a piano playing boogie-woogie, but we were almost knocked down by the smell of burning incense. Inside he was selling candles, mojos, prophecies, incense, wonder water, ointments and records."
The boogie-woogie pianist was Huey "Piano" Smith, and that first audition set the stage for King's steady rise in the regional music scene. A year later, he started playing guitar – and then he met Slim, who King described as "the performanist man I've ever seen."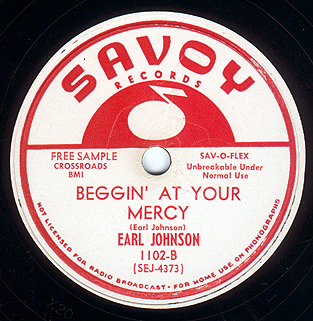 A typical Guitar Slim show would involve a 200-foot guitar cord, a beefy handler, and the guitarist sitting on handler's shoulders, playing molten-hot blues guitar for curious bystanders outside the club and on the street. But Slim also was a serious player, songwriter and arranger who even inspired a young Ray Charles. King borrowed everything he could from Slim – including his piano player, Huey Smith, who was left high and dry when his boss signed on with another band. And Smith anchored the session group when King, as Earl Johnson, cut his first single for the Savoy label in 1953: Beggin' At Your Mercy
The following year, King landed at Specialty Records at the invitation of the label's local talent scout, promoter and producer, Johnny Vincent, who King also met at the House of Hope. Vincent's boss Art Rupe wanted to name his new artist King Earl, but the printer inadvertently flipped the words around on the first single, A Mother's Love. So a chance typo gave Earl Johnson his new moniker, Earl King.
In 1955, Vincent left Specialty to form his own label, Ace Records. Although based some 200 miles away in Jackson, Mississippi (where Vincent cut most of his records in a little home studio), Ace recorded many of New Orleans' finest. King stuck with Vincent and gave the label its first hit with Those Lonely Lonely Nights. Dr. John described it as "a classic South Louisiana two-chord slow ballad" – clearly influenced by Guitar Slim, and a prototype for many swamp-pop hits that followed (dig the gloriously out-of-tune guitar): Those Lonely, Lonely Nights
You can find a great collection of King's Ace recordings – many featuring Smith's rollicking piano – on Earl's Pearls, a single-disc comp released in '98 on the Westside (UK) label. Unfortunately, it's now out of print (a used disc is now fetching $50 on Amazon, below). I'll help ease the sting by sampling this cut from 1958. In his book Rhythm and Blues in New Orleans, writer John Broven describes it as a fine example of "the Ace rocking R&B groove which was being made famous by Huey Smith… New Orleans at its very best." Well O Well O Well O Baby
Around this time, a Texas dust storm convinced King that he wasn't cut out for a life on the road. "I can't stand the dust, man, and I took out, left my car with the band, caught the bus… and that was it," King told Broven. He largely gave up touring to make a living almost exclusively in New Orleans as a performer, songwriter and producer. But bandleader and A&R man Dave Bartholomew still managed to lure him to Imperial Records, where King waxed some of his best stuff from 1960 to 1962 – including a song with a snaky chord progression that Hendrix couldn't resist eight years later: Come On (Parts 1 & 2)
If King had one unqualified masterpiece (I'd argue he had about a half dozen), it's this Imperial cut from '62. The song serves as a back-handed tribute to Earl's father, who apparently had a woman on the side. King turned it around to point the finger at a two-timing girlfriend. The phrase "trick bag" can mean a bad situation, but it's also another name for a mojo bag, used to bring good luck or ward off evil. Sounds like King was feeling that voodoo vibe when he recorded this funky little gem with several New Orleans notables, including the amazing James Booker on piano and Bob French on drums. Trick Bag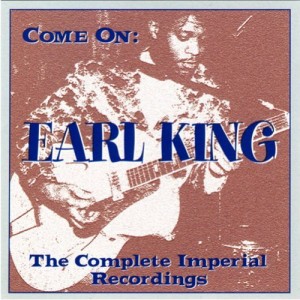 It was a good year for King – he came up with several other winners for Imperial in '62 (lovingly compiled on The Complete Imperial Recordings, which remains in print) and appeared on a single credited to Professor Longhair that belongs on any short list of Crescent City Classics. It's unusual for several reasons: King does a rare guest turn as singer/whistler… Fess is a little buried in the mix (but right in the pocket)… the full horn arrangement by Wardell Quezergue is more big-band than Big Easy… Dr. John plays guitar instead of his customary piano… But the damn thing burns like a bayou wildfire, thanks mainly to King, those rockin' horns and the locomotive rhythm of drummer Smokey Johnson. Big Chief Pt. 2
King's recorded output dropped off considerably during the rest of the Sixties as the Beatles, Motown, Memphis Soul, psychedelic rock and other new sounds made New Orleans music a much harder sell to younger ears. He seemingly caught a break in 1972 when Atlantic Records expressed interest in an Allen Toussaint-produced album with King backed by The Meters. But that project ended up getting shelved due to a financial dispute. Luckily, a small label released this sizzling cut as a single, and it ended up as another Mardi Gras favorite (the full album was finally released in '81). Street Parade Pt. 1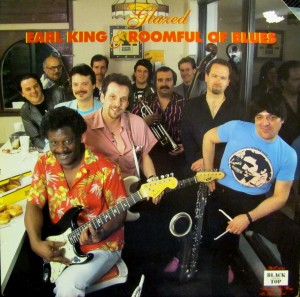 King's last comeback began in 1983, when he was introduced to the Rhode Island-based swing band Roomful of Blues by Hannusch and Hammond Scott, head of Black Top Records. A guest appearance at Tipitina's quickly led to the King-Roomful album Glazed, released the same year on Black Top. King is in great form throughout, probably fueled by some friendly competition with Roomful's ace guitarist at the time, Ronnie Earl. Here's another first-rate King original: It All Went Down The Drain
King recorded two more albums for Black Top – the equally strong Sexual Telepathy and Hard River to Cross – and supported them with a few live shows… as many as he could handle given his reluctance to stray too far from home, where he often could be found hanging out in the Garden District at the Tastee Donuts Shop (now a parking lot, I think). Here's a live cut from a Black Top showcase in '89 at Tipitina's that also featured Ronnie Earl & the Broadcasters and Joe "Guitar" Hughes… Great guitar solo: A Weary Silent Night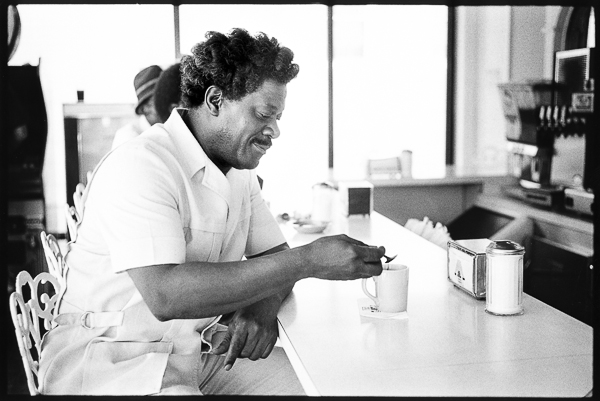 A healthy appetite for alcohol and drugs soon got the best of King. I won't dwell on his dark side here… The curious can visit this piece by our friend and former New Orleans resident The Hound, who came to see a legend play at the French Quarter's Storyville club in 2001 and walked away haunted by a shell of a man.
King died two years later from diabetes-related ailments, no doubt complicated by his unhealthy lifestyle. The music, on the other hand, speaks for itself – and you'd be hard-pressed to find a better body of work from a city with more than its fair share of great ones.
Earl King live at the Chicago Blues Festival – burning through a tribute to the late great Guitar Slim…
And here's Earl with Dr. John and The Meters, Those Lonely Lonely Nights… Nice solos by Mac and Earl: