Welcome to Rubber City Review.  It's not intended to be Akron-centric, but I should probably kick things off by asking the question:  When it comes to roots-rock and other mutant forms of modern music – Devo, The Black Keys, The Cramps, Chrissie Hynde, The Numbers Band, Tin Huey founder and Tom Waits sideman Ralph Carney, punk guitar trailblazer and former Lou Reed sideman Robert Quine, Vaughn Monroe (Vaughn Monroe?  More on that later)… what makes Akron so damn special?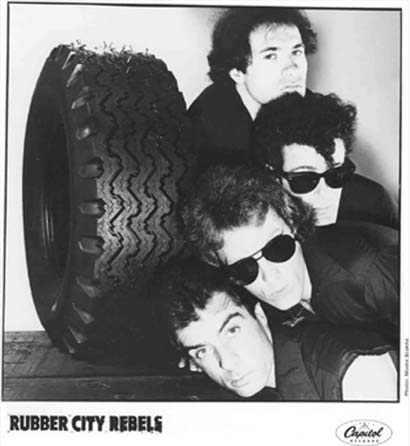 Growing up in Akron, I always felt that "bastard stepchild" vibe when I talked to hard-core Clevelanders.  There was never a sense that they were missing out on something by not taking the 30-minute drive south to check out Akron (although I can't say that our meager live music scene was much of a draw).  Maybe we just had a little more to prove.
You could argue that the lack of a vibrant music scene forced many aspiring rockers into the garage – or, in the case of the Keys, literally underground – where they could tinker like mad scientists without fear of failure.  How else could you explain this hidden track on The Big Come Up? 240 Years Before Your Time
I've also heard that legendary late-night TV host Ghoulardi (aka Ernie Anderson, father of indie director Paul Thomas Anderson) had a huge impact on a young Erick Lee Purkhiser of Stow, OH before he morphed into psychobilly king Lux Interior of The Cramps, and that members of Devo were devotees as well.
Akron writer David Giffels expands on the Ghoulardi influence in the book "Are We Not Men? We Are Devo!":  "The Ghoulardi aesthetic seemed to capture a much broader and more significant notion:  Akron and Cleveland were a noirish sci-fi movie.  In Cleveland, it was steel.  In Akron, rubber.  But both places were defined by aging brick factories with round chimneys that breathed fire and smoke."
Purkhiser also was under the spell of local DJ Pete "Mad Daddy" Myers, whose fast-paced chatter drew listeners into a carny sideshow of space-age sound effects and oddball rock 'n roll… Songs like Teenage Machine Age by The Travelers, or this classic by Link Wray…Rumble
(Many examples of Mad Daddy in action here)
In the late '50s, Mad Daddy became an underground fixture in Northeast Ohio — occasionally hosting sock hops in his patented Dracula outfit.  But he never caught on at his next stop, New York City, where he eventually killed himself with a shotgun.
Now, I could go on at great length about The Cramps and the seductive powers of guitarist Poison Ivy (and I probably will down the road), but I'll let this video clip speak for itself… You can almost hear the spinning sound of "the Singing Brakeman," Jimmie Rodgers, who wrote this one back in 1930!
I love the TV show host at the end… Just another day of depravity at the station!
As this clip suggests, if there's a common musical influence that connects all these bands, it's probably rockabilly – which makes sense, because Akron's rubber factories pulled in a lot of folks from the South who had little trouble adapting to a more urban environment.  You can hear some of that influence in Robert Quine, who was a huge fan of Ricky Nelson's guitarist James Burton.  I'll go straight to the source on this one – Burton's blazing solo on Susie-Q by Dale Hawkins… Susie-Q
About 30 seconds of pure goodness… and cowbell to boot!
Since Chrissie Hynde moved back to town (part-time), her music has taken on a harder, more rockabilly edge — which is especially evident on this cut from Break Up the Concrete… Don't Cut Your Hair
Maybe there's something in the air, emanating from the primordial ooze of the Cuyahoga River.
But one thing is clear – there really isn't anything you could remotely define as an "Akron Sound."  The most obvious reason is that we never had a major studio in town with a forceful personality like Sam Phillips or Berry Gordy running the show.  Hell, Hynde didn't even find her sound until she moved to London, and you could argue that The Numbers Band has never been properly recorded (Dan?).
And that sense of disconnect brings me to the odd man out – Vaughn Monroe, also known as "Old Leather Tonsils" and "The Baritone with Muscles"…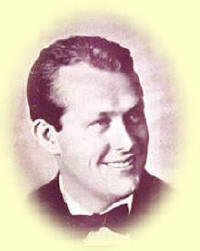 Back in 1920, Monroe was just another young punk with a rubber rat for a father.  He lived around the corner from my dad in Akron's Goodyear Heights neighborhood, created by its tire-building namesake to house a small army of plant workers and their families.  But he eventually became one of the best-selling artists of the Forties – a big-band vocalist who wrapped his warm baritone around hits like Let it Snow and this one, Ghost Riders in the Sky… Riders in the Sky
I'm sure Monroe's huge success appealed to my father's belief that hard work and a modicum of talent can take you anywhere.  Here's to Vaughn Monroe, the Godfather of the Akron Sound!
This just in from our Florida Bureau (brother James)… an entirely different take on Ghost Riders in the Sky — from Ned Sublette, author of "Cuba and its Music" and "The World that Made New Orleans" (more on those two books here):
Bonus video from Dan… We share a love of the late, great bluesman Freddie King.  I'm partial to his "surf-blues" recordings for the Cincinnati-based King label in the early-'60s — tunes like Hide Away, widely covered by blues bands around the world, and this one… Sen-Sa-Shun
But Dan came across this gem from Freddie's later years, probably around 1972.  Watch him work out on Bill Withers' Ain't No Sunshine.  I like how he takes his time strapping on his guitar, tosses off a perfect blues lick, and then kills it!