Break out the Champipple!  Our fledgling operation is celebrating its 10th post with an "Editors' Pick" from blogcritics.org for this little number on Nick Hornby's new book — a good excuse to revisit the late, great Lowell George.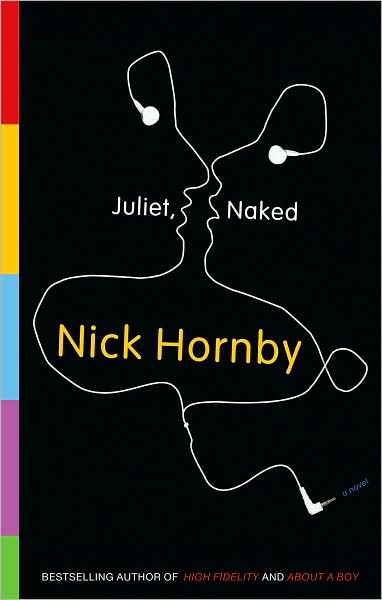 Several people suggested I read "Juliet, Naked" by Nick Hornby.  And now I'm worried, because one of the main characters in this bittersweet and often hilarious novel is an obsessive-compulsive music blogger.
The story focuses on a couple living in Gooleness, a sad, rundown town on the coast of England – sort of a "Canton by the Sea" (Clevelanders: feel free to substitute Akron for Canton).  Duncan is the ringleader of an art-damaged internet community obsessed with the life and music of a long-lost American rock artist, Tucker Crowe.  Annie is director of a museum few people visit and struggles to find meaning in her relationship with Duncan.
Annie has come to realize that Duncan's fixation on every little detail involving Crowe's life has gone far beyond anyone's idea of normal.  She admires the artist, but couldn't care less about various "shrines" to Crowology – including a restroom in Minneapolis – that the couple visit on a trip to the states.
Trouble arrives in the form of an "unplugged" version of Crowe's masterwork, "Juliet," which Duncan receives from a press agent eager to generate a little publicity for an eventual release.  Duncan believes the acoustic version, "Juliet, Naked," surpasses the well-documented majesty of the original.  And he quickly posts a fawning review of "Naked," mainly to bolster his status among his blog-followers as lord and master over all things Crowe.
Annie, on the other hand, smells bullshit… and her completely different take on "Naked" (which she posts on the same blog) alienates Duncan while winning over the reclusive Crowe, a determined dropout who is both amused and annoyed by his misguided fans.
Hornby uses sharp dialogue, filled with honesty and wit, to get us to really care about his characters — especially Annie and Crowe as they develop a long-distance relationship based on a shared desire to get on with their lives.  And, as he did in "High Fidelity," Hornby perfectly captures the whole subculture of music nerds and collectors of which I'm painfully familiar.
Tucker Crowe is Hornby's best conceit, giving us the opportunity to fill in the name of any artist, dead or alive, who has ever been fussed over by a cult following, virtual or otherwise.  And there's a long list to choose from – Nick Drake, Richard Thompson, Joni Mitchell, Paul Westerberg, Jeff Buckley, Eva Cassidy, Alex Chilton, and on and on.
The Fat Man… Although "Juliet, Naked" is a good read, as they say, it made me a little squeamish as I recalled some of my own music-nerd moments back in my younger days (I'll date myself by calling it the post-hippie, pre-punk Seventies), when I followed every move of Lowell George and his band Little Feat.  Basically, Little Feat is what happens when a slightly deranged singer-songwriter from L.A. combines his love of Chess blues with the funky rhythms of New Orleans and the Meters.
Aside from being a great singer and slide guitarist (and a pretty mean harp player to boot), George was a true original as a lyricist.  He didn't write songs as much as come up with oddly memorable words and phrases that seemed to work perfectly with the music… Sailin' Shoes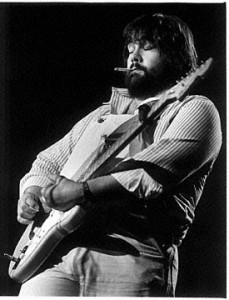 Little Feat's high water mark was in the early-'70s, when George was still firmly in charge of the band.  On albums like "Sailin' Shoes" and "Dixie Chicken," all of George's strengths are on display and undeniable – especially on the title songs and cuts like Fat Man in the Bathtub, Cold Cold Cold, Trouble, Willin' and Allen Toussaint's On Your Way Down.  "Dixie Chicken" even features a pretty decent tune called Juliette… although it doesn't hold up as well today as the others.
I even like "The Last Record Album," where the tension between George's earthier instincts began to clash with the rest of his band's longing to sound more like jazz-fusion juggernaut Weather Report.  Here's George with his usual deft touch on Long Distance Love… Long Distance Love
And here's the rest of the band gettin' freaky with their bad synths on Day or Night… Day or Night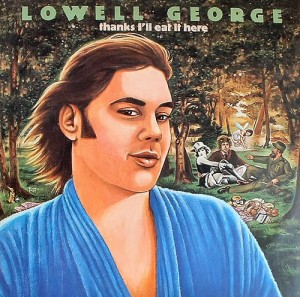 As this last cut might suggest, things went straight downhill for Little Feat after that, and eventually George decided to go it alone and put the focus squarely on his singing on the fairly straightforward album "Thanks, I'll Eat It Here."
Maybe George had a Crowe-like moment and decided that he'd had enough of crazy fans trying to extract layers of meaning from his surreal lyrics.  Or maybe his band mates just got tired of his worsening drug problem.  But unlike Crowe, he didn't "go gentle into that good night."
I had the pleasure of seeing George on his last tour in 1979.  He stopped at Bogart's in Cincinnati with a terrific band – probably session guys from L.A., but they all seemed excited to play old-school rock 'n soul with a rejuvenated George.  The show was much more satisfying than a Little Feat concert I'd seen a few years before.  He was in fine form – although clearly overweight – and it was great to hear the band blast away all the production sheen from the songs on his solo album.
A week later, George died of a massive heart attack – right after he performed the same show at George Washington University in D.C.  And in that grand showbiz tradition, he left us all wanting more.