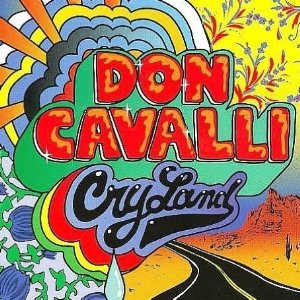 Here's an album that came and went a couple of years ago, but I keep getting sucked back into its strange vortex. It answers the question, what happens when a fairly twisted French dude records a loving tribute to his favorite American musical influences?
His name is Don Cavalli, and I'm surprised his latest release, "Cryland," didn't get more notice (although the British rock mag Mojo ranked it #12 of their 50 best albums of 2008, noting that "Cryland" is "appealing low-fi and iTunes eclectic… 21st century psychedelic"). If you're looking for brilliant lyrics or multiple layers of meaning, go somewhere else. This is all about deep, swampy grooves and gutbucket guitar played through overdriven tube amps. In other words, my kind of music… River/Don Cavalli
Cavalli's casual approach to songwriting reminds me a lot of J.J. Cale – a true master at creating an overall mood and timeless vibe that transcends the material. J.J.'s done this better than anyone for about 50 years. And he's still bringing the goods, with the possible exception of his recent collaboration with Eric Clapton (I'm not sure if Clapton has another good album in him). Here's the intro to one of my favorite cuts from Cale's 2004 release, "To Tulsa and Back": New Lover/J.J. Cale
Cavalli's another restless explorer of vintage sounds and riffs, with the same minimalist approach to guitar playing and songwriting as J.J., but maybe a little more edge and energy. Yeah, you'll probably think you've heard some of these lines before: "Moon is a-risin', sun is sinkin' down low, wind is a-howlin', been down lonesome with gloom." But it's hard to resist sturdy little tunes like the next one, especially if you share my weakness for rough and rootsy guitar: Vitamin A/Don Cavalli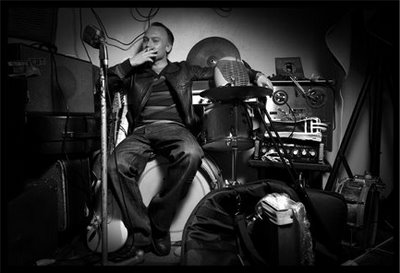 The quirk factor also is fairly high on "Cryland." And I guarantee you've never come across songs quite like New Hollywood Babylon and other oddball gems by Cavalli. It's like someone stuffed all of these American influences – blues, country, rockabilly, cajun – into a Euro/Franco processing machine and hit the random switch. It's nice to hear those influences subverted with such "aggress-shawn," as he sings on one tune. I guess I'm also a sucker for strangled syntax, wha-wha guitars that seem to come out of nowhere, trashcan rhythms – not to mention whacked-out numbers like this one… Wonder Chairman/Don Cavalli
Make no mistake, this guy can play. But it's hard to find much of substance written about Cavalli. From what little I've found on the Web, it appears he spent a number of years playing in rockabilly bands.
With "Cryland," he seems to be moving away from more obvious tributes to his American idols, and closer toward establishing himself as a true original. His next album lands in 2011 – hopefully we'll be around to share some of it with you.
Talk about creating a mood… I love this stark, ethereal video for River. I'm sure it involved a small budget, but a fair amount of choreography.