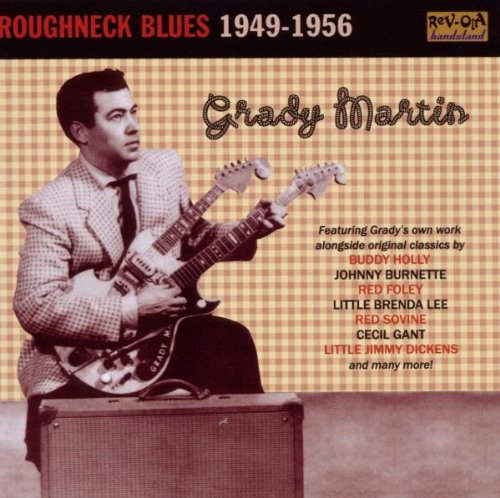 I'm not afraid to admit when I'm wrong. Screwed something up back in '82 and took full responsibility for it – by blaming the guy who gave me bad information.
So now I'm back on the hot seat following a recent post on the Johnny Burnette Trio. I spent a large part of the post singing the praises of guitarist Paul Burlison, who was widely credited with playing those blazing rockabilly riffs and solos on the band's legendary Coral singles. I also referenced a compilation of said recordings on the Bear Family label (Germany), which lists Burlison as the sole guitarist on songs like Rockabilly Boogie, Train Kept A Rollin' and Please Don't Leave Me – among my favorite examples of pure, unvarnished rock 'n roll from the Fifties.
Well, turns out Burlison probably wasn't the guy on most of those tunes. And I can thank one Waylon Lightfoot for setting the record straight – at least in my head. Apparently, had I bothered to read beyond the Bear Family liner notes and some content on the Rockabilly Hall of Fame's web site, I would've easily stumbled across a more accurate version of who played with singer Johnny Burnette when he made rock 'n roll history at Owen Bradley's Nashville studio in 1956 and '57. Here's the comment Lightfoot sent me in response to my Burnette post:
"Correction. Except for the two coral singles (Tear it up, undecided, babe oh babe, midnight train) Paul Burlison did NOT play lead guitar. Those were ALL done by GRADY MARTIN, later of El Paso [Marty Robbins] Fame. Yes, for years, everyone was under the impression that Paul played those parts. But, if you have any doubts that Grady Martin played lead on the album… go listen to his version of WHEN MY DREAMBOAT COMES HOME on you tube. His most famous tracks are include on Grady's "ROUGHNECK BLUES" album, including Train kept a rolling, Rock around with Ollie Vee (B Holly) and all the Johnny Horton low note rockabilly tracks (Honky Tonk Man, etc)"
That comment led me to Roughneck Blues, an outstanding compilation on the UK-based Rev-Ola label, as well as some online discussions about Martin's role in the Bradley-Burnette sessions. And I have to say, the evidence seems overwhelming that Bradley's go-to session pros – Martin, bassist Bob Moore and drummer Buddy Harman Jr. – never got the credit they deserved for those glorious tracks (Harman is the only non-Trio musician credited on the Bear Family comp).
A few commenters noted that Burlison continued to take credit for all the Coral singles even though he only played on two of them. One guy claimed that rare, live video footage of Burlison shows he wasn't skilled enough to play many of those leads. I don't want to pile on (although I guess I sorta just did)… Burlison deserves high praise for playing on the early sessions in NYC, possibly contributing to others recorded in Nashville, and performing live with the trio during the glory years of rock 'n roll. But when it comes to the lion's share of the Coral recordings, I'll defer to Dave Penny's liner notes to Roughneck Blues:
"Quietly dignified, Grady (and his A-Team partner Bob Moore, who played bass on these sessions) told any who would listen that it was he who created that birth-of-rock sound, and the truth becomes obvious when you hear the track [Train Kept A Rollin'] in context with other contemporary rockabilly performances by Don Woody, Johnny Carroll, Roy Hall, Johnny Horton, Wayne Walker and Brenda Lee, on which he is known to have contributed."
Actually, the playing on Train is so primal, it's hard to compare it to other studio tracks that feature Martin. But you can't deny the similarities between the solos previously credited to Burlison and Martin's well-documented work, both with his own band (the Slew Foot Five) and other artists such as Buddy Holly. On this sample, you can hear the solo from the Trio's Please Don't Leave Me next to Martin's playing on the tunes referenced by Lightfoot, Rock Around With Ollie Vee and When My Dreamboat Comes Home. Same tone, same attack, same bag of tricks… Alright, Lightfoot, I give. Please Don't Leave Me/More Grady
As Penny points out, Owen Bradley didn't have much patience for some of the lesser-skilled musicians who were coming out of garages across America back in the Fifties. When a rockabilly band would arrive at his Nashville studio, he would often show the door to the surrounding players and record the singer with the guys he trusted the most – Martin, Moore and Harman. And when you hear this band rip through the many rock and hillbilly gems featured on Roughneck Blues, it's hard to argue with Bradley's logic… All I Can Do Is Cry/Wayne Walker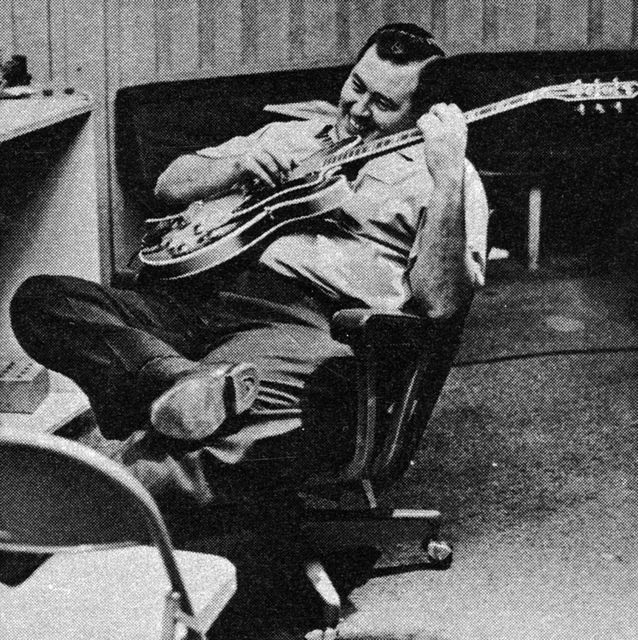 Martin's guitar in particular is a revelation on these cuts. Unlike other session pros of the era (Hank Garland and Joe Maphis leap to mind), Martin didn't play with a lot of flash. But he had a great sense of time, wonderful phrasing, and a hard-driving, bluesy sound that seems perfectly suited to the rough-hewn performers he supported. Autry Inman
Roughneck Blues documents some prime years for Martin – 1949 to 1956 – but that's just part of the story. Aside from playing on the Robbins hit El Paso, you can hear his sweet licks on Elvis' (You're The) Devil In Disguise, Brenda Lee's Rockin' Around The Christmas Tree, Sammi Smith's Help Me Make It Through The Night… and he gave that timeless riff to Roy Orbison's Oh, Pretty Woman. He also spent 16 years on the road with Willie Nelson – a gig he finally had to give up in 1994 due to health problems (but not before playing on two of Willie's biggest hits: On The Road Again and Always On My Mind).
After Martin passed away in 2001, one of the most fitting tributes came from his former partner at Bradley's Nashville studio, Bob Moore: "Grady Martin could play three or four notes, and they'd mean a hundred times more than any other person that would play 100 notes. He'd just make so much out of everything he played – the best taste you've ever heard." I'm Hungry For Your Lovin'/Danny Dill
Let's get to the fun stuff – vintage clips from country star Red Foley's Ozark Jubilee TV show, featuring Grady Martin and his Slew Foot Five (+3). The solos are fleeting, but it's hard to find better artifacts from the glory years of honky tonk. They also give you a good look at Grady's one-of-a-kind guitar, custom-built by Paul Bigsby. Mandolin on top, guitar on bottom (with three separate pickups – each with its own volume control). According to the guitar's current owner, George Gruhn, this early prototype features many of the concepts later standardized by Leo Fender in the Stratocaster guitar.