Jazz drummer and bandleader Chico Hamilton passed away last week at the age of 92. Often associated with cool West Coast jazz, Chico also could kick it up a few notches and play a lot closer to the edge. This re-post focuses on a first-rate album he recorded with guitarist Larry Coryell, another guy who wasn't afraid to take a few chances:
Alright, guitar fans. I know all of you have your favorite examples of six-string nirvana – Derek & the Dominos, The Allman Brothers Band at Fillmore East, Stevie Ray Vaughan's first album, Jeff Beck's Blow by Blow, blah, blah, blah… But here's one you've probably never heard.
The album: Chico Hamilton's The Dealer, released on the Impulse! label in 1966. The guitarist: a 23-year-old Larry Coryell, making his recording debut. The bandleader: a legendary jazz drummer who started playing back in the late-'30s in L.A. with his high school classmates Dexter Gordon, Charles Mingus and Illinois Jacquet.
Technically, The Dealer is a jazz album – but it stretches the meaning of that term at every turn. A couple of songs are in that riff-based, soul-jazz vein that the Blue Note label mined so well back in the Sixties. One is a fairly straight-ahead blues, at least the kind that you'd hear a classic organ combo play. Another takes a left turn into "psychedelic jazz" – because you couldn't swing a dead, or stoned, cat back then without hitting a song aimed at that vast new audience known as the American hippie.
Rumor (aka Wikipedia) has it that Rolling Stones guitarist Mick Taylor was a big fan of Coryell's playing on this album. And to help prove the point, I've combined samples of solos from The Dealer and Sticky Fingers. First, you'll hear Coryell launching into his break on For Mods Only (did they have to make the swinger reference so obvious?). Next, you'll hear Taylor's playing on the jazzy second half of Can't You Hear Me Knocking. Given that Taylor appropriates big chunks of Coryell's solo, I think it's safe to say he spent a lot of time between '66 and '70 hooked on The Dealer. For Mods Only/Can't You Hear Me Knocking
But the most startling moments on the album are right out of the gate, as Coryell makes a huge statement on the title cut. It's the only jazz solo I'm aware of that sounds completely indebted to early rock 'n roll – specifically, Chuck Berry. Coryell's playing on this tune gets my attention every time it randomly shows up on my iTunes library. Clearly, he misspent much of his youth woodshedding along to rock and blues records… then he probably migrated to some Wes Montgomery, and maybe Django too. But all of these influences seem to come together organically – sorry, can't think of a better word here – in Coryell's loose and playful solo. The Dealer
As you can tell, Coryell also isn't afraid to take his playing a little outside too. But he does it in a way that doesn't sound the least bit calculated. I like how this next solo starts out fairly conventional and then devolves to the point where Coryell's almost off the fretboard altogether. And Chico, another restless explorer, eggs him on with a few well-placed cracks of the snare. Now this is my idea of free jazz… Thoughts
Just when you think Coryell's completely off the rails, he settles down and pulls off some pretty convincing blues licks. Although he's credited with "writing" the next tune, it's really not much of a composition – just a basic organ-combo workout that you could hear in countless inner-city clubs back in the Sixties (check this for more on the glory days of the B3). And he had the cojones to name the thing after himself, with a nod to another fearless wanderer… Larry of Arabia
If all this jaw-dropping guitar weren't enough, the 1999 release of The Dealer on CD includes four bonus tracks from other sessions featuring the great Hungarian-born jazz guitarist Gabor Szabo. A master of the second-note drone and other exotic flourishes, Szabo was a big influence on Carlos Santana and many other Sixties rock guitarists (Santana used his original, Gypsy Queen, as the coda to Peter Green's Black Magic Woman). Here's Szabo strutting his stuff on El Toro… El Toro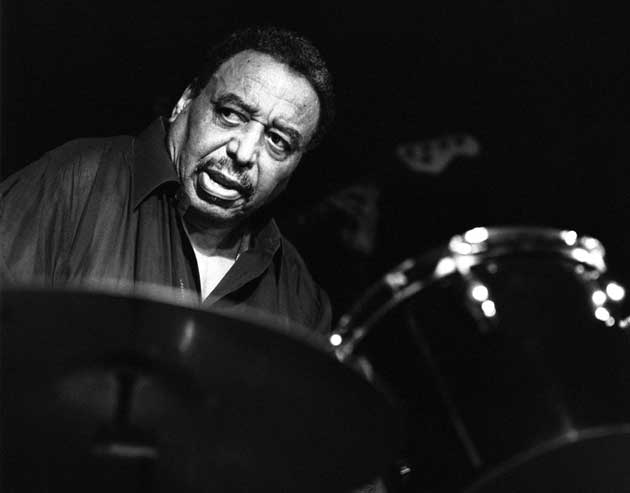 Coryell went on to a successful career playing in a number of settings, including jazz-rock with his band The Eleventh House (can't say I'm a fan; I prefer one of his more acoustic outings, which we touched on here). Chico taught at The New School for Jazz and Contemporary Music in New York City and occasionally toured with his band Euphoria. He played in Lena Horne's band… scored music for film and TV… recorded with Rolling Stone Charlie Watts… mentored more contemporary rockers like former Spin Doctors guitarist Eric Schenkman and Blues Traveler John Popper… was sampled by Brit Northern Soul DJs and American hip-hop artists… and, for my money, almost stole the show on the HBO documentary The Jazz Baroness.
I'm sure both men looked back at The Dealer as a defining moment – a near-perfect start for Coryell, and a high point in Hamilton's successful run as a bandleader in the Sixties, often with the popular Charles Lloyd on sax and Szabo on guitar.
We'll close it out with Coryell playing some very Wes-like runs on this ballad, written by Chico and arranger Jimmy Cheatham… Baby, You Know
Chico live in 2009… When I'm in my late '80s, I'd like to have a steady gig at the local bookstore (assuming those establishments still exist, as opposed to Borders).
Chico and band made a cameo in the 1957 film The Sweet Smell of Success, starring Burt Lancaster and Tony Curtis (Chico's guitarist at the time, the great Jim Hall, was played by actor Martin Milner of TV's Route 66 and Adam 12 fame). In this brief clip (found here), Chico even delivers a line at the end (he also appeared as part of the group backing Fred Astair in the film You'll Never Get Rich).