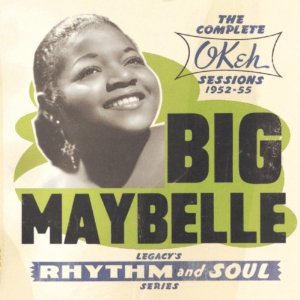 What if Lady Gaga turned out to be The Antichrist? Imagine armies of her meat-clad minions cutting a huge swath of destruction across the country. Entire towns are being leveled by massive, boob-guided lasers. Deep below the earth's surface, a team of scientists works frantically in its secret bunker to develop an antidote. Finally, they emerge with a powerful force – the only weapon that can crush the protective titanium globe around Lady Gaga's head. That weapon, my friends, is the mighty sound of Big Maybelle's voice: Ain't To Be Played With
Although we're clearly delusional, those of us hiding out in RCR's bunker are dedicated to bringing a little overdue recognition to artists who remain criminally ignored. And you'd be hard-pressed to come up with a more deserving subject than Big Maybelle.
Consider that she recorded Whole Lot of Shakin' Goin' On more than two years before Jerry Lee Lewis set the world on fire with his more rockin' version, recorded at Sun Studios in May 1957. Granted, Jerry Lee kicks the song into overdrive. But he can't top Big Maybelle's voice, which sounds like it could peel every layer of paint off the church: Whole Lot of Shakin' Goin' On
Shakin' is one of many outstanding tunes Big Maybelle cut for the Okeh label from October 8, 1952 through March 21, 1955 that feature the crème de la crème of New York City studio musicians, including Sam "The Man" Taylor on tenor sax, the red-hot Mickey Baker on guitar and the legendary Panama Francis on drums. But the centerpiece of these songs is clearly that big, bold and brassy voice – a truly wondrous sound, even by the high standards of post-war, pre-rock R&B. A voice that made a microphone and PA system seem practically meaningless. Where the hell did this 250-pound powerhouse come from?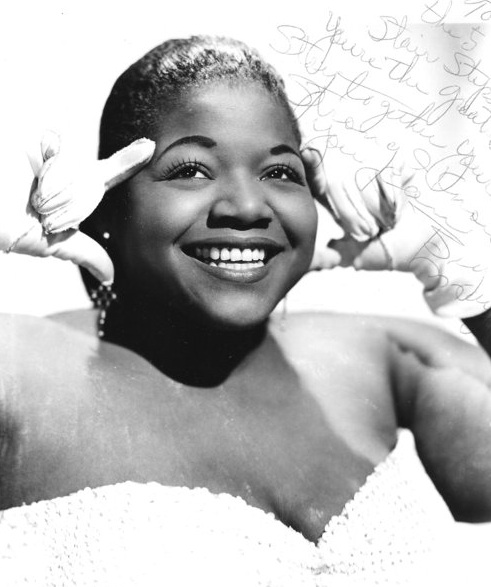 A little background… Born on May 1, 1924 in Jackson, TN, Mabel Louise Smith honed her awe-inspiring instrument in the tradition of the Sanctified Church, a highly spirited denomination that made Southern Baptists seem positively tame. At this point, I'll defer to music researcher Peter Grendysa's liner notes from "Big Maybelle – The Complete Okeh Sessions":
"At the age of eight (Mabel) fearlessly entered the Memphis Cotton Carnival amateur contest and took home First Prize. Pushed to the front of her local Sanctified Church congregation, little Mabel learned to shout and cry for the glory of the Lord. The raw, uninhibited emotion of her church remained with her throughout her professional career."
But so did an insatiable lust for the bad stuff. Obviously, she ate more than her fine frame could handle. And a nagging drug habit throughout her adult life contributed to her poor health. Grendysa's notes include this revealing quote from an autobiography by Ralph Cooper, a former emcee at the Apollo Theater: "She was a wonderful singer and a funny character who did a lot of sniffin'. Heroin was her thing, and it cost a lot of money. She used to hang out at the theater, and whenever she needed the powder, which was all the time, she would put the touch on anybody who was around" – including the great boxer Joe Louis, who apparently had a soft spot for Big Maybelle's constant come-ons for money.
The one-two punch of an unhealthy lifestyle and drug use led to Big Maybelle's untimely demise in 1972. She passed away in a diabetic coma in Cleveland at the relatively young age of 47.
Big Maybelle wasn't as prolific as some of her contemporaries, including Big Mama Thornton and Etta James. But her explosive Okeh tracks remain some of best examples of blues-influenced R&B you can find from the Fifties.
Previous to '52, Big Maybelle had recorded for Cincinnati's King Records and toured as a singer for labelmate Tiny (Train Kept a Rollin') Bradshaw's jump blues band. During the down time, she'd perform in some of the bustling nightclubs across the river from Cincinnati in Newport, KY. At one of those gigs, a local DJ named Ernie Waits introduced her to indie record man Fred Mendelsohn, who cut a deal with Big Maybelle right on the spot. Mendelsohn eventually set up the Okeh recording dates in NYC that cemented her reputation as one of the most dynamic voices in R&B.
The next tune is from her first session for Okeh. It opens with a nice sax riff by Taylor and features some meaty fills by jazz guitarist James Cannady, who also recorded with Miles Davis and Benny Carter, among others: So Good To My Baby
Baker joined the sessions in January '54, and his stinging, bluesy guitar served as the perfect foil for Big Maybelle's soulful growl: No More Trouble Out Of Me
Here's a hidden gem from one of Big Maybelle's last sessions for Okeh, with a Ray Charles-like arrangement and more stunning guitar from Baker: Don't Leave Poor Me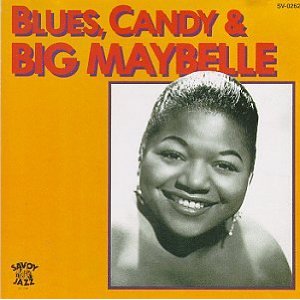 Big Maybelle continued to perform and record as her health declined, with mixed results. She cut some great sides for the Savoy label from 1956 to 1959 – some in a jazzier vein, but others that matched the power and majesty of her Okeh recordings. This one was covered by Charles Brown on his excellent 1990 release "All My Life": That's a Pretty Good Love
She also was a major influence on a young Aretha Franklin, who later covered two songs from Big Maybelle's Savoy years – Pitiful and So Long – on her unheralded album "Soul '69."
I may not understand the junkie lifestyle, but when I listen to Big Maybelle's classic sides from the Fifties, I definitely want more. And that's the tragedy of her all-too-brief career – although I'm hoping Big Maybelle's legacy will outlive Lady Gaga's titanium headdress. I've Got a Feelin'
This might be the only live video of Big Maybelle on youtube – from the 1958 Newport Jazz Festival: