How many of you are heading to Akron for the holidays?
Actually, once you get past the startling lack of color and "fresh as the driven slush" look of our winter landscapes, this time of year has its charms in the Rubber City. Especially when you can avoid the chill outside by checking out the current attraction at the Akron Art Museum – Who Shot Rock & Roll: A Photographic History, 1955 to the Present.
The touring exhibition features 174 photos and 8 videos by 111 photographers and videographers, including Richard Avedon, Anton Corbijin, Diane Arbus, Annie Leibovitz and many more. It landed at our world-class museum on October 23, so of course it's time for RCR to announce its arrival (we'll celebrate the 40th anniversary of The Numbers Band sometime next year). Besides, our good friend Barbara Tannenbaum, Director of Curatorial Affairs at the Museum, assured us that even a plug from the barely educated beer-swilling contrarians at RCR would be welcome as the holiday season quickly approaches.
"No form of music has ever been as integrally tied to the visual arts as rock and roll," says Tannenbaum. "Photographers of rock did not just document the musicians and concerts. They helped create identities for the performers and their musical styles, providing visual equivalents as thrilling and entrancing as the music itself. This exhibition reveals, for the first time, the nature of the relationship between photography and rock and roll."
Even though many of the photographs are by now familiar to the rock faithful, they still deliver a jolt – reminding us how the transcendent power of a great rock show could turn your standard multi-use facility into a sacred place of worship. Of course, the stars themselves look fabulous in settings that range from subterranean sleaze (the Ramones) to high-fashion glitz (Grace Jones). And who can resist the seduction of Amy Winehouse in bed, er… seducing herself? But the exhibition serves more as a tribute to the unsung heroes of rock 'n roll – the photographers and artists who helped create the form's most lasting images, including a few that focus on frenzied crowds and fans as well as the stars they idolize.
"Rock and roll was a bipartite revolution: the sound and the image," said guest curator Gail Buckland. "The music alone could not create the revolution. The kids were reacting to the hairstyles and the clothes and the body language. And the people who gave rock its image are very, very important. Revolutions have to be documented to be believed."
The exhibition offers a rare public look at some iconic rock 'n roll images, including a 1963 photograph by Philip Townsend of the Rolling Stones half in the bag at an Australian pub; a candid shot of James Brown in curlers by Diane Arbus; Jean-Paul Goude's working photographs and album cover for Grace Jones' "Island Life"; the full sequence of never-before-exhibited photographs by Ed Caraeff of Jimi Hendrix burning his guitar at the Monterey Pop Festival in 1967; Richard Avedon's four classic 1967 Beatles portraits (as well as his stunning shot from 1961 of The Everly Brothers in Las Vegas); Ike and Tina Turner at Club Paradise in Memphis in 1962 by the African-American photographer Ernest Withers… And let's not forget one of my favorite images – Alfred Wertheimer's photograph of Elvis in rock's golden year of 1956, canoodling backstage with an unnamed admirer:
I also was captivated by Ebet Roberts' 1993 photograph of The Cramps at New York City's legendary CBGB club, with Akron's own Lux Interior in all his sartorial splendor – wearing a skin-tight black vinyl jumpsuit with matching gloves and black pumps.
Some of the best photographs show image-conscious rock stars in private, unguarded moments. The previously mentioned shot of Amy Winehouse, Buddy Holly on a bus, Kurt Cobain breaking down backstage, Keith Richards having a smoke in Prague, Paul McCartney looking through his car's rearview mirror… "People who later became icons were on the brink of their careers wondering whether anybody was ever going to notice them," said the late photographer Linda McCartney. "That's what made it exciting to be taking photographs. It was before the self-consciousness set in. I wanted to record what was there – every blemish, every bit of beauty, every emotion. I wasn't interested in manufacturing a show business image."
The exhibition also features music videos, a rock-and-roll chronology made from actual album covers, and an 80-image slide show by Henry Diltz – evocative of that whole Sixties back-to-the-land noble-hippie mythos that never seemed to get much traction in the Rubber City. And The Rock and Roll Hall of Fame generously contributed several rock costumes for display as part of the exhibition, including Phil Spector's Gold Star Recording Studio jacket, Elton John's sparkly "Hercules" suit, Tina Turner's silver mini-dress and Madonna's Girlie Show Tour purple velvet stage costume.
If that embarrassment of rock 'n roll riches leaves you wanting more (or if you can't make it to the Rubber City during the holidays), you can always spring for the exhibition catalog – a hardcover book authored by Buckland. "Who Shot Rock & Roll: A Photographic History, 1955 to Present" contains 298 color and black and white photographs, along with commentary about each image's photographer, their influences and relationships with the musicians. The catalog will be sold in the Museum Store for $40, or can be purchased online at AkronArtMuseum.org.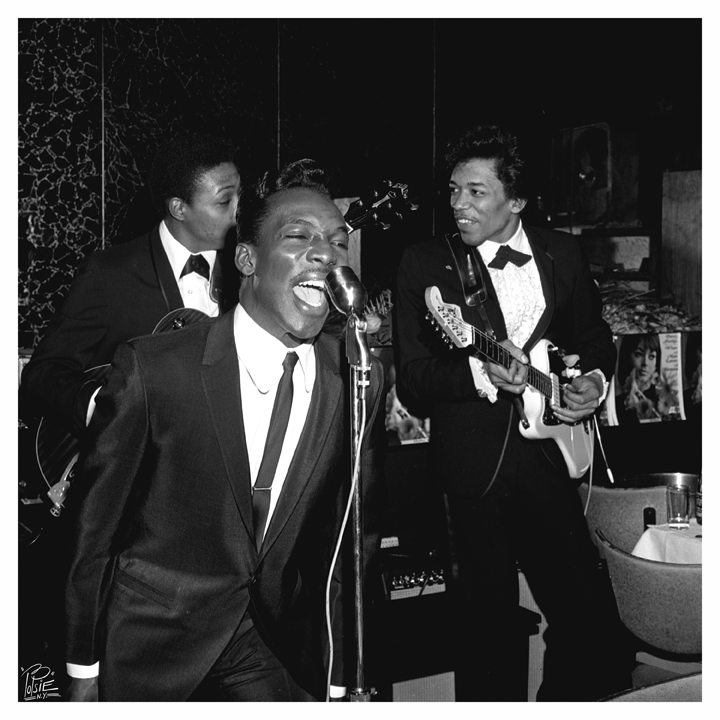 Above: Wilson Pickett and Jimi Hendrix – Michael Randolph, Executor to the Estate of: William "PoPsie" Randolph.
Who Shot Rock & Roll is organized by the Brooklyn Museum with guest curator Gail Buckland. The exhibition will be at the Akron Art Museum through January 23, 2011. Also, the Museum will be open two extra days – Monday, Dec. 27  and Tuesday, Dec. 28 – to make it more convenient for those of you visiting from out of town.
Technically, this ain't rock 'n roll… but the Campbell Brothers rock a lot harder than anything on Cleveland radio. They're a sacred steel gospel group from Rush, NY, with the mighty Chuck Campbell on pedal steel. This clip was filmed in '98 at their home base, The House of God Church. If they open one in Akron, I'm in. Thank you Brother James…
Congrats, Dan and Pat! Four Grammy nods for The Black Keys:
Best Alternative Music Album ("Brothers")
Best Rock Song (Tighten Up)
Best Rock Performance by a Duo or Group with Vocals (Tighten Up)
Best Rock Instrumental Performance (Black Mud)
Also, Pat's brother Michael Carney was nominated for Best Recording Package for his "Brothers" artwork, which we touched on in our previous post.
Justin Bieber, beware… The Black Keys' march toward world domination goes right up your backside!