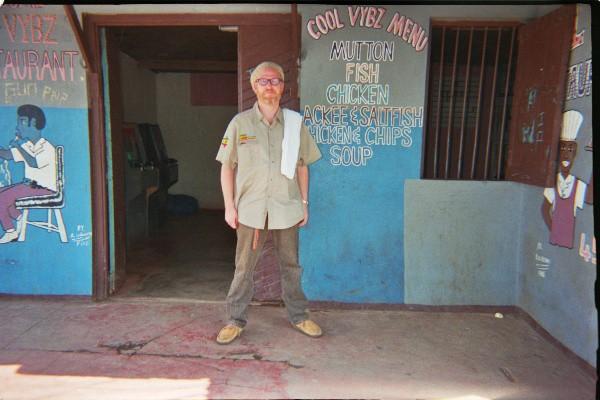 Here's a tasty guitarist I lost track of a few years back. Then when I recently looked into his newer stuff – expecting to hear more variations on the rock-solid blues he recorded in the '90s – I was surprised to find out he'd reinvented himself as a 21st Century Rastaman… in a very sincere and soulful way. Let's put it this way – the California native didn't slap on a reggae beanie and start chunkin' so he could get a gig on a cruise ship.
My first introduction to Rusty Zinn was a fine album he recorded for the Black Top label back in '96: "Sittin' and Waitin'." It was produced by Fabulous Thunderbird Kim Wilson, who also sings and plays soaring harp on a few tunes. I pulled the album out of cold storage after listening to Steve Cropper's tribute to The "5" Royales, "Dedicated" – which I liked, but felt Rusty did a better job covering the band with his gritty remakes of 30 Second Lover and this classic: Think
As you can tell, Zinn really didn't need any help from Wilson in the vocals department. Although he started out as a sideman in the Bay Area for blues-based artists like Mark Hummel, Larry Taylor (Canned Heat) and Wilson, Zinn started singing in the '90s, probably in anticipation of a solo career. And his voice has only gotten stronger and more assured with each release.
As I revisited some of Zinn's stuff, I also remembered a conversation I had with bluesrocker Patrick Sweany about 15 years ago when I met him in a small club in Akron. After we shared a few niceties, he jumped right into a lengthy description of all that's good and right about Rusty's playing – a rootsy sound that combines the muscle and economy of a Cropper with the daredevil spirit of someone like Mickey Baker… a sound that seems to come from an era when Swing was King and shredding à la Stevie Ray was a disaster yet to happen: Stand By Me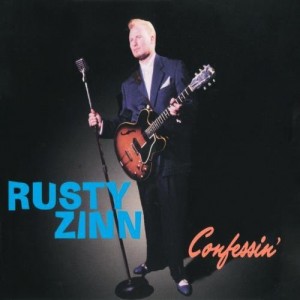 Zinn put out another satisfying album for Black Top, "Confessin'" – a wide-ranging affair that included this great organ combo workout: Confessin' About My Baby
He also did a brief stint at Alligator, recording "The Chill" in 2000 before moving on to a couple of smaller labels (Bad Daddy and 9 Above). That's when things started to get real interesting…
His first post-Alligator release, "Zinfidelity, Vol. 1," took a detour into classic '70s soul, including long-lost nuggets like Sammy Taylor's Ain't That Some Shame. Then the reggae influence began to take hold on 2007's "Reggaeblue." And the artist now simply known as "Rusty" hasn't looked back since. On his latest release, "Manifestation," he's teamed up with some of Jamaica's finest – including the legendary Sly Dunbar on drums and Mikey Chung on guitar – playing the island's greatest export with surprising conviction.
Rather than try to guess what inspired Rusty's move to reggae, we decided to ask the artist himself…
T.Q.: How did you get into the whole reggae groove? What were your main influences?
R.Z.: I was raised in Santa Cruz, which has always been a reggae-friendly town. I was exposed to reggae at an early age, and all my friends listened to a lot of reggae. However, it wasn't until the mid-'90s when my pal Bob Welsh turned me on to rock steady and early reggae through the music of Jimmy Cliff, Desmond Dekker and early Wailers. That started an almost "in the closet" fascination with Jamaican music, which eventually became a passion I couldn't keep contained anymore! My biggest influences in Jamaican music have been classic singers such as Alton Ellis, Ken Boothe, Delroy Wilson, Slim Smith, Joe Higgs, Milton Henry and Clinton Fearon, just to name a few.
Do you still play the occasional blues gig, or are you solely devoted to reggae?
I am totally devoted to my reggae, rock steady and ska music. I turn blues gigs down left and right, unless it's a gig I really want to do. Most of my blues playing now is only on recording sessions (they generally pay well!).
With the reggae influence now dominant, what's changed about your guitar playing and singing?
The obvious change would be that I've committed myself to learning to play the music authentically, just like I did in all of my years playing blues. I sought out the pioneers of Jamaican music and have befriended many of my idols and have learned a lot from them. I never sing in patois but sing in my own voice to keep it real and be sincere with the genre. My guitar playing has taken a total back seat to my vocals. I do a lot of gigs with two guitar players, and I often will just merely sing on these gigs, which is very liberating! I have two guitar players in my group. One is Bob Welsh, who really is responsible for turning me into a bonafide Jamaican music nut. The other is the legendary Hux Brown, who played guitar on thousands of sessions with players like Bob Marley, Jimmy Cliff, Toots & The Maytals and Desmond Dekker, just to name a few. It's funny, even though I don't always play a lot of guitar on the shows, I have learned a lot about the guitar from Hux. My singing has become more intense and passionate singing this music because I never was really happy singing blues, and I feel like I've really found my voice. I always enjoyed playing blues on the guitar but was never satisfied singing blues. For about a year before I really took the plunge and started only playing reggae, I was singing soul music on the road with a seven-piece band including horns. I was also mostly just singing in that project as well and playing guitar on numbers that really needed it.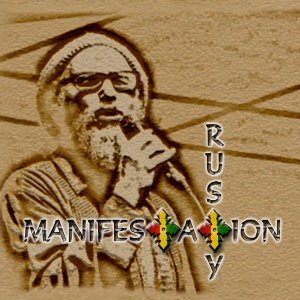 What do the old blues cats think about your reggae stuff? (I've noticed some blues players and fans can be a little parochial.)
I haven't gotten much feedback from the old blues performers, as most of the older ones I used to perform with have passed on! Although Willie "Big Eyes" Smith got a kick out of it and laughed and told me he knew I went over to reggae cause that's where all the weed was… He! He! Which is funny cause I don't smoke herb at all. I have mostly gotten resistance from younger blues fans and performers. A lot of folks are always chatting behind my back. It often gets back to me. I grew dreadlocks and wore them for about five or six years and embraced many elements of the Rastafarian lifestyle for a time as well, and this seemed to terrify many "blues" folks. People told me I couldn't switch to another genre and that I would be a bluesman forever, but I felt I needed to be singing something different that better suited my voice and songwriting talents. It has ultimately made me stronger to come up against this resistance. I've always loved music, not just blues. My first passions were R&B, soul, etc… and The Beatles when I was a young boy, which inspired me to learn the drums first. Not very many people know that! I even played drums in an after-school Motown cover band with girl singers when I was a teenager! We did one public performance back then before we all went our separate ways.
How has the move been from a business standpoint?
From a business standpoint it has been like starting all over again… I've been accused of being "crazy" and "courageous," among other things. Some amazing things have happened to me in my reggae career already! The future looks bright, but the bottom line is I am happy singing and playing what I want. Check out www.rustyreggae.com and come join me on the journey.
More Rusty reggae… a live performance from "Parti Gras" in Toronto. Stick around for Rusty's solo – he really burns it: