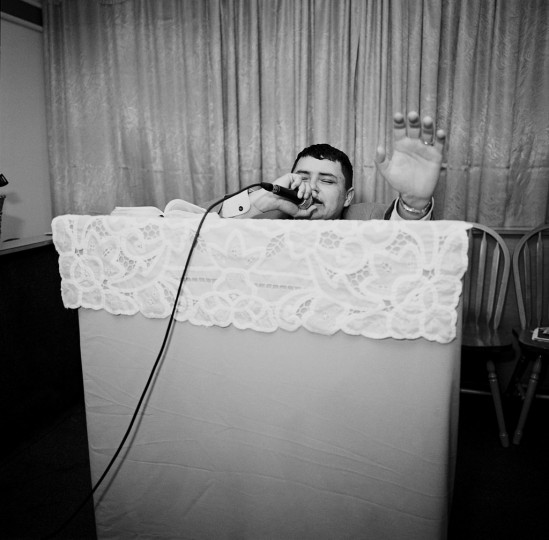 As we approach the end of 2011, some of you might be looking at various ways to shake things up in the coming year. Maybe take a few dance classes, learn how to cook with a wood-burning stove, turn that toolshed into a bitchin' mancave, recycle that oxy you found in grandpa's bathroom…
I tend to be a little more realistic. It's hard enough dealing with the day-to-day challenges of making ends meet with a dwindling paycheck. Why complicate matters by trying to reinvent yourself? The craziest thing I've done in recent years is start this blog (which I view as the cornerstone of RCR's burgeoning virtual empire… and my wife sees as "the thing that keeps you from fixing this goddam sink"). That slight reinvention should do me for the entire decade – or at least until End of Days (see #10).
This year, I prefer to simply express my gratitude for all the things that somehow went well in 2011. Let's face it, plenty of things sure as shit went south. We lost Hubert Sumlin, Howard Tate, Dobie Gray, Amy Winehouse, Cesaria Evora, Manuel Galban, Doyle Bramhall, Gil Scott-Heron, Bert Jansch, Willie "Big Eyes" Smith, Clarence Clemons, Cornell Dupree, Pinetop Perkins, Melvin Sparks, Big Jack Johnson, Eddie Kirkland… and, in a way, Etta James, who's in the final stages of leukemia and also suffers from dementia. Also, Fear Factor came back on the air – an event that surely was documented in Revelations. And Rick Perry's still in the hunt. But let's set aside those tragedies for now and focus instead on some positives from a year that needed every one of them.
10 Years of Daptone Records. It's reassuring to know that soul music – made the way god and James Brown intended – is alive and well in Brooklyn. But that's just part of the story at Daptone. Do yourself a favor and pick up one of the label's outstanding samplers. You'll find everything from Afro-beat (Antibalas) to a capella gospel ("Como Now: The Voices of Panola Co., Mississippi"). Simply put, Daptone is an American treasure. Here's to many more decades of fine, funky soul… and a whole lot more. Let's celebrate the first 10 years with the queen of Daptone soul, Sharon Jones: Be Easy/Sharon Jones and the Dap-Kings
More Live Music on TV. Maybe I'm deluded, but it seems like I'm coming across more first-rate music programming on cable (not on the main broadcast networks, unless you count your favorite band's performance on SNL, Letterman or Jimmy Fallon – and even then, you have to wade through a lot of crap to get there). In the course of a few days, I watched two great shows on Palladia – one featuring Radiohead (The King of Limbs: Live from the Basement) and a rebroadcast of My Morning Jacket on VH1 Storytellers. And although it only includes a few live performances, Talihina Sky: The Story of Kings of Leon was easily one of the most powerful and captivating rock docs I've ever seen (video below). Keep 'em coming, cable gods!
The Return of Gillian Welch. It took Welch eight years to deliver a follow-up to her previous album, "Soul Journey." But "The Harrow & The Harvest" was well worth the wait. Tunes like Scarlet Town and The Way It Goes capture Welch and her longtime musical partner David Rawlings at the top of their game – combining heavenly harmonies with Rawlings' predictably stunning fretwork. I had the great pleasure of seeing the duo on tour in support of the new album… noticed a lot of local pickers watching Rawlings' every move. But my favorite moment found him on banjo and harmonica as Welch hamboned and clogged her way through Six White Horses (video below). It seemed like a pure expression of joy, without pretense or artifice. In other words, many galaxies away from modern country.
The Black Keys Bust Loose. They started the year on a roll, and now they've conquered the world with their new album "El Camino." As Brian van der Brug of the LA Times put it, "After something like 30-odd years of listeners' declaring that rock had run out of steam, there's something wonderfully weird about a drums-and-guitar duo riding swaggering blues-rock to the top, and it sounds even better." Basically, it's what happens when two unassuming and non-ironic dudes from Akron reinvent blues, soul, garage rock and a few other vital strains of American music, tour relentlessly, and spend countless hours honing their craft. I know, pouring Crystal over strippers sounds a lot more glamorous, but for these guys, it would just get in the way of the work. Money Maker/The Black Keys
Music Streaming Services Become More Competitive. And by competitive, I mean "free." Actually, I'm not sure if this is a positive or a negative. Earlier this year, RCR teamed up with the MOG Music Network, which gave me access to their massive digital library. It's pretty cool, but in some ways overwhelming. If you have 16 million+ songs at your fingertips, where exactly do you start? Playlists and Pandora-like streaming helps, but I get a little cranky when a song by Steve Earle is followed by American Pie or some other dreck. Fact is, they should just pay me to program their service (then they'd really be out of business!).
The Miami Heat Tanks. I know, I shouldn't take pleasure in another team's demise. But they sort of asked for it, didn't they? I don't even consider myself a LeBron hater. After all, he keeps coming back to our fair city to dole out money to various charities and play some hoops with his buddies. But it would've really pissed me off if the billion-dollar trio had realized their goal in Year One. The King will eventually get his Ring, but let him wait a few more years… builds character.
I Finally Visit Europe. You didn't think I'd leave myself out of this, did you? I should be embarrassed to admit that at fifty-(cough) years, I'd never made it to Europe. But I fixed that in June when I flew to Berlin with my wife (hobbled by a knee injury) and daughter. We spent a few days in Chemnitz, a former car manufacturing center that was practically destroyed by bombs in WWII and then partially rebuilt under Communist rule (the bartender at the hotel yearned for the good old days when the Russians would show up with wads of cash). Then we survived a wild night in Berlin with our friends at iCrates before heading over to Paris, where we joined throngs of other tourists staring at the Notre Dame Cathedral, the gardens of Versailles, the Eiffel Tower, the Arch de Triumph… Glad we went, not sure we'll be back any time soon. Aaah, the ennui…
I Got Hooked on Justified. For this, I blame my sister Mary. It seems to me that few shows capture the nuances of life below the Mason-Dixon Line better than Justified. There's nothing even remotely hip about the show – other than maybe the theme song by Gangstagrass with T.O.N.E.-Z: Long Hard Times to Come Just solid storylines with some fine acting (including a well-deserved Emmy for Margo Martindale, who scared the shit out of me as Mags Bennett, the matriarch of a very twisted crime family from Harlan County). And it's all served up with a healthy dose of backwoods funk and filth. Still time to jump on board this crazy train… Season 3 starts on January 17 (FX).
Commodity Prices Rise as Dollar Weakens. Actually, I have no idea what this is all about… Just thought it was time for RCR to tackle one of the more important financial issues facing the nation. Done.
Last Full Year Before End Times. The 5,125-year Great Cycle of the Ancient Mayan Calendar ends on winter solstice, December 21, 2012 (at 11:11 a.m., to be precise). What does this mean? Is The Rapture near, or am I confusing the Mayans with a religious cult in Idaho? I think the best we can hope for is that we reconnect with the wisdom of nature, and Bravo cancels the next season of The Real Housewives of New Jersey.
I'd be remiss if I didn't thank my family for sticking with me as I spend far too much time on dubious missives like this one. After all, what's more important than the support of your loved ones? Even Charles Manson hears from his family this time of year… in the "extended" sense of the word, of course.
Kings of Leon perform Talihina Sky – after a solid minute of bitching…
Gillian Welch and David Rawlings at the 2011 Newport Folk Festival…