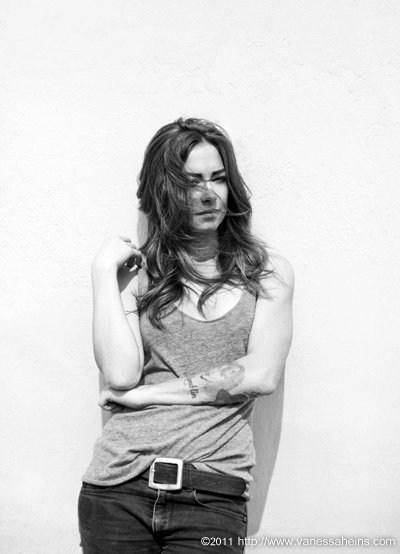 Writing about dead blues guys is a fairly thankless pursuit. I'll do a post on someone like Pee Wee Crayton and hear crickets. And just when I'm ready to fold up my tent and leave this virtual campsite for good, in walks Amanda Zelina – better known through her stage persona, The Coppertone.
My introduction to The Coppertone was when she weighed in on our post on cover songs ("Don't Play Me No Stormy Friggin' Monday"). I was intrigued by the name, so I checked out her website and signed on as a fan right away. Since then, we've shared a few comments and recent musical finds via Facebook and Twitter. For example, Amanda turned us on to Alabama Shakes and Hanni El Khatib, and I think we got her listening to some Latin boogaloo.
I also recognized a kindred spirit when I came across this quote: "I was not about to be another one of those 'technical' blues players. In my opinion 90 percent of all contemporary blues players while I was growing up were white guys in khakis playing shitty renditions of The Thrill is Gone and Stevie Ray Vaughan's Pride and Joy. I was not about to attempt a career doing that shit. Fuck no." Amen, sister… No wonder she liked our piece on bands that keep flogging the same old warhorses!
But mainly what we dig about The Coppertone – other than her obvious good looks and taste – is the otherworldly sound that comes out of her. Sort of a mix of primordial blues howl and ballsy, barroom indie rock (not the "too sensitive to live" variety). First of all, she plays some damn nasty guitar – not at a Link Wray level of filth, but well on its way. And that voice… where the hell did that come from? It's got plenty of rock 'n roll attitude but just enough blues misery to make you wonder where all the bodies are buried. In other words, right up RCR's dark, crime-ridden alley: Black Water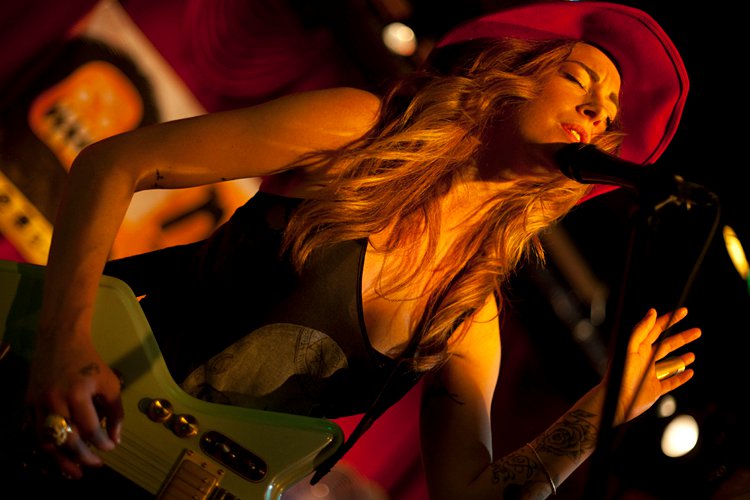 Let's check in with Amanda so she can 'splain herself…
T.Q.: You're from King City, Ontario – a well-scrubbed community just north of Toronto… Not exactly a hotbed of roots music (hockey, maybe). What got you started down this road to ruination?
A.Z.: I am a late bloomer with music, so even though I grew up around my father who would saturate my ears with tunes, I never really fully found myself and surrendered to music until I moved away to California to learn guitar and got my ass kicked by John Lee… That's when the real "ruination" begun (haha). What sparked it all at the very start? I'd say I owe a lot to the country… growing up with no one around who I spoke to. It's an odd thing for people to grasp even now, the fact that I enjoy being close enough to the city (Toronto is about 40 mins away) but able to seclude myself out here. I think growing up with that molded who I became creatively. It really pushed me to fight boredom and as a result I have this very driven and strong-willed discipline when it comes to songwriting, playing guitar, singing etc. It instilled this sense of urgency in me at a very young age. I thought I had to learn as much as I could as fast as possible to get out of there and do something great. When I found a guitar kickin' around the house at 18 it was all over… or should I say, all begun.
Dan tells me you're a big Junior Kimbrough fan, and I've heard you wax poetic about the usual culprits, like John Lee Hooker. What are some of your other influences, both blues-based and otherwise?
Yea my favorites are definitely Junior and John. My other loves would be Elmore James, Wanda Jackson, Mississippi Fred McDowell, ZZ Top, BB King, Robert Johnson, Jack White, Anne Peebles, Al Green, Dan Auerbach solo as well as The Black Keys, The Stooges, David Bowie, Chuck Berry, Lightnin' Hopkins, Ray Charles, Muddy Waters, Little Walter, FREE, Taj Mahal, Seasick Steve, Elvis Costello, Tom Waits, SRV, George Thorogood, Otis Redding, The Temptations, Wilson Pickett, Sam Coffey, Lucinda Williams, Loretta Lynn etc. etc.
What are you locked into right now? I need a shot of something new and awesome.
Oh! I love doing this… I'm such a sucker for tipping off people on new tunes! Also for receiving them… thanks to your posts I've had quite a year of refreshing new material. Right now, I'm really into a few records in particular: Gozalo Bugalu Tropical Vol. 1 // Michael Rault, Ma-ME-O // Michael Kiwanuka, Tell Me a Tale // Daniel Romano, Sleep Beneath the Willow // The Dinner Belles, West Simcoe County // Sam Coffey and the Iron Lungs (self-titled) // Mariachi El Bronx, Mariachi El Bronx (II).
Thanks – already digging into Kiwanuka: Tell Me a Tale… I'll pounce on that boogaloo collection next! I've been following you on Twitter, and you're an obvious foodie (lots of iPhone shots of some sweet-looking meals). Kind of pisses me off, really. Do you have a food wrangler as part of your crew? And what are a few of your favorite eateries/dishes? 
Hahahaha, I am such a foodie! One of my goals is to be featured in some way on the Food Network. Luckily with touring I've had the opportunity to scout out and try some gems. I also have a lot of friends who are musicians and fellow foodies who point me in the right direction. My favorite cuisines would have to be Mexican (I live for great guac), Japanese, Vietnamese, and the odd Italian in there somewhere. To break it down here is a list of some of my favorite spots:
1) Terroni, Queen Street in Toronto… This place is unreal. I mainly always get their Mezzo e Mezzo platter, which is an antipasto plate. I can't really eat a lot of lactose, but you only live once and I like splurging on quality. If you ever get a chance and are in town, go there – start with the Mezzo e Mezzo and a glass of Italian red… make your way to a mouth-watering main like their thin-crusted traditional pizzas… I love the Ciccio: folded pizza with prosciutto di parma, arugula, fresh tomatoes, fior di latte, served cold. Finish with their warm flourless chocolate cake… perfection! They also have this beautiful patio in the back for the summertime. I swear it's like you're transported right to Florence. Sometimes I'll go and order a Spagiatto – translation: a mistake (a fav summertime drink of mine: Prosecco, Vermouth, Campari and a blood orange) – read a book and kick my feet up.
2) Golden Turtle, Ossington in Toronto … They kill it. It's super cheap and super cramped all the time in there which adds to the dining pleasure.
3) The Merchant Tap House in Kingston Ontario. I went there to play a show and we got a free meal, which already makes the food taste better. I ordered this grilled tiger shrimp salad that came with chipotle seasoned potato wedges and had an avocado vinaigrette dressing. I swear to god I haven't had a better salad in my life.
4) The Gratitude Cafe, Berkley California. I came across this gem while helping my sister move to Oakland. They only serve raw vegan food, gluten free or veggie dishes… which at first glance could make some people squeamish. But you wouldn't miss the meat or lactose one bit. My favorite dish is called I Am Fortified (yes, if you haven't got it by now the whole cafe is one big self-affirmation). It consists of sauteed seasonal vegetables, steamed Quinoa or local brown rice, topped with a choice of sesame-ginger, tahini-garlic or Thai almond sauce.
5) The Royal, Nelson B.C. We were playing on tour recently in the gorgeous mountains of Nelson and came across a menu that blew my mind. I got the coconut mango salsa salmon accompanied by a little tower of wild/basmati rice. Jesus spoke to me in my mouth that evening… Amen.
I could go on and on with this list… honorable mentions include the pineapple shrimp quesadilla at Amigos in Saskatoon.
The road can get a little boring… What are you reading to help you get through those long drives across Ontario?
This time around I brought a copy of The Prophet by Kahlil Gibran. It's a short and poetic read and I have honestly read it hundreds of times. There is something about it that grounds me, so whenever I hit the road and become transient I make sure to grab it. Also, I've been known to (and been made fun of) for bringing along books on marketing or advertising. I have no clue why but I LOVE that stuff. Also, self-improvement books (haha) pseudo spiritual/psychological reads. I find them fascinating. I grew up with a very spiritual mom and a psychiatrist as a dad so I have always been drawn to finding that middle ground. Learning about body language, the power of thoughts and intentions, communication etc. is really rewarding to me.
You're into vintage sounds and the kind of equipment that can get you there. Tell all our gearheads out there what you're playing with (and through)…
Oooooo okay! Well… my primary setup for the past two years has been my 50th Anniversary gold Airline run through a Fender twin using a Fulltone Soul-Bender for my fuzz. That trio is basically my tone. I also love my 1482 Silvertone Sears amp… the trem on that thing is ridiculous. Most recently (thanks to Dan) I picked up an old Shin-ei Fuzz Companion that rules. I also use an old Electro-Harmonix Memory Man for my delay.

Seems like you're about ready to bust loose… What's it going to take? Anything on the horizon you can share with us?
Haha well thanks! Your guess is as good as mine. I'm a pretty firm believer in the old-school mentality of you reap what you sow (if you have talent and half a brain). That being said I've been putting myself to the grind for the past few years and am starting to finally see the slow and steady growth, which is amazing. The new year is really exciting for me… there's a lot to look forward to. First on the map is going into the studio and recording a new full-length, hopefully at the end of January. I know come March we are headed to SXSW, which is pretty awesome. We've got a handful of festivals to nail and really just aiming to play as much as humanly possible. I love traveling and meeting new people, winning over new crowds. My goal for 2012 is to record a solid record and tour the hell out of it… and hopefully if I have anything to do with it, find some killer eats along the way.
Any plans on bringing your tough little band to NE Ohio??
I sure as hell hope so.
Test drive The Coppertone's four-song EP, "Hymns for the Hollow," at the coppertone.com, or buy it below. 
The Coppertone on video… Just in case you were wondering if Amanda could deliver the goods live ("Matthew" tagged this on the end of a comment below; I liked it so much I moved it up here):
Here's a rockin' little number from "Hymns":
And here Amanda talks about her previous album, "Hidden Dreams" (this clip is from the Wood and Wires Video Series):