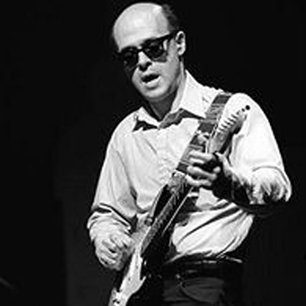 We've covered guitarist Robert Quine pretty well in this blog, especially here and here. But I had to throw this post together after my sister came across a long-lost article in the bottom of a box at her house in Akron, just a block from where Rob grew up. I think she got it from Rob's mom, Rosalie, who did a fine job of chronicling her son's career, starting with the trailblazing NYC punk band Richard Hell and the Voidoids back in the mid-70s, then with Lou Reed, then on to a whole slew of guest appearances – from Lydia Lunch and Marianne Faithfull to Tom Waits and Matthew Sweet.
The article, titled "Run – Don't Walk," was written by rock journalist and musician Rick Batey (author of "The American Blues Guitar: An Illustrated History"… you can buy a copy below) and appears to be from a UK music magazine, probably Melody Maker. I couldn't find any evidence of it online, even over at the uber-research site rocksbackpages.com, which lists 32 articles about Rob. I've dated it from 1990, since Batey references "a 47-year-old ex-lawyer" and Rob was born on December 30, 1942. Rob seems especially wound up and expansive during the interview, which really nails his skewed wit and musical wisdom (in writing my posts, I was disadvantaged by not having tape running during my conversations with Rob). He talks at length about influences, his approach to playing, the state of rock at the time, and even his favorite gear. And he betrays a deep appreciation of rock's roots, which might seem surprising given the shrieking, often atonal solos that defined his playing with the Voidoids. As Rob liked to point out, "by many people's standards, my playing is very primitive but by punk standards, I'm a virtuoso."
Before I share some excerpts (with music samples for those of you who want to play along), I'll offer this in the way of "full disclosure"… Rob is my second cousin, which makes him second cousin once removed from Daniel Quine Auerbach of The Black Keys (which explains the "DQA" on Dan's guitar strap). Needless to say, Rob was a big influence on Dan, who regrets not having the opportunity to play and record with him (Rob died in 2004 from a heroin overdose).
Rob on Influences:
I'll buy almost any European reissue of totally obscure rockabilly bands; there's a wildness, a freshness in those records that came from discovering things for the first time. Try to recreate that music, and you'd never even come close.
I'm listening to J.J. Cale constantly at the moment. People are either bored by him, or completely hypnotized. You couldn't call it innovative, but he's a genius. I'd put him right up there with the great blues soloists, even though he can obviously play jazz as well. River Runs Deep
And some time ago I started listening to James Burton again. I hadn't heard him since 1962, so I checked out Waylon Jennings, Merle Haggard, the later Ricky Nelson, and even the Elvis stuff – which is pretty dire listening! Most guitarists burn out, it's inevitable – even the caliber of Hendrix's work fell off in the last year and a half of his life – but I saw James Burton with (Elvis) Costello and he's still doing new things. He doesn't copy his early work, but his identity is intact. How many players can you say that about? Susie-Q/Dale Hawkins with James Burton
Initially I never dreamed of playing lead, I just wanted to play acoustic guitar like the Everly Brothers. I remember being shocked on hearing the flipside of Bye Bye Love and discovering a steel guitar hidden in there! I thought – these guys are hillbillies! But then, in almost the same month, Link Wray's Rumble and Duane Eddy's Movin' 'n' Groovin' came out… Link Wray was the one that really grabbed me. I even got to meet him in 1975 because the Voidoids were using the same studio as him while we were making the "Blank Generation" album. I told him about some pretty obscure things of his that had really inspired me, and I think he appreciated it. He left his amplifier lying around, an Ampeg with four 12-inch speakers, so heavy it took five people to shift, and I used it for some of the better solos on that album. If he reads this, I hope he forgives me. No one was supposed to touch it. Ace of Spades/Link Wray
I really got into electric guitar by playing along to Ritchie Valens records. I later found out that a studio musician called Rene Hall had played a lot of it, but Valens himself was a great guitarist and some of his instrumentals were really innovative. Fast Freight was the first record with two bassists – Red Callender on double bass, and Rene Hall getting a totally different, clanky sound from a six-string Danelectro. Valens was so young at the time – he died aged 17 – but you could hear him stretching out, even then. Fast Freight
(Watching Buddy Holly play at a 1957 rock 'n roll review) Buddy Holly playing a Stratocaster was an amazing thing. The image of Elvis banging away on an acoustic guitar was well-known, of course, but suddenly here was this guy with this Martian-looking guitar. What's more, he was doing the singing and taking the solos. The other acts – Frankie Lymon, The Clovers, The Drifters – all used the big house band, but the Crickets were doing everything by themselves. I thought, "that's bizarre." And because this was 1957, it was before Buddy Holly had cleaned up his image: he had a baggy suit, un-capped teeth and wire-rimmed glasses! He covered a lot of Little Richard songs, funnily. Blue Days, Black Nights
(Seeing John Coltrane in concert, 1966) I'd been getting into jazz, and I'd barely just figured out bebop when I went to this concert and sat in the very front row. There I was, analyzing it, trying to understand this out-there jazz, but these horns were going full velocity right in my face and all of a sudden I realized that there was nothing to understand. It was coming from the same place as a Charlie Patton or Howlin' Wolf record. Living Space
Hearing Eight Miles High was one of the final breakthroughs for me. It was the first hint of something real, as opposed to all this fusion trash. Lou Reed was listening to them, too. Back then, when we first met, Roger McGuinn was the only guitarist he had anything good to say about. He also liked (saxophonist) Ornette Coleman's Ramblin', and exactly the same thing happened to him as to me; he was trying to understand it all, when suddenly he realized "shit – this is just rock 'n roll." Eight Miles High
Sometimes you can be struggling along, when all of a sudden the things you've been listening to come together with a snap. And the next guitar solo after Eight Miles High that came to terms with free jazz was the Velvet Underground's I Heard Her Call My Name. At first I thought it was terrible, awful. The way he let the wrong harmonics feed back was totally unacceptable at the time but it was completely intentional, he knew exactly what he was doing. I Heard Her Call My Name
On Playing/Practicing:
Sometimes I look out there and see a bunch of 11-year-old girls who don't care, and I've got a stock solo that I can fall back on. Other times you want to keep yourself on edge, hopefully without destroying the song. Then again, there are places where I can show a total lack of respect for the songs if I want. But sometimes you get up there and nothing works, it's just total frustration. So you decide to play it safe – and you can't even do that right.
A big part of understanding the Velvet Underground is realizing the guitars are detuned. When I worked on "Blue Mask," Lou Reed played a great deal in D, which I find very hard to play along to. I ended up lowering the whole tuning of my guitar to D and still playing an E shape, and it's that drone factor that's the key to the whole thing.
I have no qualms about using a capo these days… I used to think of them as purely a crutch for beginners, until I did a session with Albert Collins. It was amazing to be there, playing right next to him. He was using a capo on everything, putting it right up to the ninth or tenth fret. He used his Telecaster, the studio's regular Fender Twin set clean on 5, and no boxes whatsoever – and yet all this distortion was coming out, just from his fingers. It was really quite distressing. Melt Down/Albert Collins
Ever since the Voidoids, chord playing has been the priority; with Lloyd Cole, I'm trying to leave the high and low E's ringing as much as possible, and then sliding chords around inside of that. My confidence has grown over the years, but I've never been entirely comfortable with solos. The way Richard Hell got them out of me was to make me do it over and over again until I got so angry and frustrated, I'd just smash away at the strings. Lou Reed generally left me alone. Some people think that the solo on Waves of Fear from "Blue Mask" was the best thing I ever did, and that's all they want to hear, but I'd like to think I can play lyrical stuff and still put as much emotion in as that. Not the same kind of emotion, thank God… I really put myself in a state to play that part – it wasn't fun at all. My biggest break, a Lou Reed album for RCA, and I thought I was going to have a nervous breakdown and that they'd have to call a taxi and send me home! Waves of Fear
There's only one way I practice; for 15 years I've had this system of mixing the guitar in with a record and hearing it in stereo over headphones. I play along to blues things, or jazz if I'm feeling adventurous. I don't enjoy sitting on my own and working out guitar parts, so this way it's very immediate, I'm right in the middle of it. I remember once doing it with a song called Pharaoh's Dance off Miles Davis' "Bitches Brew." It's very ambiguous, you don't know what key it's in, and I found that I could play along with it using any notes I wanted and whatever I played wasn't wrong – just so long as I did it with confidence. Finding my way around the fingerboard by doing things like that is my alternative to playing scales up the neck. Pharaoh's Dance
They just brought out the Little Richard boxed set. Something as savage as Good Golly Miss Molly, the scream of those sax solos – I'll never tire of it because there's something there that cannot be recaptured, not even by him; he tried, and he never came close. That what I try to do in a solo, to capture something that people can relate to, musically and emotionally. And I would rather listen to someone who can barely play, who had some soul, who made mistakes, than hearing jazz-rock scales all night long. I think that people like that kind of music because it doesn't threaten them, and they like to live ordered lives. Ultimately, I don't think they want to come to terms with their own emotions. Good Golly Miss Molly
The only piece of advice I have to give is to listen. I violently disagree with people who never listen to other music for fear of being influenced. Other music is not a threat! You cannot harm yourself by listening to a Charlie Christian solo over and over again. Just give yourself over, inundate yourself with it. You don't need to worry about losing your own identity. Breakfast Feud/Charlie Christian break
I've got my own style, I suppose, but I play both good things and bad things. My idols are basically Charlie Christian, Lester Young and Charlie Parker, and if you worship people like that – as anybody that has a brain should – then even if you could play a thousand times better than you do, it would still keep your ego under control. It keeps you from getting a swell head, to say the least.
On the state of rock music (1990… but he could be describing 2012):
I don't want to get too deeply into my Rock is Dead lecture, and at least Guns N' Roses are a basic band with guitars, but I can hardly see how things can get much worse, really. On the other hand, music of such bad quality is so generally accepted these days that I'm afraid things will get worse. If you look at the sales figures, you can hardly say that rock is dying. But most of the rock around now is borrowing so heavily from the past that I'm scared that in a few years people won't remember who Van Halen were, let alone Led Zeppelin or Jimi Hendrix. Perhaps there is good music, but I'm not hearing it.
I can't see what the "next step" is going to be; it seems as though all the obvious combinations, like jazz and rock, have been experimented with already. One of the last really new things for me was Brian Eno's ambient music, and that's just basically stuff on one chord – he's a genius. Music's the only thing that makes any sense to me, and if I really believed everything I'm saying here, I'd go back to being a lawyer. But it disturbs me that I have to wait for some unissued Charlie Christian or Jimmy Reed record for my musical enjoyment.
Rob shreds his way through the Velvet Underground's White Light/White Heat… Live at the Bottom Line, NYC, 1983: